My family and I recently visited San Francisco for a two-night stay.  We found a fabulous hotel in a great location:  Kimpton Argonaut Hotel at Fisherman's Wharf.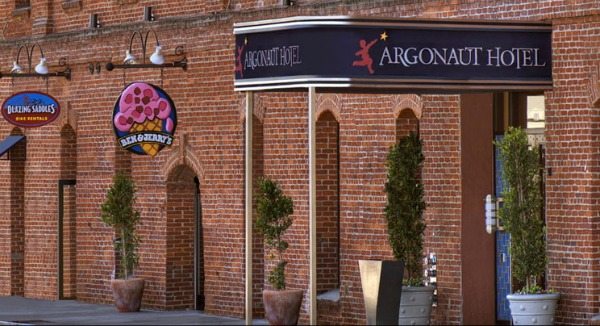 My son had never really been to San Francisco, and he wanted to be near some pretty iconic things:  Alcatraz Island, Ghirardelli Square, The Ferry Building and the cable cars.  You can probably imagine how happy he was when we drove up and there was a Ben & Jerry's RIGHT NEXT TO THE HOTEL.  Yes, this made him very happy indeed.  Part of what made the entrance to the hotel fabulous was the superstar doorman.  I can't believe I didn't take a picture of him, but I hope they keep him forever.  He was super friendly, funny and helpful.  He happily answered all of our questions and gave us recommendations as needed.  Cabs were easy to grab as they came right up to the hotel.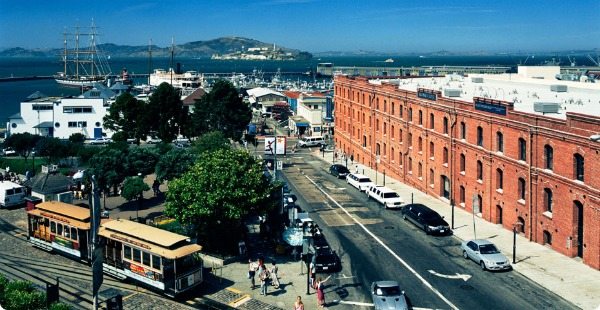 Here is a view from behind the hotel- looking out toward the wharf and San Francisco Bay.  There is a Starbucks located in the lower right-hand corner of the photo- which was perfect.  The cable car pick-up is right where you see it.  Ghirardelli Square is off to the left of the photo- just 2 blocks from the hotel.  Admittedly, we went there for a sundae each night we were there!  Fisherman's Wharf sits all along the front of the hotel and for many blocks- lots of shops and seafood restaurants.  We didn't do much of that, but it's there if you want it.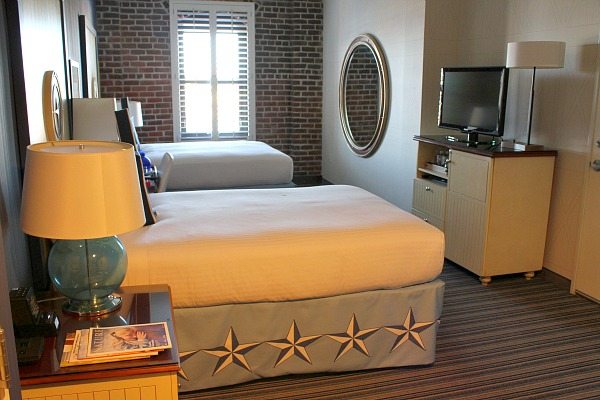 Here is what our room looked like upon walk-in.  There is a little refrigerator under the TV that was perfect for storing the goodies (like cheese) that we picked up at The Ferry Building (just a short cab ride away).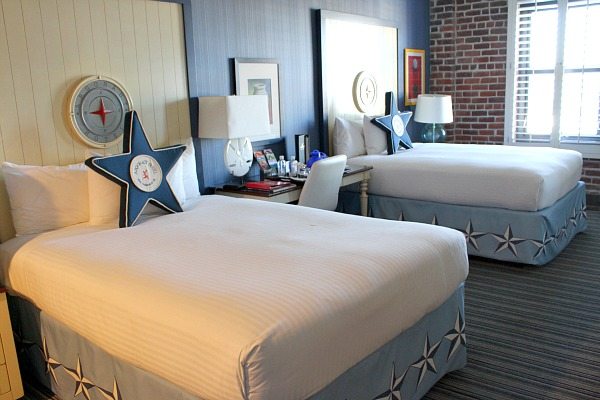 Another view of the appropriately nautically-decorated room.  It really was adorable…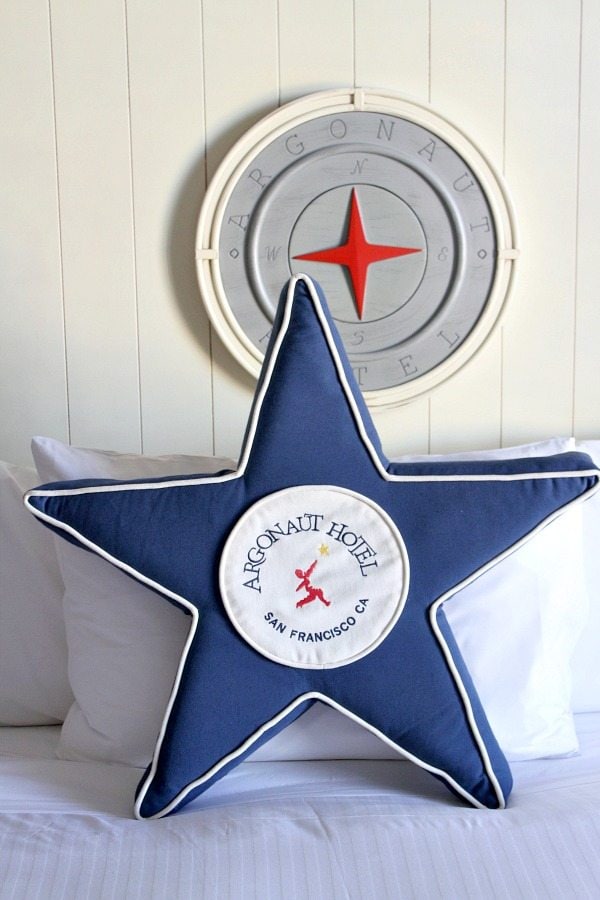 … right down to the star-shaped pillows.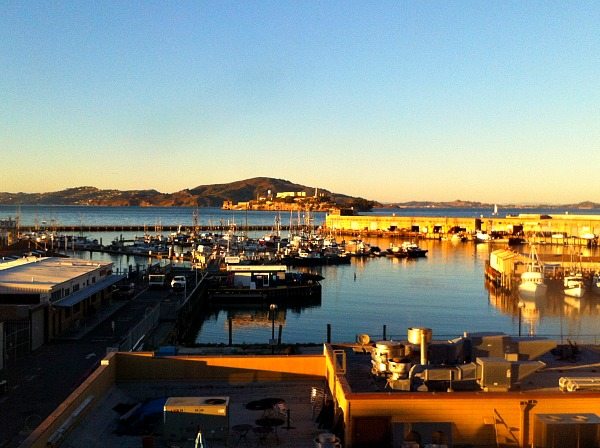 And then we took a peek out our window and saw this!  Beautiful.  And my son was SUPER EXCITED that we could see Alcatraz Island from our hotel room too.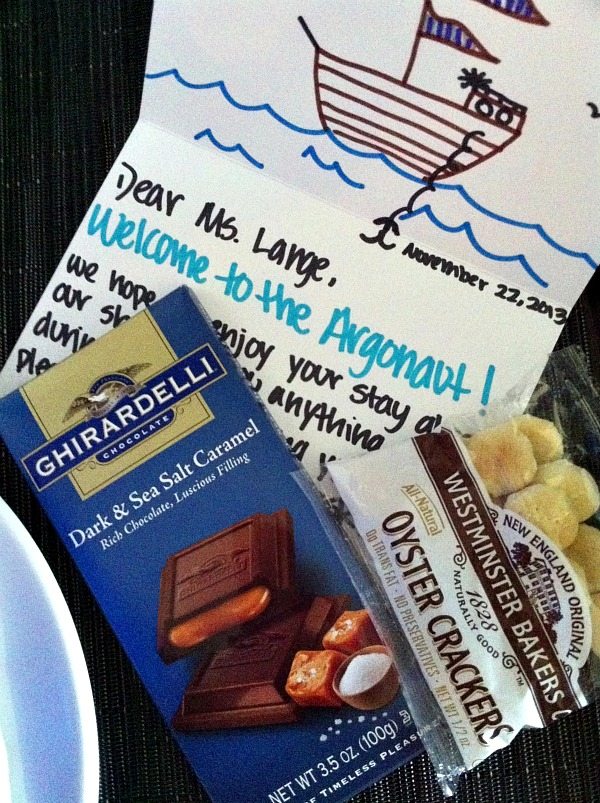 Once we got over the excitement of the room itself, we discovered some goodies that were left for us- and a pitcher of warm clam chowder too!!  We scarfed it all down immediately since we had just driven about 5 hours or so to get there.  And then we all fought for pieces of the Ghirardelli chocolate bar.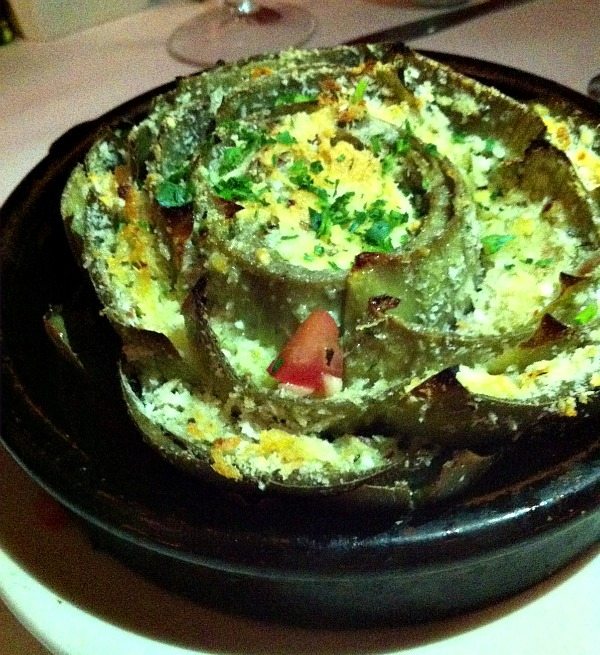 That first night we took a cab to a restaurant that was recommended to us by a hip relative who had once lived in San Francisco:  Jackson- Fillmore Trattoria in the Pacific Heights area.  We LOVED our meal there.  Everything we tried was excellent, especially this stuffed artichoke appetizer.  The wine list was nice too.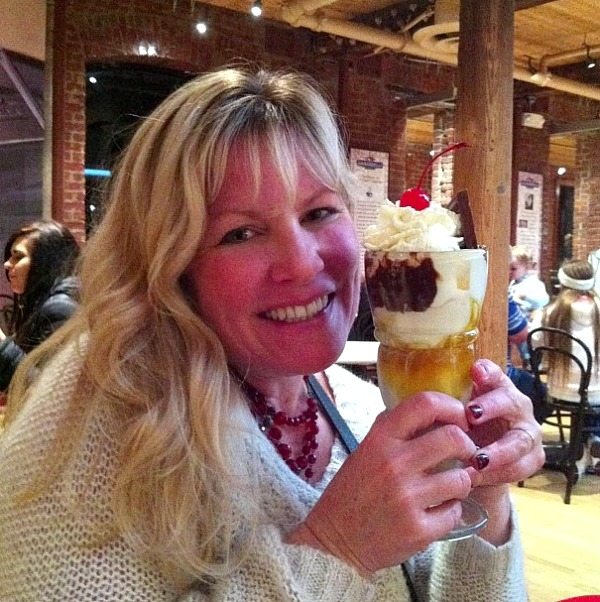 We cabbed it to Ghirardelli Square for my favorite- a Hot ButterscotchBrownie Sundae, then walked two blocks back to the hotel.  Perfect!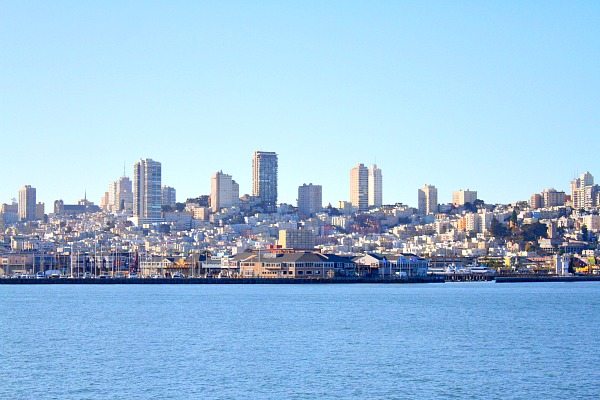 The next day was absolutely gorgeous.  We hopped on a boat and went to Alcatraz Island.  None of us had ever been there before.  The boat launch was a short cab-ride away from the hotel.  Something to note:  you absolutely must make reservations for the Alcatraz boat in advance and online.  They sell out quickly, especially during busy tourist times.  I made reservations a week in advance and there was only one time reservation left!  Don't expect to be able to walk up and just get tickets.  You'll have a beautiful view of the city from the boat.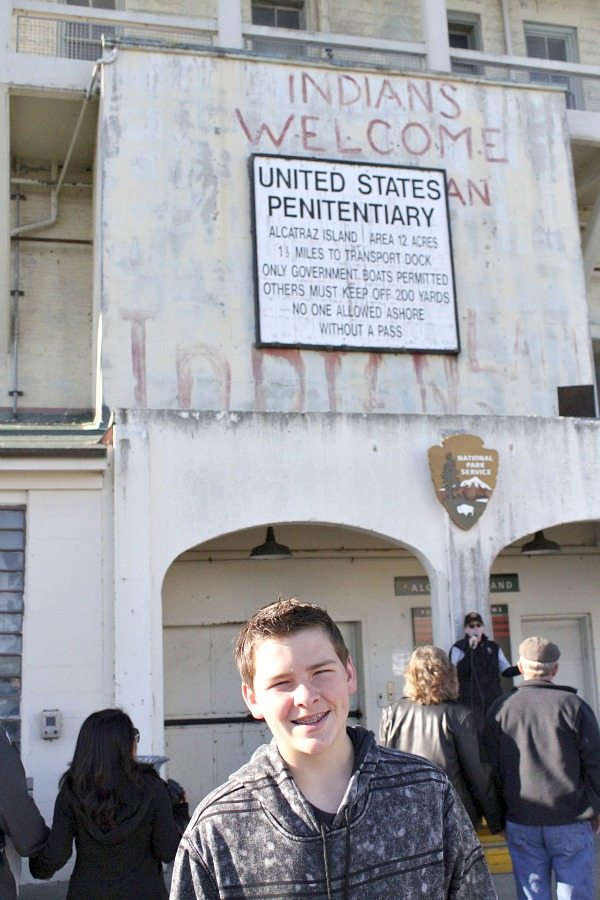 On the ride over, we read all about the history of the prison and the island.  Totally interesting.  Here is the sign you see upon arrival.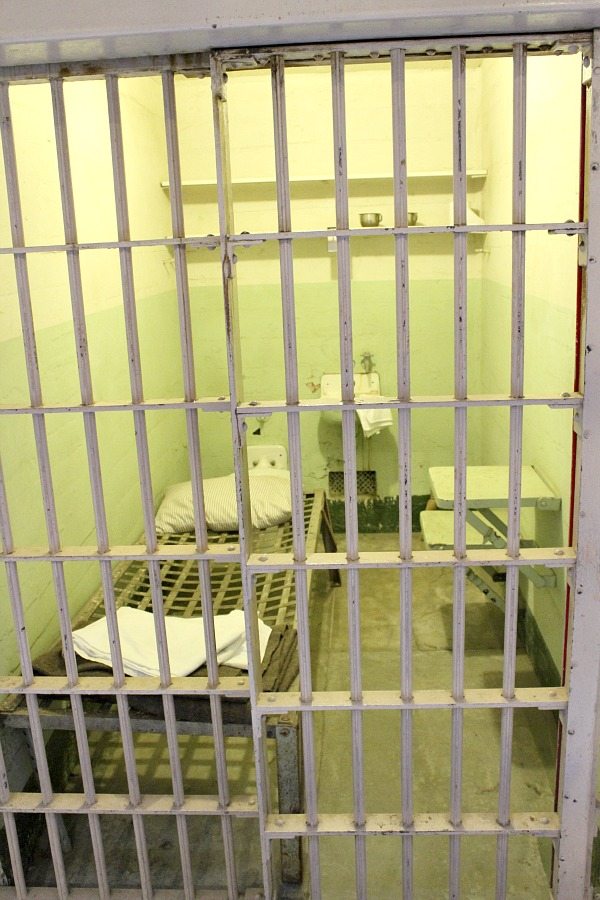 The cells are tiny and dismal.  Everything is such high security around the place that it's hard to believe there were actually prisoners who were able to escape.  Of course, it's assumed that they all drowned in the rough waters surrounding the island.  Bummer for them.  I hope we successfully scared our son straight- haha!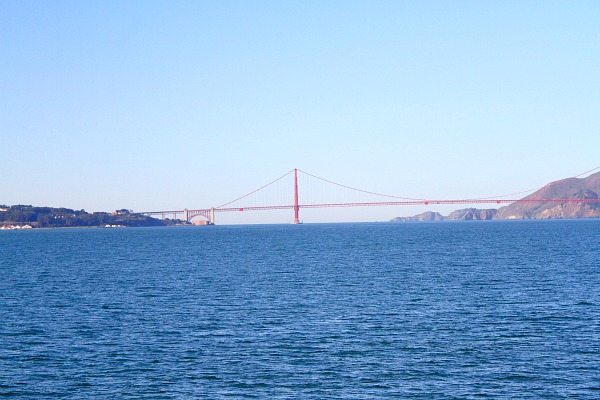 On the way back across, we had a beautiful view of the Golden Gate Bridge.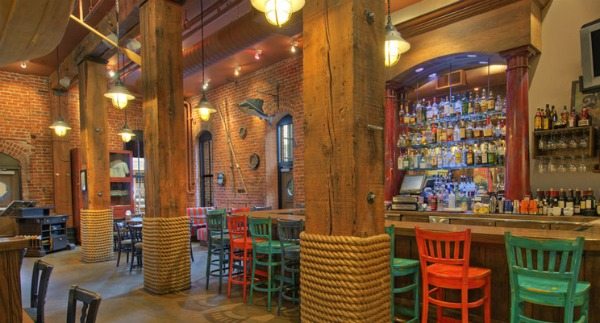 Back at the hotel, we had our choice of relaxing things to do… we could hang out in the Blue Mermaid Chowder House and Bar (it's just off the lobby of the hotel)…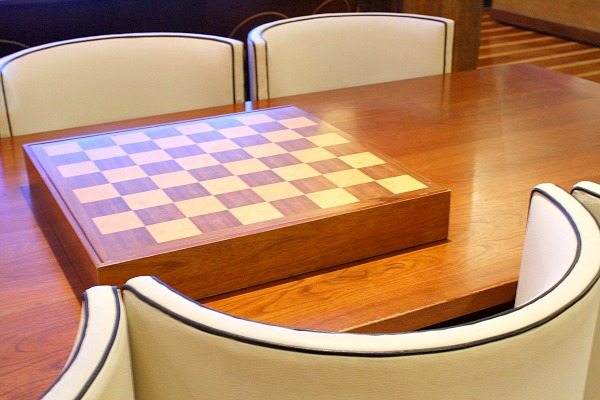 …or we could challenge each other to a game of checkers or chess in the lobby…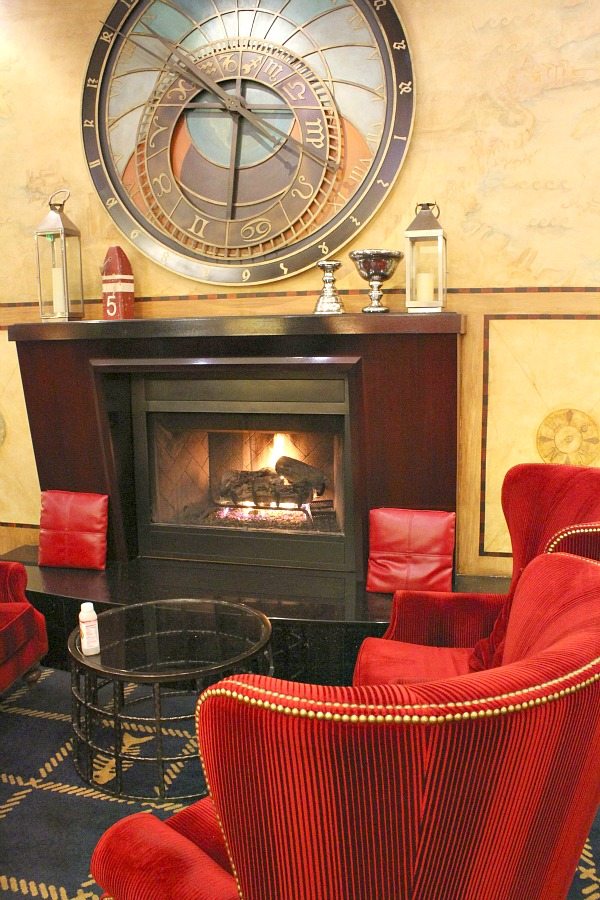 …or we could sit in these fabulous, luxurious chairs and enjoy the hosted wine hour that happens every day at 5 o'clock.  That's what we did.  Wine for us and hot apple cider for our boy.  Sitting by this fire was so relaxing.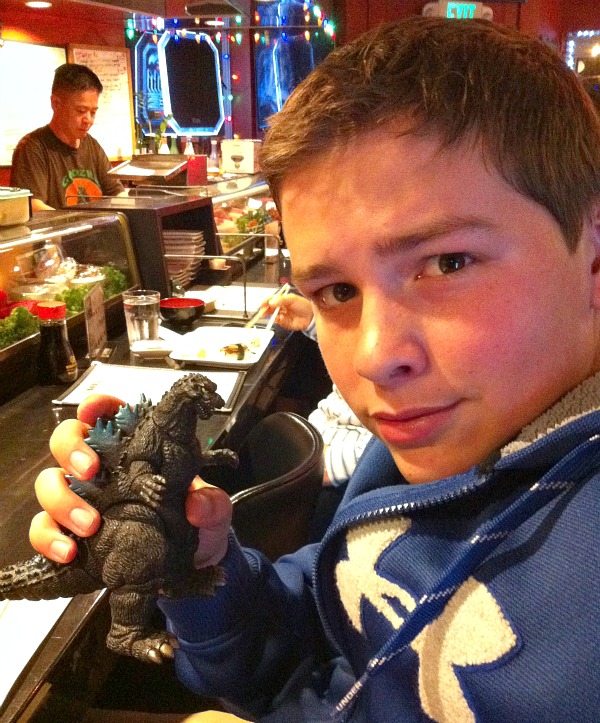 This night for dinner we went to Godzila Sushi in lower Pacific Heights (again, we took a cab).  We hadn't had GOOD sushi is such a long time, so we were SOOOO excited for this place.  I'm so glad it was recommended to us because we loved every single bite of it.

I mean… look at that sushi!!!!!  I'd eat here again in a heartbeat!
Some things to note:
The hotel was awesome.  It was in the perfect location for touristing around San Francisco, and it was clean and pretty and comfortable.  We were on the busy side of the hotel (overlooking the wharf and the water), so it was sometimes a little noisy at night (on the weekend) if you left the window open.  With the window closed, it was totally fine.  I utilized the workout room each day- small but well-equipped.  There is no parking on-site (as is usual with many SF hotels, so we parked in a lot about 2 blocks away.  It was secure and safe.  We'd definitely stay at the Kimpton Argonaut again and would recommend to others.
Places we ate while in San Francisco:
Ferry Building– definitely check out this amazing marketplace full of foodie delights.
Gott's Roadside (Ferry Building)– amazing burgers, fish tacos, shakes.  We enjoyed sitting at the counter and watching the guys make the food.  Fun atmosphere.
Cowgirl Creamery (Ferry Building)- picked up the BEST assortment of cheeses (expensive, but worth it) to bring back to the hotel for happy hour munching.
Jackson-Fillmore (Pacific Heights) – everything we ate there was excellent.  Italian-themed, small place, so get there early or make a reservation.
Godzila Sushi (Pacific Heights)-   Can recommend this place enough- LOVED it.
Near the Argonaut:
Lori's Diner:  decent breakfast options
Ghiradelli Square:  Fun to shop the shops, and eat ice cream at the Ghirardelli Ice Cream Shop.  They're always handing out chocolate samples, and you should definitely buy some chocolate to take home!
Disclosure:  Kimpton Hotels graciously comped a portion of our stay at the Argonaut.  I'm happy to share about our positive experience and was not paid to do so.