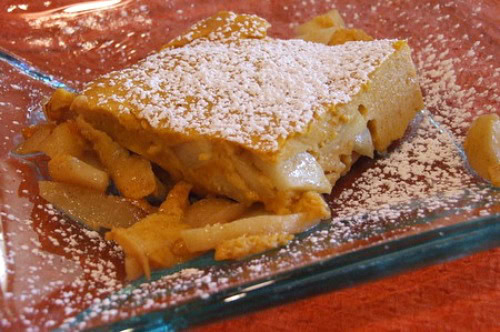 Sauteed Apple- Pumpkin Oven Pancake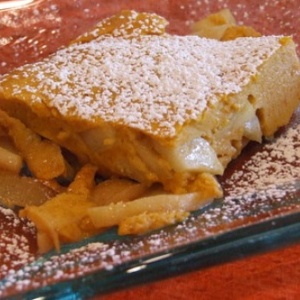 Yield:
4 to 6 servings
Prep Time: 30 min
Cook Time: 30 min
Ingredients:
3 Tablespoons butter, divided
4 large apples such as Granny Smith, Gala, or Golden Delicious, peeled, cored and cut into 3/8-inch slices
4 Tablespoons firmly packed light brown sugar, divided
1 1/2 teaspoons ground cinnamon, divided
4 large eggs
2/3 cup canned, unsweetened pure pumpkin purée
2/3 cup whole milk
2/3 cup all-purpose flour
1 teaspoon vanilla extract
1/8 teaspoon salt
powdered sugar for dusting
Directions:
1. Preheat oven to 425°F.
2. In a large skillet, melt 2 Tablespoons of the butter over medium-high heat. Add the apples and sauté just until tender, 5 to 7 minutes. Sprinkle with 2 Tablespoons of the sugar and 1/2 teaspoon of the cinnamon and stir to coat the apples. Remove from heat.
3. Place 10 or 11-inch round soufflé or casserole dish in the oven to heat for 5 minutes. Carefully remove the dish from the oven, add the remaining 1 Tablespoon of butter, and tilt the dish to coat the bottom. Spoon the sautéed apples over the bottom of the dish.
4. In a blender, combine the eggs, pumpkin, milk, flour, the remaining 2 Tablespoons sugar and 1 teaspoon cinnamon, the vanilla, and the salt and blend for a few seconds, just to incorporate. Scrape down the sides of the jar and blend again to incorporate.
5. Pour the batter over the hot apples. Bake until puffed and golden brown, 20 to 25 minutes. Dust with powdered sugar and serve immediately.
Source: RecipeGirl.com (via A Harvest of Pumpkins and Squash)