Here's a tropical cocktail that will get you through the rest of summer > Shark Attack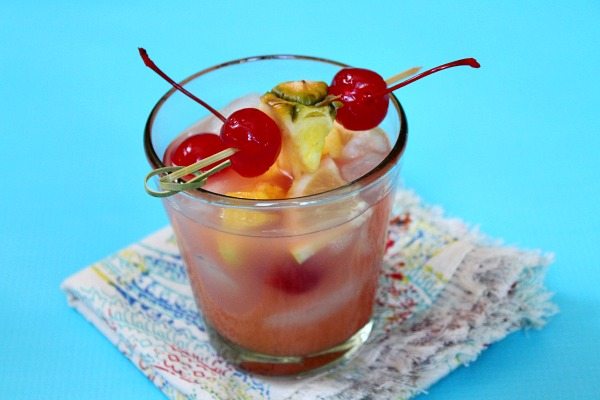 It's funny… recently my husband and I were talking about how when people get married, they feel like they have to take a huge, luxurious vacation to some tropical island to celebrate their honeymoon- even when people don't really have the money to do so!  We reminisced about our own wedding and honeymoon back in 1995.  We chose a beautiful venue and had the most perfect wedding- even though we made many shortcuts on our wedding reception.  No one was in debt or even out thousands of dollars when it was over!  And we spent a week in a tiny one-bedroom cabin for our honeymoon in Lake Tahoe (again… we didn't break the bank on the honeymoon either).  Do we have any regrets about not going "all-out" on a honeymoon?  Absolutely not.  That week in our tiny little cabin near the lake was full of great memories!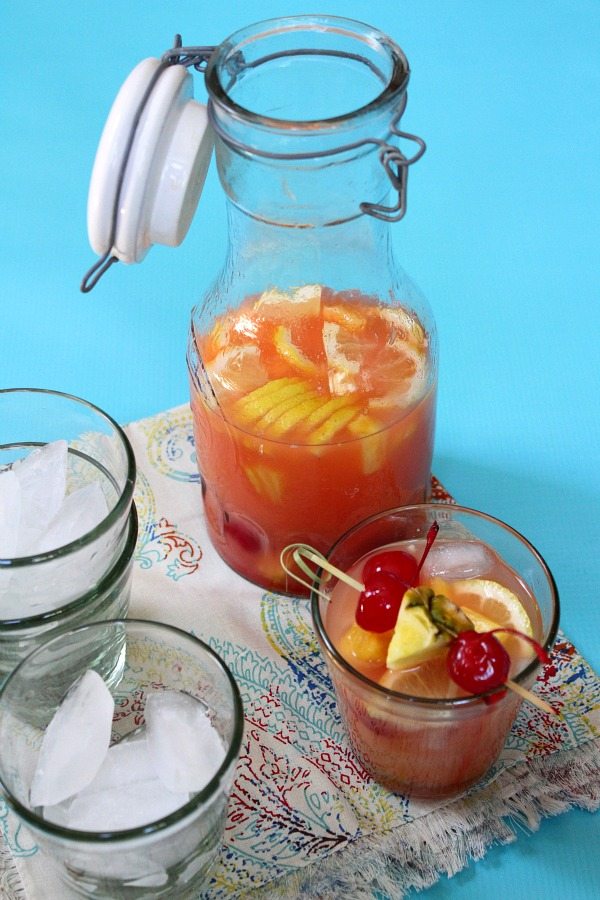 What does this all have to do with this fabulous Shark Attack cocktail recipe?  Well, we're vacationing on Lake Tahoe again this week, and we have been talking about how beautiful it is… and how everyone should make it a point to visit here someday.  Oh, and while you're here, you should make beachy cocktails like these!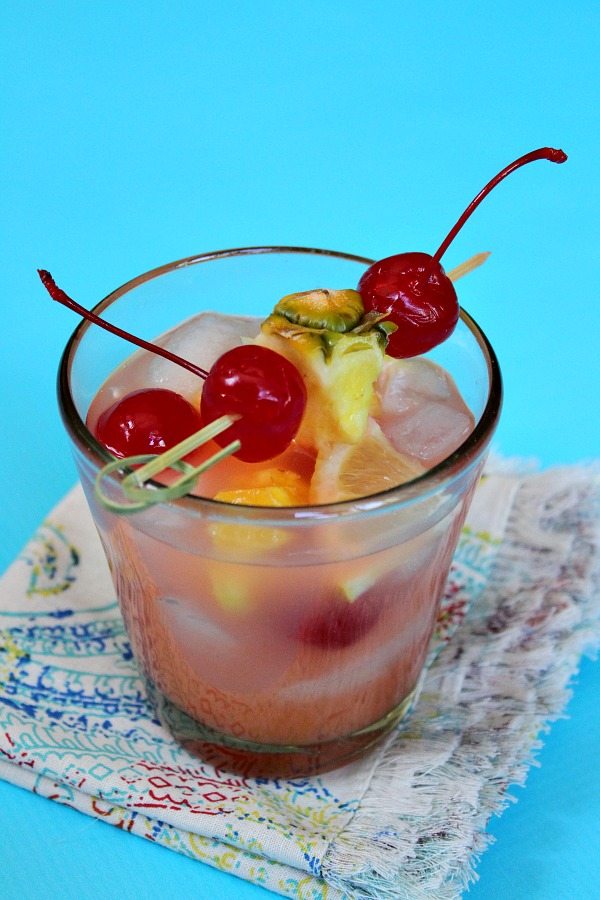 We are lucky enough to live just 25 minutes from Lake Tahoe.  It's truly one of the most gorgeous sights you've ever seen, and there is so much to do- hiking, biking, river rafting, shopping in nearby cute town Truckee, hanging at the beaches, paddle boarding, kayaking, outdoor concerts and theater in the summer, and skiing in the winter.  We prefer to stay on the North Shore.  These yummy tropical cocktails were the perfect ending to a perfect week in Tahoe.  (Even though Tahoe "technically" does not have any sharks 😉 )
Shark Attack Cocktail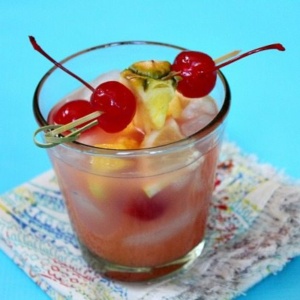 Yield: 4 to 6 cocktails
Prep Time: 5 min
Ingredients:
ice cubes
1 lemon, sliced thinly (and then sliced in half or fourths)
1/2 cup small chopped pineapple, plus more for garnish
1/2 cup tequila
1/2 cup Triple Sec
1 cup orange juice
1/2 cup pineapple juice
1/2 cup rum
splash of grenadine
1/2 cup maraschino cherries, plus more for garnish
Directions:
In a pitcher, add all the ingredients and stir to combine. Refrigerate until ready to serve (or serve right away). Pour into glasses that have a few ice cubes. String long toothpicks with maraschino cherries and pineapple and place on top of each glass.
Tips:
*Those long toothpicks for garnish that you see in this post... I picked those up at Cost Plus World Market.
SOURCE: RecipeGirl.Com (adapted slightly from Food Network)