This recipe has been featured in a post on The Recipe Girl blog: Summer Drink Recipe.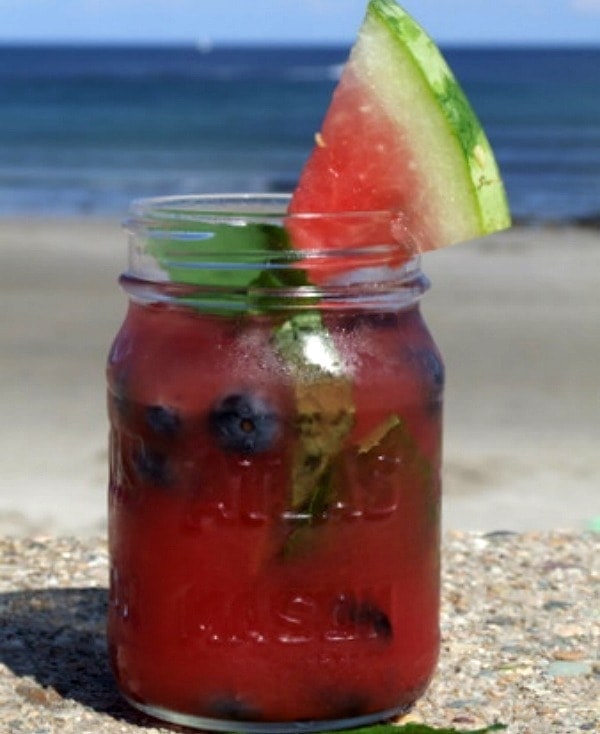 Watermelon- Tequila Cocktail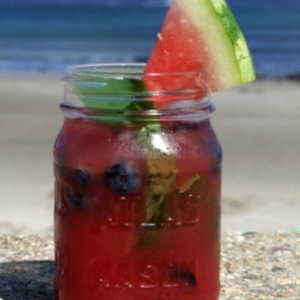 An awesome, refreshing summer cocktail...
Yield:
8 servings
Prep Time:30 min
Cook Time:1 min
Ingredients:
1/4 cup water
1/4 cup granulated white sugar
8 cups (1 pound) diced seedless watermelon
1/4 cup lime juice, freshly squeezed
1 3/4 cups fresh blueberries
3/4 cup fresh mint leaves, lightly packed
8 mint sprigs, for garnish
1 1/4 cups silver tequila
ice cubes
Directions:
1. In a small saucepan, bring the water to a simmer with the sugar and stir over moderate heat until the sugar is dissolved, about 1 minute; let the sugar syrup cool.
2. In a blender, puree the watermelon until smooth. Set a fine-mesh strainer over a bowl and strain the watermelon juice, pressing gently on the solids to extract as much juice as possible. Discard the pulp.
3. In a large pitcher, combine the sugar syrup with the lime juice, blueberries and mint leaves. Using a wooden spoon, lightly muddle the blueberries and the mint. Add the watermelon juice and tequila. Refrigerate until chilled, about 2 hours.
4. Pour the cocktail into tall ice-filled glasses. Garnish with mint sprigs and serve.
Tips:
*I like to prepare the simple syrup ahead of time and let it get good and cold in the refrigerator.