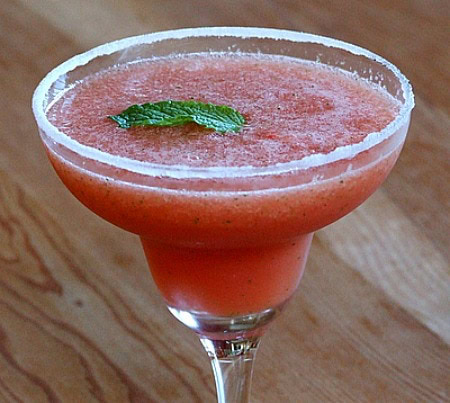 Watermelon- Mint Margaritas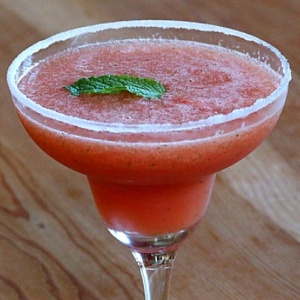 PERFECT... for summer. Find some nice, juicy watermelon and you've got yourself a yummy cocktail.
Yield:
5 cocktails
Prep Time:15 min + freeze time
Ingredients:
4 cups seeded and chopped watermelon
fresh lime juice
sugar (superfine sugar works best)
1/2 cup tequila
1/4 cup granulated white sugar
1 Tablespoon grated lime rind
1/4 cup freshly squeezed lime juice (about 3 limes)
2 Tablespoons chopped fresh mint leaves
mint sprigs for garnish, if desired
Directions:
1. Place watermelon in a single layer on a baking sheet. Freeze 4 hours or until firm.
2. Coat rims of cocktail glasses with lime juice; dip in sugar or salt.
3. Process frozen watermelon, tequila, and next 4 ingredients in a blender until slushy. Pour into glasses. Garnish, if desired.
Tips:
*If you don't have time to freeze the watermelon, simply make the drinks as directed and add ice to the blender for slush.
*To make this a nonalcoholic drink, sub orange or apple juice for the tequila.