This Lava Flow Cocktail is a super fun and easy blended cocktail that's guaranteed to beat the heat this summer!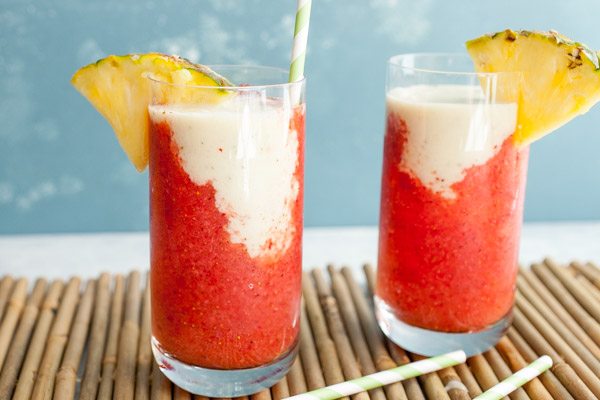 As a previous bartender, I must admit that I like the classic cocktails the best. Give me a good gin and tonic or a well-balanced manhattan and I'm good to go. But, occasionally, I'll try something new that I really like! That's definitely the case with these fun blended Lava Flow Cocktails.
There are two different mixes that you need to make for these: One is the strawberry base (where the rum is) and then a thick coconut mixture that slowly will sink to the bottom of the glass. It's a cool visual effect and also the mix of flavors is really delicious!
To start out, add some strawberries, ice, and light rum to a blender. Blend that until it's nice and smooth.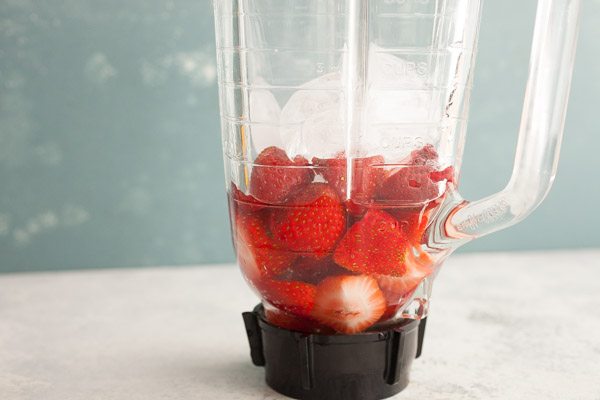 Divide that between two glasses with some fresh ice. Rinse out the blender and then add the banana, pineapple juice, and coconut milk.
This mixture is nice and thick and also creamy which pairs perfectly with the sharp strawberry base.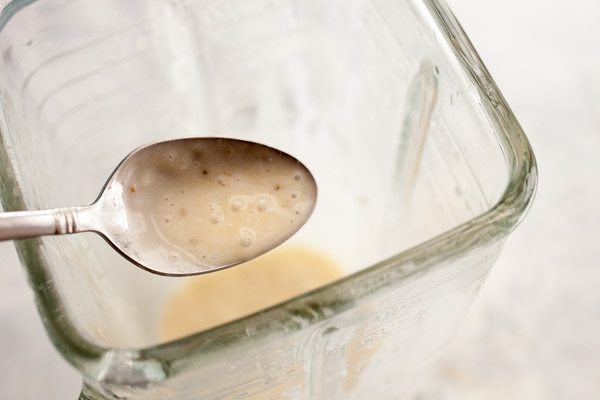 When you're ready to serve them, pour the coconut mixture down one side of the glass and it'll slowly sink to the bottom, creating a fun "lava" effect.
I recommend drinking these with a straw so you can get a little of both mixtures in each sip. YUM!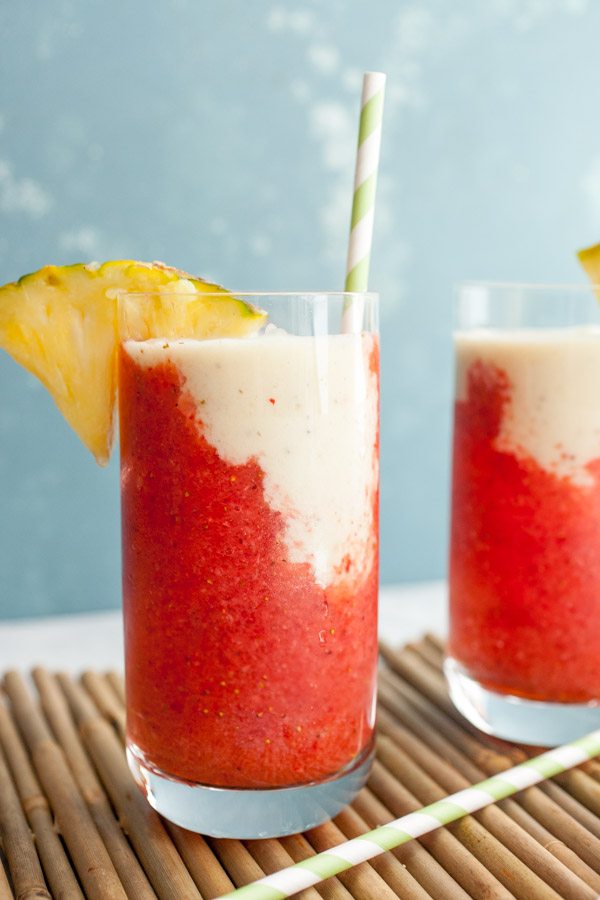 Lava Flow Cocktail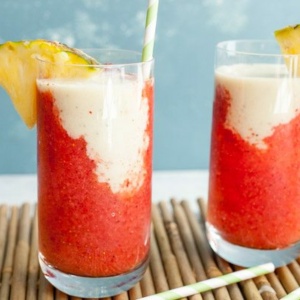 Yield:
2 cocktails
Prep Time:10 minutes
Ingredients:
1 cup strawberries
1 cup ice
4 ounces light rum
1 banana
1/4 cup pineapple juice
1/4 cup coconut milk
Fresh pineapple, garnish
Directions:
In a blender, combine the strawberries, ice and rum. Blend until smooth.
Divide mixture between two tall glasses with ice. They should be about 2/3 full.
Wash out the blender and add the banana, pineapple juice, and coconut milk. Blend until smooth.
Pour coconut mixture into the strawberry base and it will slowly start to sink.
Serve with fresh pineapple wedges and straws!
SOURCE: RecipeGirl.com
Here are a few more cocktail recipes you might enjoy: