Poke cakes are all the rage- have you heard?  Here's a Snickerdoodle Poke Cake recipe for you.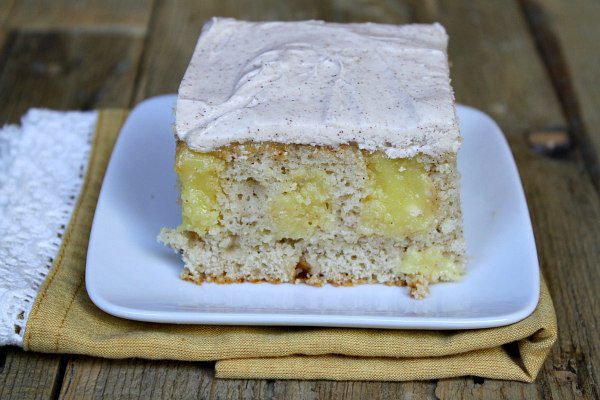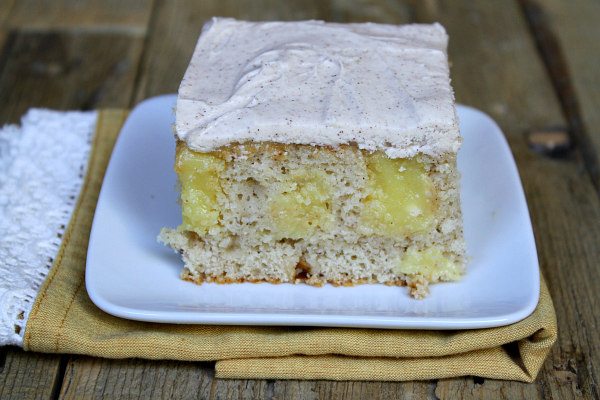 I've been seeing these poke cake recipes all over the internet in the last couple of years.  As much as I bake, you would think that I've surely baked one of them.  Nope!  This was my first poke cake ever.  And it was a grand success.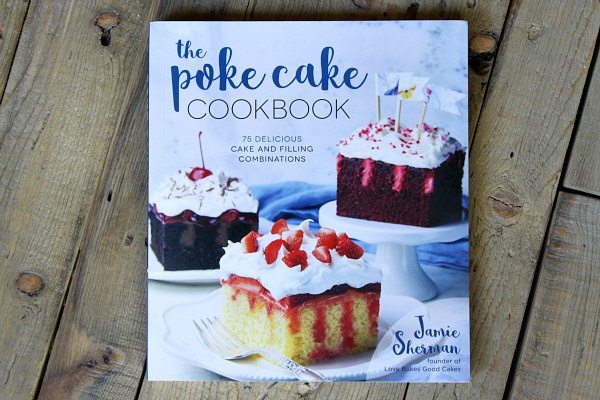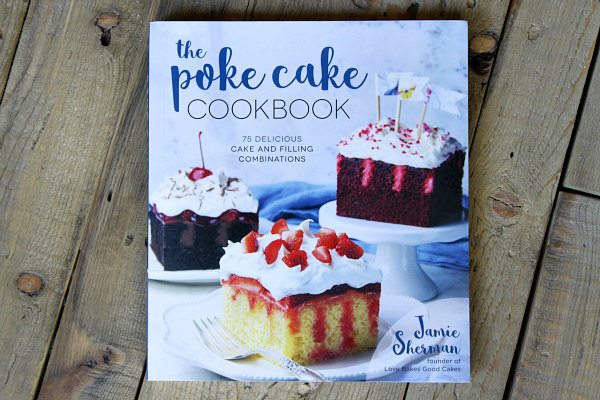 The recipe comes from a new cookbook by my blogging friend Jamie Sherman (she writes the blog, Love Bakes Good Cakes).  The book is called, The Poke Cake Cookbook: 75 Delicious Cake and Filling Combinations.  All of the cakes are made in 13×9-inch pan, all of them are poked, and all of them have some sort of delicious filling that soaks into the holes of the cake.
I should note that these recipes all begin with a boxed cake mix and are jazzed up from there.  So if you're not a fan of boxed cake mixes, this is probably not the book for you.  But if you grab a box occasionally to make a quickie dessert, then this will be a fun book to have in your collection.
Here are a few poke cake recipes from the book that caught my eye:  Boston Cream Pie Poke Cake, Red Velvet Poke Cake, S'Mores Poke Cake, Reese Poke Cake, Death By Chocolate Poke Cake, Chocolate Mint Poke Cake, Cream of Coconut Poke Cake, Lemon Lover's Poke Cake and Funfetti Poke Cake.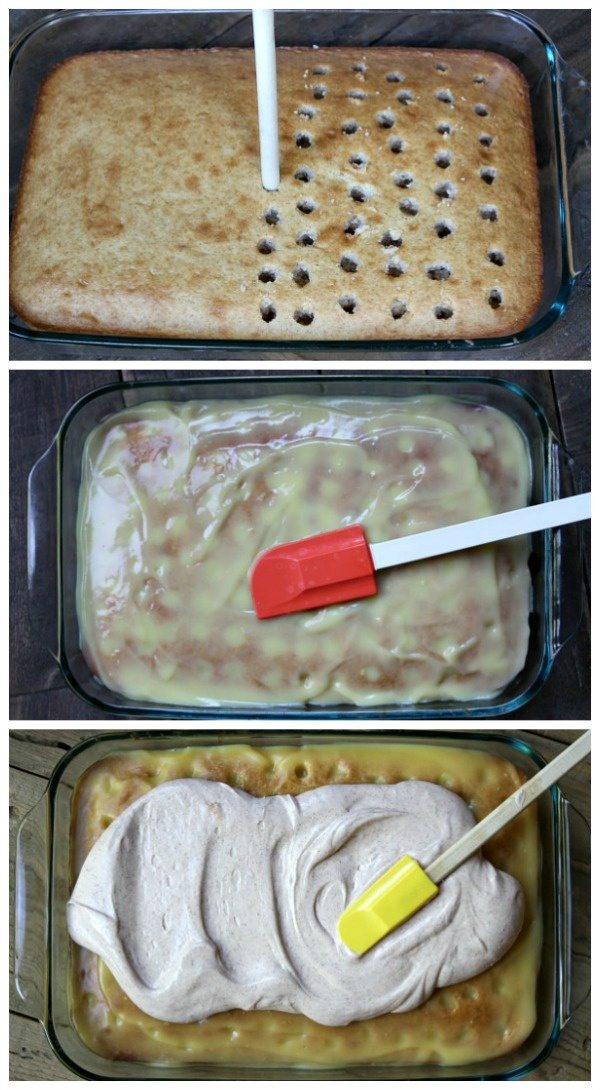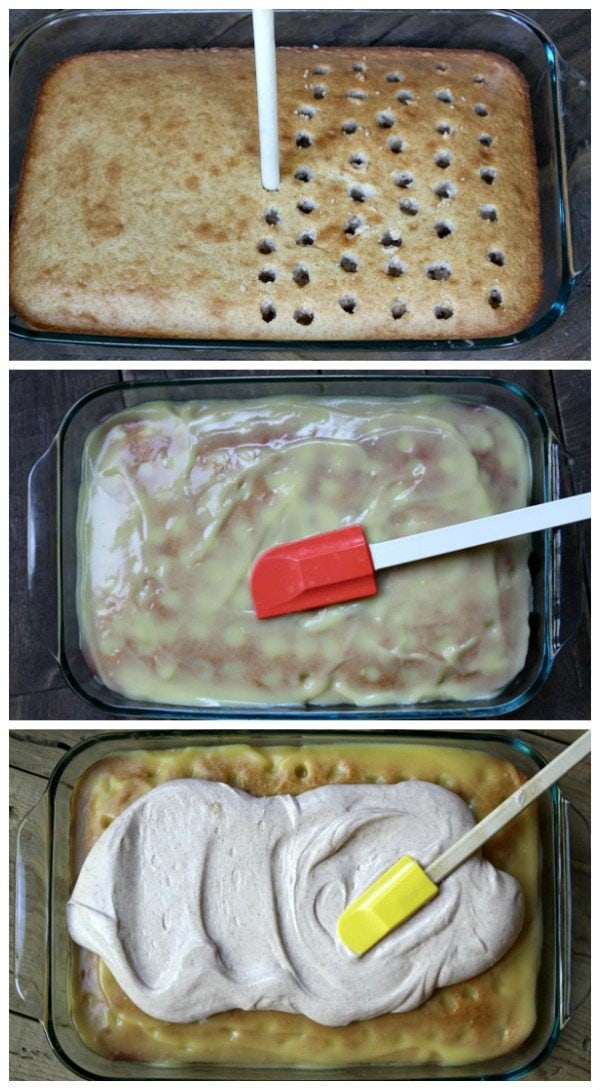 Above is a photo of the typical poke cake process.  You start with a baked cake, poke holes with the round end of a wooden spoon, pour the filling over and let it seep into the holes, then top with frosting.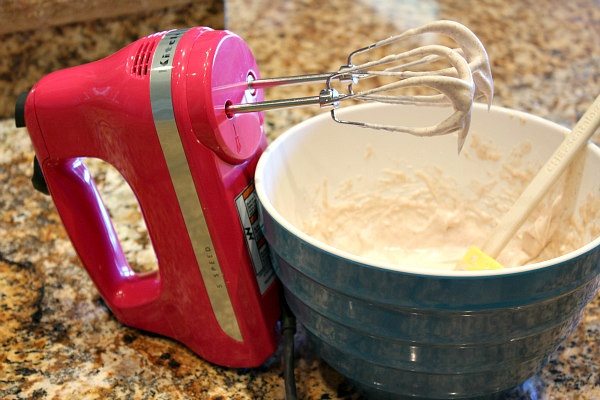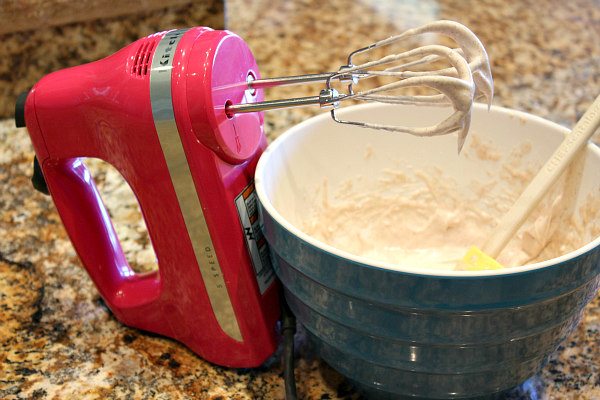 Here's a peek at my brand new hand mixer from KitchenAid®.  It's BRIGHT PINK!!!!  I love it.  We're staying in a rental home right now with a completely stocked kitchen.  It has been a little challenging since I'm missing my regular kitchen things, but the worst thing was the old hand mixer.  I turned it on to make cookies one day, and the speed of the mixer went from off to 100% in two seconds.  Cookie dough everywhere!  KitchenAid® to the rescue!  Their base model hand mixer has 5 speeds, it feels comfortable and light in my hands, and it mixes like a dream.  They offer other colors, but the bright pink makes me happy!!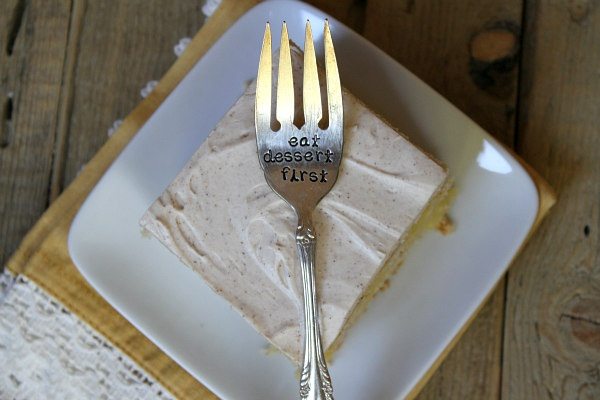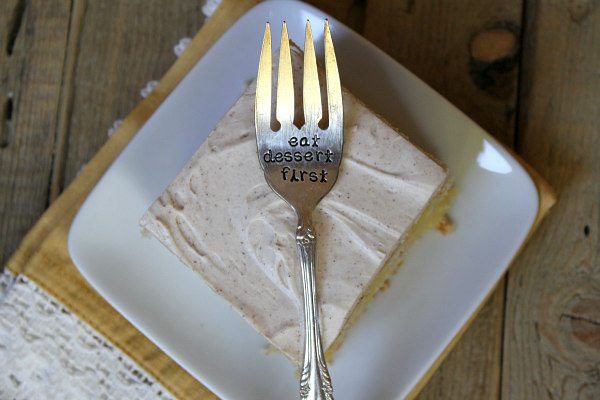 Enough said.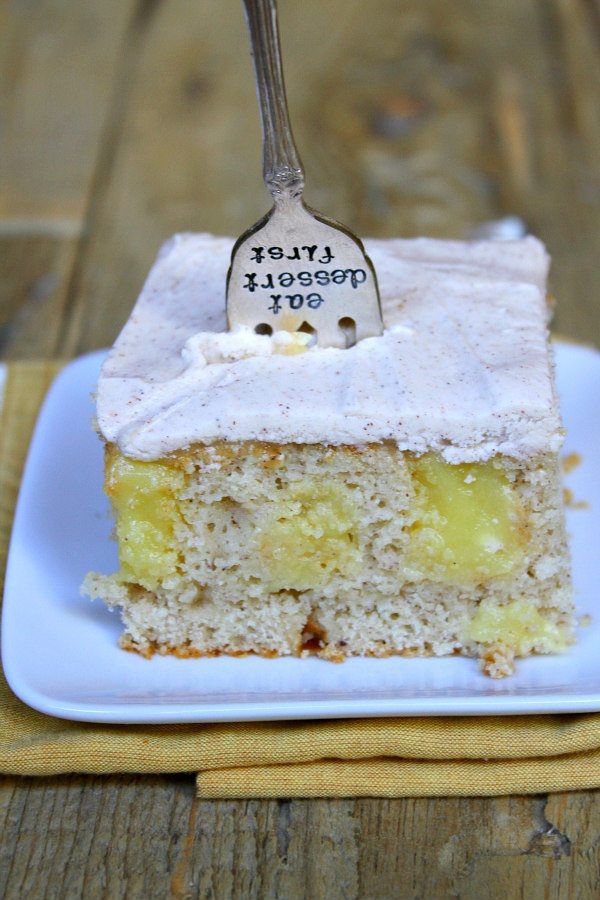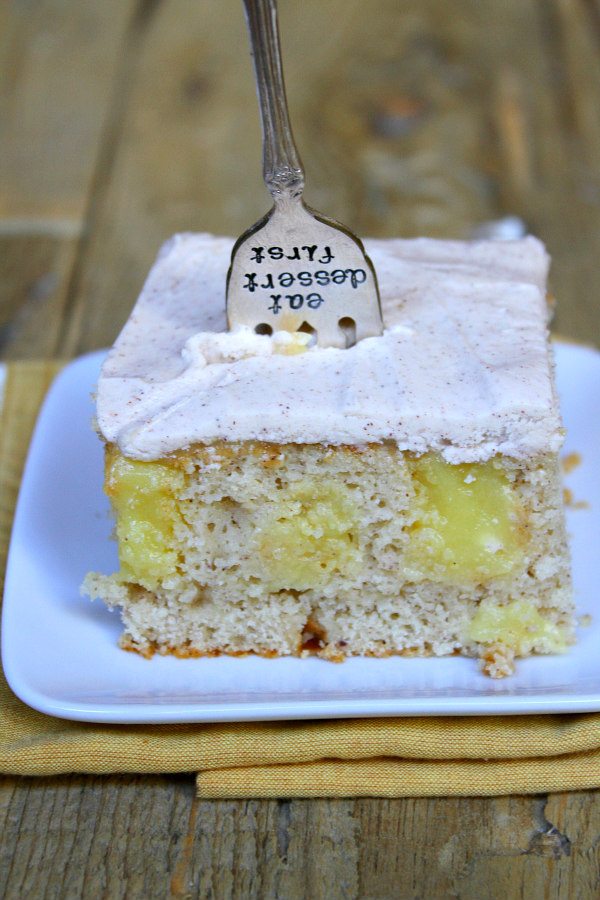 This is a fun, spiced-up cake with vanilla pudding drizzled into the poked holes.  Then it's covered with a layer of spiced-up buttercream frosting.
It's the perfect sort of easy cake recipe to make for a fun celebration.
Snickerdoodle Poke Cake
Yield:
18 servings
Prep Time: 10 minutes + chill time
Cook Time: 35 minutes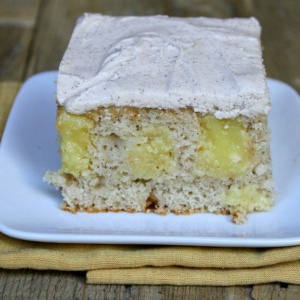 Ingredients:

CAKE:

One 15.25-ounce box white cake mix
1 cup milk
1/2 cup (1 stick) butter, melted and cooled
3 large Eggland's Best eggs
2 teaspoons vanilla extract
1 teaspoon ground cinnamon

FILLING:

One 3.4-ounce package vanilla instant pudding mix
2 cups cold milk

FROSTING:

1/2 cup (1 stick) butter, at room temperature
3 to 4 cups powdered sugar
1/4 cup heavy cream or half & half
1 teaspoon vanilla extract
1 teaspoon ground cinnamon

Instructions:

Preheat the oven to 350 degrees F.  Spray a 13x9-inch pan with cooking spray and set aside.
Prepare the cake: In a large bowl, whisk together the cake mix, milk, melted butter, eggs, 2 teaspoons vanilla and 1 teaspoon cinnamon until well-combined.  Pour the batter evenly into the prepared baking pan.  Bake 30 minutes or until a toothpick inserted into the center of the cake comes out clean.  Remove from the oven and let cool 10 to 15 minutes.
Prepare the filling: With the handle end of a wooden spoon, poke holes all over the cake; make plenty of holes so the filling can soak into the cake.  In a medium bowl, whisk together the pudding mix and the milk.  Whisk until the pudding is dissolved.  Evenly pour over the poked cake, filling the holes as much as possible.  Cover the cake with plastic wrap and refrigerate for 2 to 4 hours or until the pudding is set.
Prepare the frosting:  In a medium bowl, use an electric mixer to combine the butter, powdered sugar (start with 3 cups and see if you need any more), cream, vanilla and cinnamon.  Beat until light and fluffy.  Spread the frosting over the cake.  Refrigerate for at least 4 hours before serving.
Store, covered, in the refrigerator.
Here are a few more poke cake recipes you might enjoy:
Disclosure:  I was given a copy of this book for review purposes.  KitchenAid® generously sent me a hand mixer to use in my kitchen.