This recipe has been featured in a post on The Recipe Girl blog: Super Bowl Party Recipes.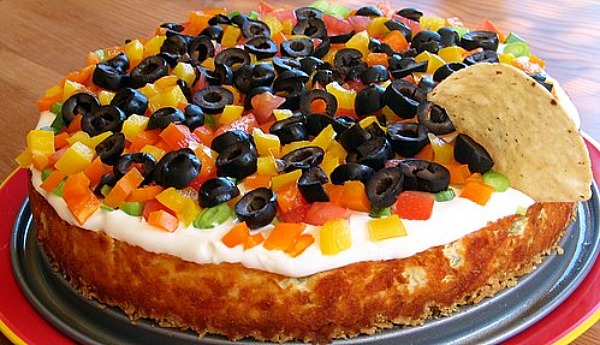 Southwestern Cheesecake Dip
Yield:
36 servings
Prep Time: 25 min
Cook Time: 45min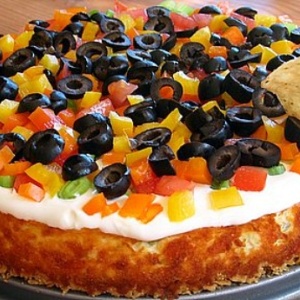 Ingredients:

1 cup finely crushed tortilla chips
3 Tablespoons butter, melted
16 ounces low fat cream cheese
2 large eggs
8 ounces Colby/jack cheese, shredded
1 (4-ounce) can chopped green chiles, drained
1 cup sour cream, reduced fat
1/2 cup sliced green onion
1/3 cup chopped tomatoes
1 cup chopped yellow and orange bell peppers
1/4 cup sliced olives

Instructions:

1. To prepare crust, heat oven to 325 degrees. Mix chips and butter and press in a 9-inch springform pan. Bake 15 min.

2. To prepare filling, beat cream cheese and eggs in bowl with mixer until well blended. Mix in cheese and chilies. Pour over crust. Bake 30 min.

3. For topping, spread sour cream over cheesecake. Loosen cake from rim of pan; cool before removing rim of pan. Refrigerate several hours or overnight.

4. When ready to serve, sprinkle top with green onion, tomatoes, bell peppers and olives. Serve with tortilla chips or crackers.