Here is a beautiful dish to provide comfort and warmth on a cold and wintry day:  Southwestern Pork Stir Fry served over Creamy Cilantro Polenta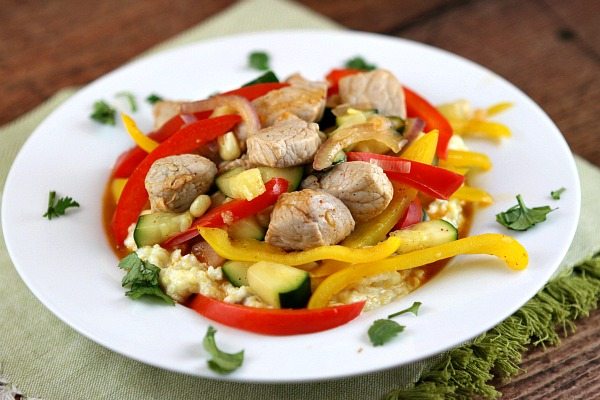 This is the sort of dinner my family loves best.  Marinated pork is quickly stir fried with veggies, and some comfort food is tucked underneath- a very creamy and delicious cilantro polenta.  Every bite of these bright and beautiful vegetables… along with a forkful of tender pork is scooped up with that creamy layer underneath.  It all comes together nicely with great Southwestern flavors.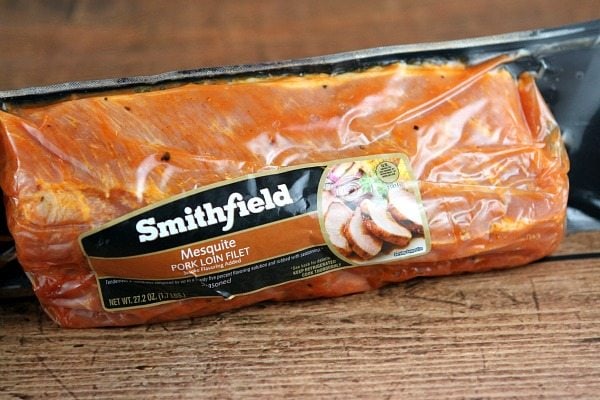 The pork used for the recipe is from Smithfield's line of already-marinated pork.  I used the mesquite pork loin filet for my stir fry- it's 100% fresh pork slow marinated in mesquite seasoning.  I love that it comes pre-marinated… it saves me time in the kitchen when I'm crazy busy assembling dinner! You'll also be able to locate already-marinated pork tenderloin and pork sirloin at your market.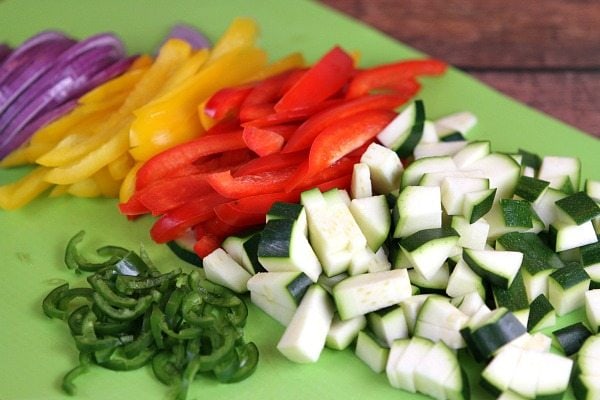 This stir fry has plenty of fresh veggies!  If you know you'll be making this for dinner, it's a really nice idea to chop all of your vegetables early in the day so you can have everything ready to go at dinnertime!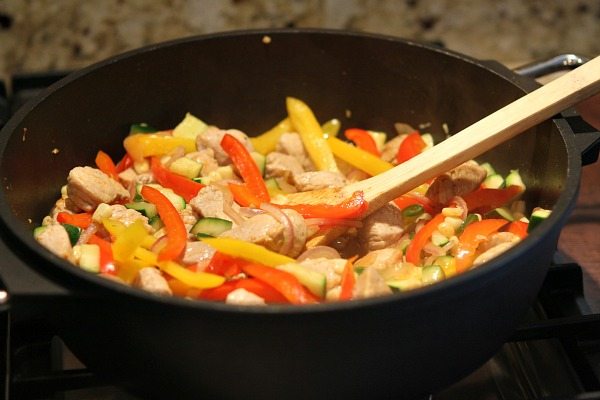 The pork is stir fried for a couple of minutes (no seasoning needed because it's already there!)  Add in the veggies, etc. and you're almost done!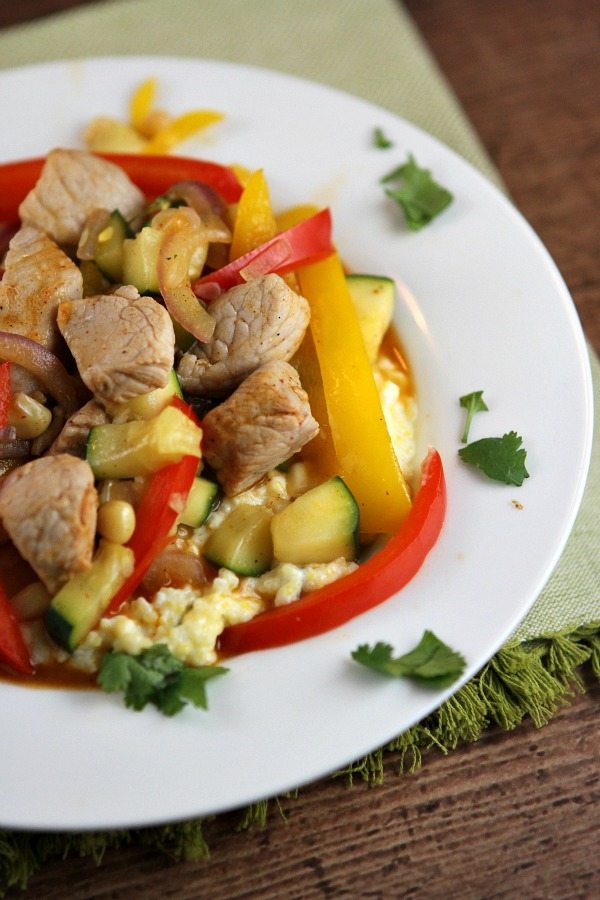 I serve mine over creamy cilantro polenta… pan juices drizzled on top (in the recipe below, I share in the recipe below that you should make the polenta first… then stir fry).  If you're not into polenta, try serving it over rice or quinoa instead.
My family loves to have dinner with a protein as the main dish, so this recipe is a big winner for us.  My guys are also sticklers about meat being tender.  This works out well with Smithfield's already-marinated pork because it has been sitting in the marinade getting tender for a good amount of time.  The mesquite flavor is one of my favorites, and it works perfectly in this dish.  Big thumbs up for the Southwestern Stir Fry and Creamy Cilantro Polenta!
Southwestern Pork Stir Fry with Creamy Cilantro Polenta
Yield:
4 servings
Prep Time: 30 minutes
Cook Time: 20 minutes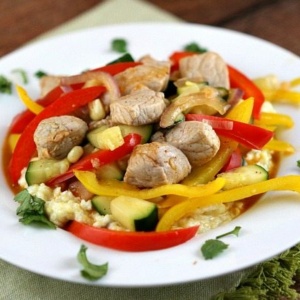 Ingredients:

Creamy Cilantro Polenta:

3 to 4 cups whole milk
3/4 cup whole grain polenta (not instant)
1 tablespoon salted butter
1 teaspoon kosher salt
1/2 teaspoon freshly ground black pepper
2 tablespoons chopped fresh cilantro

Stir Fry:

2 tablespoons olive oil
27.2 ounce Smithfield Mesquite Pork Loin Filet, trimmed and cut into 1-inch pieces
1 large zucchini, washed, trimmed and diced
1 small red bell pepper, seeded and cut into 1/4-inch strips
1 small yellow bell pepper, seeded and cut into 1/4-inch strips
1/2 small red onion, thinly sliced
1 cup fresh or frozen corn kernels
1 medium jalapeño pepper, seeded and thinly sliced
1 medium clove of garlic, minced
1 1/2 tablespoons freshly squeezed lime juice
1 teaspoon chili powder
salt and freshly ground black pepper to taste
1 teaspoon cornstarch dissolved in 1/2 cup chicken broth

Instructions:

Prepare the Polenta:  In a medium saucepan, bring 1 cup of milk to a boil. Whisk in the polenta and reduce the heat to low. Simmer for 3 to 5 minutes, stirring often until thickened.  Add another 1 cup of the milk and stir. Continue to stir and simmer for 5 to 6 more minutes. Stir in another 1 cup of milk and continue to simmer, still stirring often, until the polenta is thick and creamy, 5 to 6 more minutes. Stir in the butter, salt, pepper and cilantro. Set aside while you make the stir fry.
Prepare the stir fry:  Heat the olive oil in a large skillet until hot. Add the pork to the skillet. Cook for 2 minutes, stirring often.
Add all of the vegetables to the skillet. Sprinkle with lime juice, chili powder, and a sprinkle of salt and pepper.  Cook for 3 to 4 minutes longer, stirring often, until the vegetables begin to soften and the pork cooks through.
Add the broth to the skillet and cook just until the liquid comes to a boil and begins to thicken.  Serve over polenta.  HINT:  If the polenta thickens too much upon standing, just add in some additional milk, heat and stir.  It should easily re-gain its creamy consistency again.
SOURCE:  RecipeGirl.com
More pork recipes you might enjoy:
Disclosure:  This post has been written in partnership with Smithfield to share their line of marinated pork.  This is a product that I know and use in my kitchen.  All opinions shared are my own.