My mother has made these little Spinach Balls as a holiday appetizer for her annual Christmas party for as many years back as I can remember. They're an easy little bite to put together and they're always a bit hit at her party.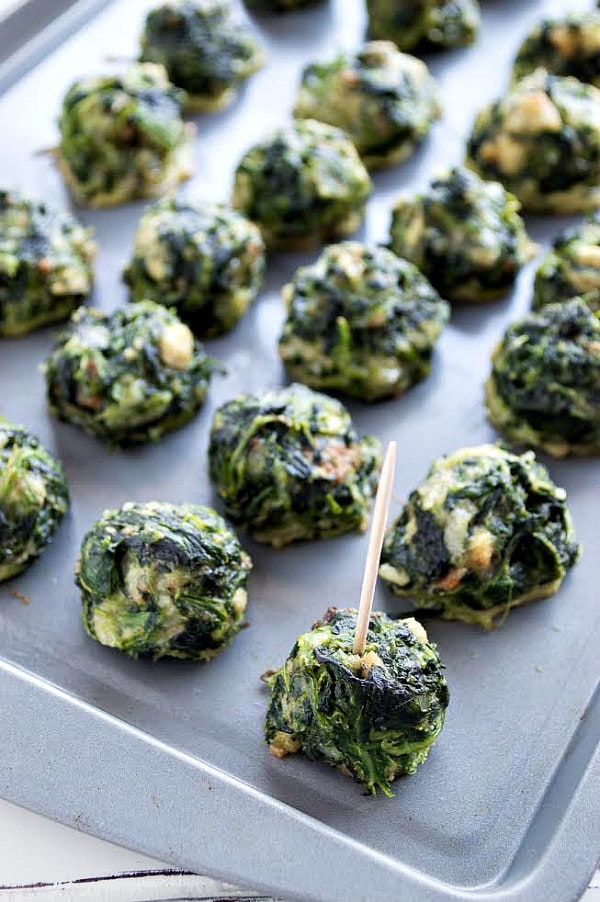 Spinach Balls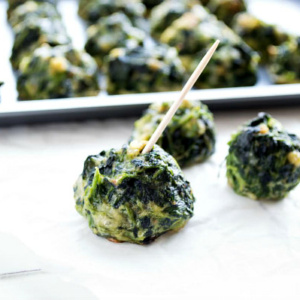 Yield:
About 40 appetizers
Prep Time: 20 minutes + refrigeration time
Cook Time: 20 minutes
Ingredients:
2 (10 ounce packages) frozen chopped spinach, thawed & squeezed dry
1 cup dried boxed stuffing mix (crumbled)
4 large eggs
3/4 cup grated Parmesan cheese
1/2 teaspoon thyme
1/4 cup melted butter
1 clove garlic, crushed
salt & pepper to taste
Directions:
In a medium sized bowl, mix spinach with remaining ingredients. Refrigerate for 20 minutes. Roll into 1-inch balls (you should be able to create about 40). Place onto cookie sheets.
Bake 15 to 20 minutes at 350 degrees.  Serve warm.
Tips:
*These freeze well. Just pop them into the oven while frozen and they should bake up just fine. *I can't help wondering what it would be like to add finely chopped sundried tomato to these spinach balls. Sounds like a good idea to me 🙂
Nutrition:
Nutrition Facts -Amount Per Serving of 2 balls
Calories 102, Calories From Fat (43%) 44, Total Fat 5g, Sat Fat 2.5g, Cholesterol 52mg, Sodium 323mg, Carbohydrates 10g, Dietary Fiber 1.2g, Sugar 1.16g, Net Carbs 9g, Protein 5g
WW POINTS per serving:  Points Plus Program: 3 Old Points Program: 2
SOURCE: RecipeGirl.com