Here's a recipe to get you out of the same-old-thing-for-dinner rut >> Szechuan Orange Ginger Beef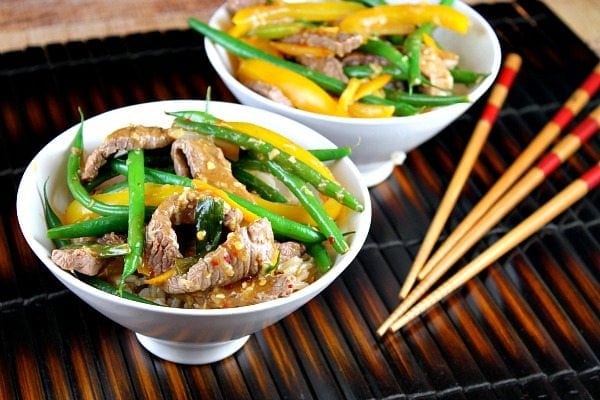 I sat down with my 12-year old today, random cookbook in hand, and we played a little game.  He claimed that he's happy to eat everything that I make.  I laughed and told him that he's actually getting pickier and pickier as he gets older.  More often than not, he gripes about what I'm making for dinner.
So with the cookbook in front of me, I flipped to miscellaneous pages and read recipe titles aloud… then watched for his reaction.  I'd say about half of them were things he said he'd be happy to try.  That didn't impress me much.  I'm not one to cater to my kiddo's tastes, but I sure wish he'd be more excited about trying a variety of dishes (especially vegetables!)  I'll keep working on him.
Today's recipe is one that he enjoyed (minus the peppers- UG!)  It's a stir fry that has a ton of great flavor and color, and it's one that everyone is the family is likely to eat.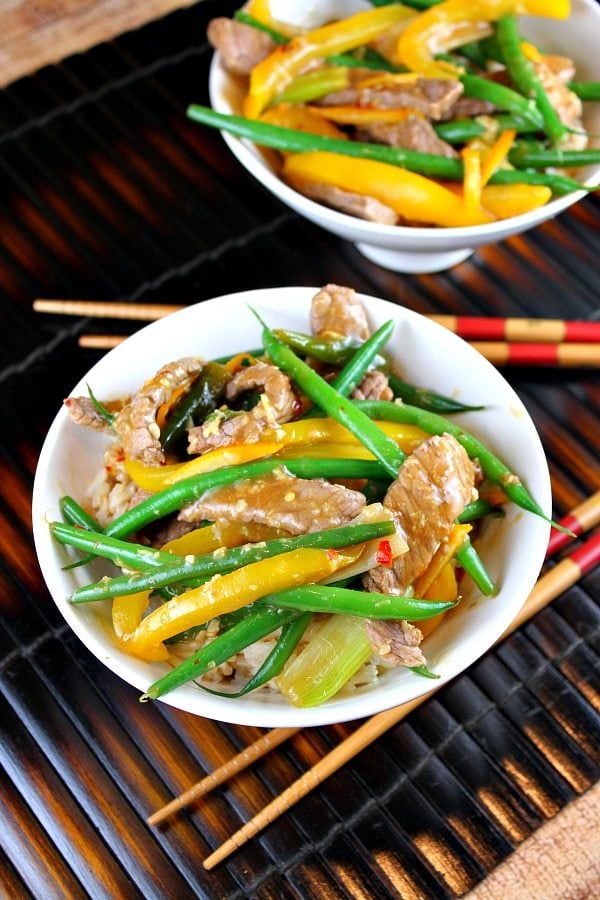 The sauce is a simple Asian orange-ginger sauce.  There are some red pepper flakes in there, but don't be afraid to use them.  They didn't spice up the dish that much at all- just added flavor.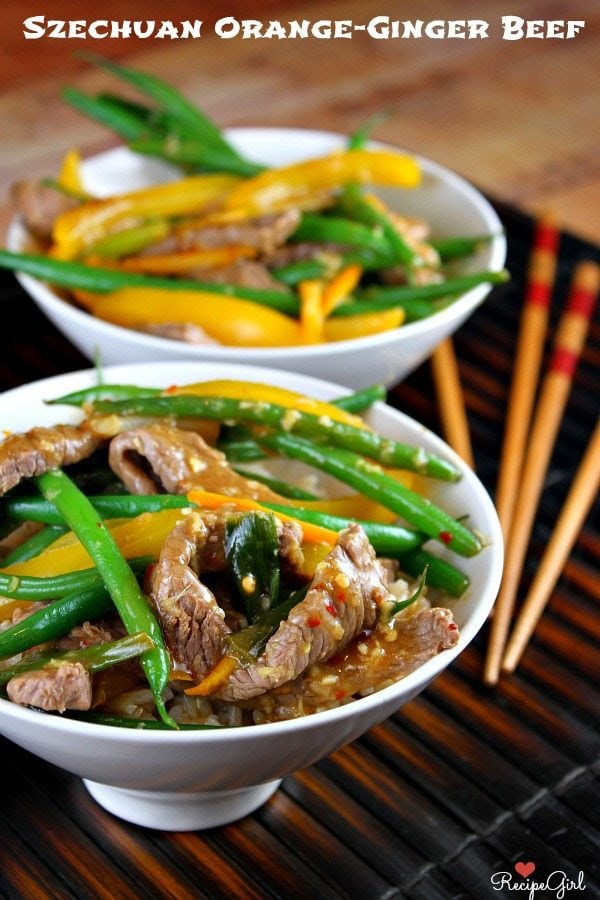 This is a simple weeknight dinner recipe to whip up.  The rice takes the longest, so get that going and then start the rest of the meal.  The beef is stir fried first, then the veggies and sauce added in and that's it.  I served ours over steamed brown rice, and we all loved it!  Oh… and although my kiddo did not want to eat the peppers, I can be thankful that he at least ate the green beans.
Szechuan Orange Ginger Beef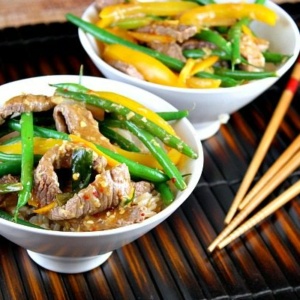 Yield:
4 servings (1 1/2 cups orange-beef + 1/2 cup rice)
Prep Time:25 minutes
Cook Time:8 minutes
Ingredients:
2 navel oranges
2/3 cup reduced-sodium chicken broth, divided
3 tablespoons reduced-sodium soy sauce
1 tablespoon cornstarch
1/2 teaspoon red pepper flakes
1 tablespoon canola oil
1 pound beef top round, trimmed and cut into 1/8 x 2-inch slices
3/4 pound green beans, trimmed and cut into 1 1/2-inch lengths
1 yellow bell pepper, seeded and cut into thin strips
4 green onions, cut into 2-inch lengths
2 tablespoons peeled, grated fresh ginger
2 large garlic cloves, minced
2 cups hot cooked brown rice
Directions:
Cut thin strips of the rind off one of the oranges with a vegetable peeler. Cut the rind into very thin pieces (about 1/4 cup). Squeeze juice from both oranges and set aside.
In a small bowl, whisk together 1/3 cup of the broth, the orange juice, soy sauce, cornstarch and pepper flakes.
Heat a wok or large nonstick skillet over medium-high heat until a drop of water sizzles in the pan. Add the oil and swirl to coat the pan. Add the beef and stir fry until lightly browned, about 4 minutes, then transfer to a plate and cover with foil.
Add the beans, bell pepper, orange rind, and remaining 1/3 cup of broth to the pan. Cook, covered for 2 to 3 minutes. Uncover and add green onions, ginger and garlic. Stir fry until fragrant- about 30 seconds. Re-whisk the orange juice mixture. Return the beef to the pan along with the orange juice mixture. Stir fry until the sauce bubbles and thickens, about 1 minute. Serve over 1/2 cup rice.
Tips:
If you are preparing this recipe as GLUTEN-FREE, be sure to use brands of chicken broth and soy sauce that are known to be GF.
Nutrition:
Nutritional Information per serving:  (Serving size:

1 1/2 cups orange beef + 1/2 cup rice) 

Calories:

400, 

Fat:

10g, 

Saturated Fat:

2g, 

Sugar:

9g, 

Sodium: 538mg, Fiber:

7g, 

Protein: 

33g, 

Cholesterol:

56mg, 

Carbohydrates per serving:

46g

WW POINTS per serving:  Freestyle SmartPoints: 9, SmartPoints:  9, Points Plus: 10 Old Points Program: 8
Here are a few more stir fry recipes you might enjoy: