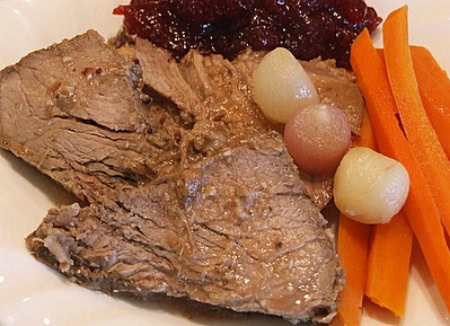 Cranberry Roast Beef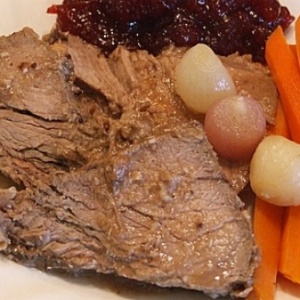 Yield:
8 servings
Prep Time:20 min
Cook Time:2 hrs, 30 min
Ingredients:
4 pound boned and rolled bottom round beef roast
3 Tablespoons all-purpose flour
2 teaspoons Kosher salt
1/4 teaspoon fresh ground pepper
3 Tablespoons bacon drippings (or oil)
1 cup whole cranberry sauce
1 stick cinnamon, broken in half
4 whole cloves
1 cup beef broth
1/2 cup prepared horseradish
16 pearl onions
1 bunch of carrots, cut into 3-inch lengths
Directions:
1. Dredge roast in a mixture of flour, salt and pepper; In a large Dutch oven, brown the roast over medium heat in bacon drippings or oil.
2. In a medium bowl, combine cranberry, cinnamon, cloves, broth and horseradish; add to meat. Bring mixture to a boil; cover tightly, reduce heat, and simmer for 2 hours, or until meat is barely tender.
3. In a separate skillet, brown the onions and carrots; add to the meat and cook another 25 minutes, or until meat and vegetables are tender.
Tips:
*Serve with noodles or potatoes.