This Cranberry Sauce Cake is a good way to use up leftover cranberry sauce from the holidays!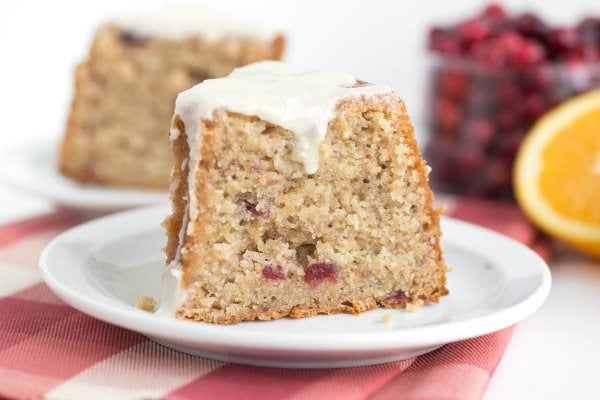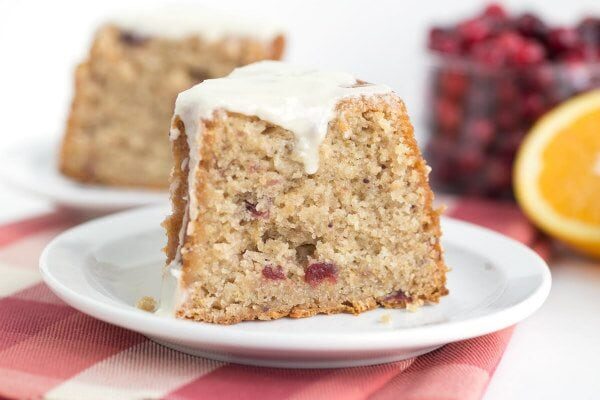 When Thanksgiving rolled around this year, I frantically started buying up all the fresh cranberries and canned cranberry sauce I could find.  I love to keep fresh cranberries in my freezer all year long because I often decide to make things with cranberries in them when it's not cranberry season!  They freeze beautifully, and they're ready to add to recipes at any time.
And I keep the canned variety of cranberry sauce in my pantry because the boys in my house like the canned stuff!  It's good for adding to recipes too.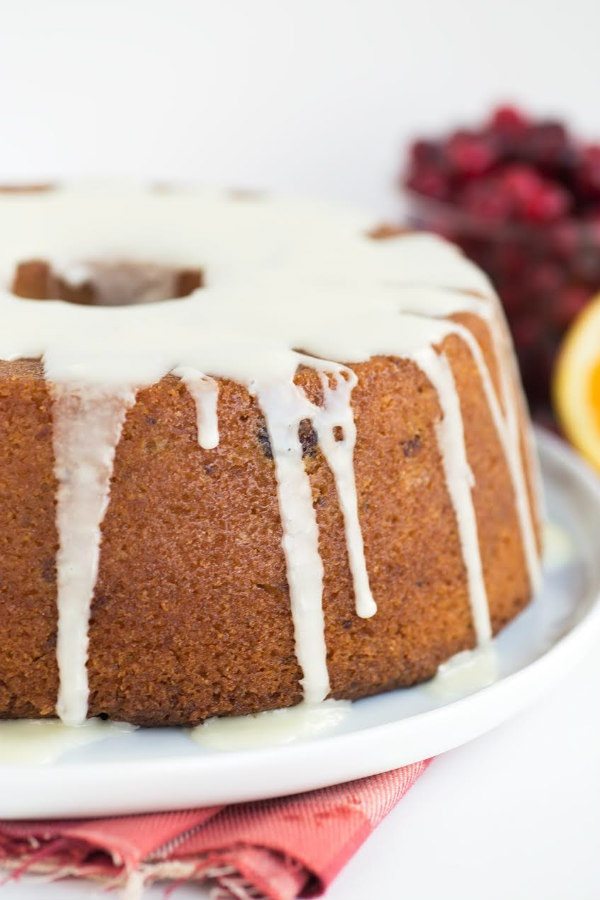 Since I went a bit mad for the canned cranberry sauce this year, I decided I'd better share my cranberry sauce cake recipe with you… because perhaps you have some cranberry sauce lurking around in your pantry too!  You'll need the whole berry variety for this recipe.
This cake is a lovely simple cake with hints of both orange and cranberry (made for each other).  A quick and easy glaze is drizzled on top.  I'd say it would be a nice cake to serve to guests over the holidays, and it could certainly pass for a morning coffee cake too.
Thank you to Miranda from the CookieDoughAndOvenMitt.com blog for shooting beautiful photos of this cake for me.  I think Miranda captured how delicious it is!
Cranberry Sauce Cake
Yield:
12 servings
Prep Time: 20 minutes
Cook Time: 60 minutes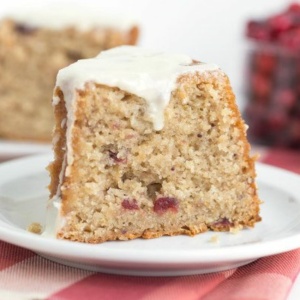 Ingredients:

CAKE:

3 cups all-purpose flour
1 1/2 cups granulated white sugar
1 cup mayonnaise
One 16-ounce can whole berry cranberry sauce
1/3 cup orange juice
1 tablespoon grated orange zest
1 teaspoon baking soda
1 teaspoon salt
1 teaspoon orange extract
1 cup chopped walnuts

ICING:

1 cup powdered sugar, sifted
1 to 2 tablespoons orange juice

Instructions:

Preheat oven to 350° F. Spray a 10-inch tube pan generously with nonstick spray.
In a large bowl, combine all cake ingredients, stirring in nuts last. Pour batter into prepared pan.
Bake 60 to 70 minutes. Cool in pan for 10 minutes, then remove to a wire rack and cool completely.
In a medium bowl, combine icing ingredients- adding enough juice to create a drizzling consistency. Drizzle icing over cake.

Tips:

Add orange extract to icing for more orange flavor.

Nutrition:

If you are unable to locate orange extract, you may leave it out... but the orange flavor won't be quite as pronounced.
SOURCE: RecipeGirl.com
Here are a few more cake recipes you might enjoy: