I hereby nominate this 5th day of November to be declared "Ugly Recipe Day!"  Ugly recipes, you see, need love too.  Sometimes the ugliest ones are actually the best.  This is one of those guys:  Cape Cod Cranberry Meatloaf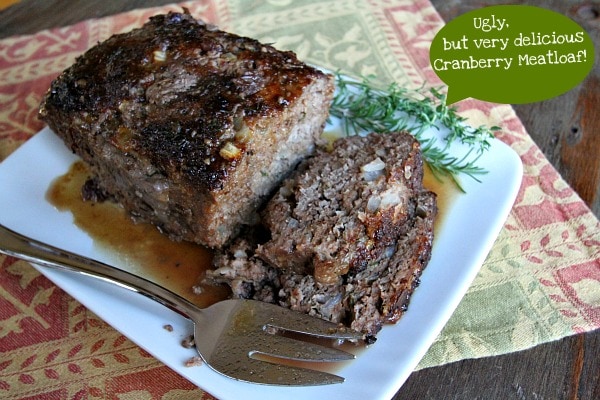 It's definitely not pretty (and I totally bow down to anyone who has the ability to make gorgeous meatloaf), but it sure is good.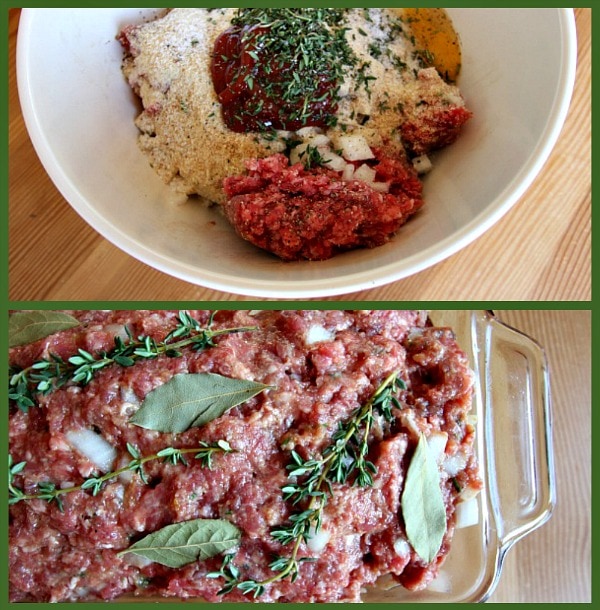 What's special about it?  Well, it starts with your typical meatloaf mixture:  ground beef, breadcrumbs, and onion bound together with eggs, milk and ketchup.  Fresh thyme and rosemary are mixed in too, and the whole thing is set into a loaf pan loaded with a generous puddle of brown sugar- sweetened cranberry sauce.  The sauce seeps into the meatloaf as it bakes, loading it with flavor and keeping it moist and tender too.

My family of three gave my Cranberry Meatloaf 3 double-thumbs-up.  We usually like to use ketchup to dunk our meatloaf into, but this recipe has enough flavor on its own.  No dunking ketchup needed.  The meat itself is tender, and the sweetened cranberry sauce lends a slight sweet flavor to the dish.  It'll be a dinner-repeat in our house for sure.  I served it with some special scalloped potatoes that I'll be sharing on the blog next week (and I promise… they're pretty).
Cape Cod Cranberry Meatloaf
Yield:
8 servings
Prep Time: 25 min
Cook Time: 1 hr, 30 min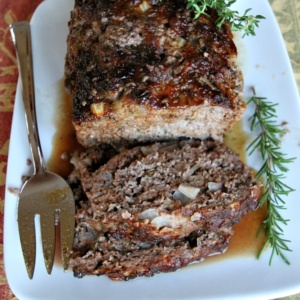 Ingredients:

1/2 cup whole cranberry sauce
1/4 cup dark brown sugar, packed
2 1/2 pounds ground beef (I used 85% lean)
1/2 cup milk
1 small onion, finely chopped (about 3/4 cup)
1/4 cup ketchup
1/2 cup plain breadcrumbs
2 large eggs, lightly beaten
1 teaspoon chopped fresh thyme
1 teaspoon chopped fresh rosemary
1/4 teaspoon freshly ground black pepper
1 teaspoon kosher salt
3 to 4 whole bay leaves

additional fresh thyme sprig

Instructions:

1. Preheat the oven to 350°F. Lightly oil a 9x5x3-inch loaf pan. In a small bowl, combine the cranberry sauce and brown sugar.

2. Place the cranberry sauce mixture in the bottom of the prepared loaf pan.

3. In a large bowl, combine the remaining ingredients (except bay leaves and thyme sprig) and mix well. Set the meat loaf mixture in the pan on top of the sauce.

4. Top the loaf with bay leaves and thyme sprig and bake 1 1/2 hours or until cooked through. **Place a rimmed pan on the rack under the loaf to catch any excess drippings (and line that pan with foil if you want easy clean up!)

5. Allow the loaf to cool for 20 minutes. Remove the bay leaves and thyme sprig. Very carefully use a spatula to scoop underneath the meatloaf and move it to a serving plate. Drizzle some of the pan juices over the loaf.

Tips:

*If you are preparing this recipe as gluten-free, just be sure to use brands of cranberry sauce and ketchup that are known to be GF, and use GF breadcrumbs in place of regular breadcrumbs.
If you're into meatloaf, these meatloaf recipes on some of these great food blogs look good too:
Chicken Parmesan Meatloaf by What's Cookin' Chicago?
Bacon- Wrapped Meatloaf by Taste and Tell
Turkey- Pesto Meatloaf with Tomato Sauce by Kalyn's Kitchen
Greek Turkey Meatloaf by The Perfect Pantry
Classic Meatloaf by Simply Recipes 
Meatloaf Cupcakes by Bake at 350