I have a fabulous end-of-summer salad for you to try- a recipe by Chef Hugh Acheson:  Heirloom Tomato Salad with Crisped Farro, Cucumber and Arugula with Italian Vinaigrette
The salad recipe I'm sharing with you today comes from well-known restauranteur and Chef Hugh Acheson (oh, and you've probably spotted him as a judge on Top Chef!)  He is partnering with Newman's Own® on the Greens for Good Recipe Contest, and he created this recipe as his signature salad for the contest.  I had the honor of chatting with him on the phone last week, and I asked him a few questions.  Here are Chef Hugh's answers to my interview questions:
How did you come to work with Newman's Own?
I've always been a fan of the Newman's Own® brand.  They have a great lineup of products, and they have made incredibly generous donations to charities.  The Newman's Own® company approached me to partner with them for their 35th anniversary celebration with the idea of getting people to make salads again.
Can you tell us what the Greens for Good campaign is all about:
It's about inviting consumers and home cooks to make awesome salads.  The person with the best creation will win $35,000 to donate to their chosen charity.  The contest is about getting people to eat their daily dose of salad, as well as giving.
What charity do you support?
Wholesome Wave

:  this charity is about getting great, healthy food on the tables of the less fortunate by making fresh, locally grown fruits and vegetables affordable and available.  It's a fabulous program that is helping lower income America to eat better.
Do you have Newman's Own salad dressing favorites?
The Ranch variety is very popular in my house with my kids, of course.  I really enjoy the Caesar and the Family Recipe Italian the most.
What's your favorite way to use the Newman's Own dressings?
with seasonal foods!  Right now… tomato, corn, basil, and/or roasted peppers with a light vinaigrette.
Have you found in your restaurants that people are interested in greens these days?
Well, I live in the south, so people are always interested in their collards/kales and winter greens.  But yes, in general, I think people do really enjoy salads and Farmer's Market features.
What are some of your favorite ways to incorporate greens into recipes?
In my house we eat 80% vegetables, 20% protein and grains.  I enjoy sauteed dandelion greens, lightly dressed lettuces, lightly grilled and dressed greens, and spinach- raw or lightly wilted.  My newest favorite is sweet potato greens.  They are delicious, and they are nutrient-rich.  You can find them in Asian markets.
Do you have suggestions for what parents can do to get their children to eat more vegetables and greens?
Kids should be on a path of eating a vegetable-rich diet from Day 1.  Teach them to respect, love and have a natural affiliation with

real food

.  Put vegetables and greens in front of them, and if they're hungry enough- they'll eat it!  For the after-school snack, avoid the junk food and put some healthy vegetables in front of them instead.
What's coming up that is new for you?
I opened my newest restaurant-

The Florence

– in Savannah, Georgia earlier this summer.  We're still in the middle of filming Top Chef.  And I'm working on a new cookbook called, "The Broad Fork."  Its focus will be on cooking with vegetables from CSA's and Farmer's Markets.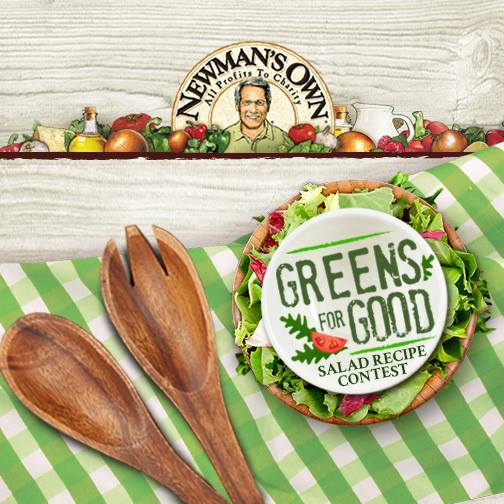 Have you made a salad for the Newman's Own®  Greens for Good recipe contest yet???  Newman's Own, inc. donates 100% of their profits after taxes to charities ($400 million since 1982!)  So, this isn't your typical recipe contest… you know, the kind where you enter and you win a small prize and bragging rights?  It's much better than that.  The Grand Prize winner takes home a Newman's Own® gift basket (estimated retail value $100) AND the opportunity for a charity of your choice to receive a $35,000 donation from Newman's Own®.  That's huge, right?  And four First Prize winners receive a Newman's Own® gift basket (estimated retail value $50) and a $1,000 donation to their chosen charity.  So you can think of this as a contest that you're entering to benefit a charity that means a lot to you.
Here's your chance to eat some green and give some green!  What do you have to do?  >>  Create a green salad recipe that utilizes one of Newman's Own® Salad Dressing flavors as an ingredient in the recipe.  The salad you create should be inspired by your favorite charity.
How to enter the Newman's Own Greens for Good recipe contest:
Think of your favorite charity, and use that as inspiration for your recipe creation.
Create a salad recipe that uses one of Newman's Own salad dressings as an ingredient.
Visit the Newman's Own Facebook page at 

www.facebook.com/newmansown

.
Click on the "Greens for Good" tab.
"Like" the page, if you haven't already.
Fill out the official entry form, enter your recipe and share your charity.
The contest entry period closes on September 23, so be sure to enter before then!
This salad takes advantage of those beautiful heirloom tomatoes you've been spying at the Farmer's Market (most grocery stores carry them too).  The ones I bought were on sale since it's approaching the end of tomato season.  The tomatoes are drizzled with Newman's Own® Family Recipe Italian Vinaigrette, and then topped with fresh arugula greens and cucumber.  The salad is garnished with crisped farro.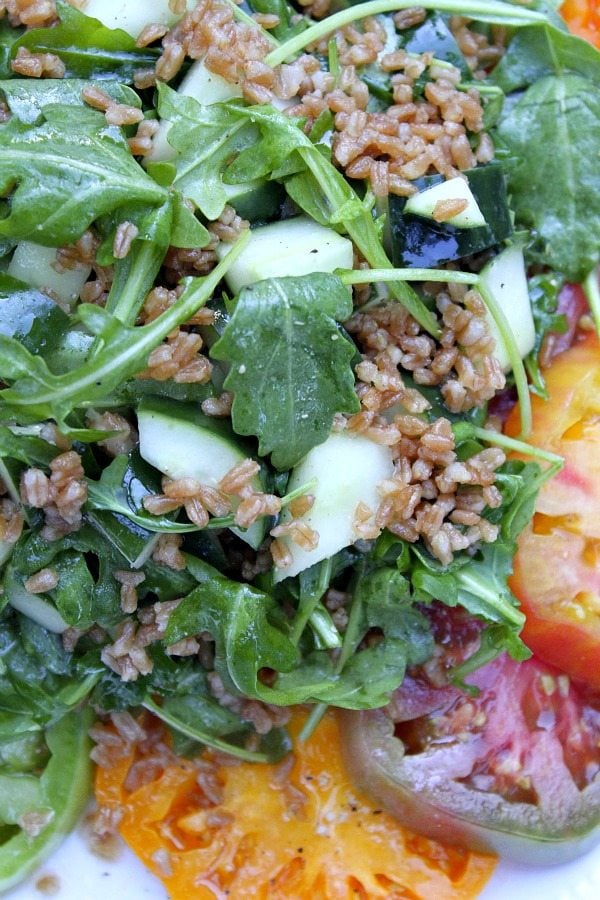 It's a good idea to add some whole grains to your salad!  In general, whole grains take longer to digest, so they keep you feeling full longer and provide sustained energy. They're also thought to reduce the risk of heart disease, diabetes, and some cancers.  Farro is a whole grain with a nutty flavor and delicate chew.  It contains more protein than brown rice.  This recipe calls for frying the farro in hot oil to give it a crispy texture, so it makes a rather unique and interesting garnish for the salad.  I made the crispy farro, and I loved it, but you could certainly garnish the salad with cooked farro too if the thought of frying it is too much for you.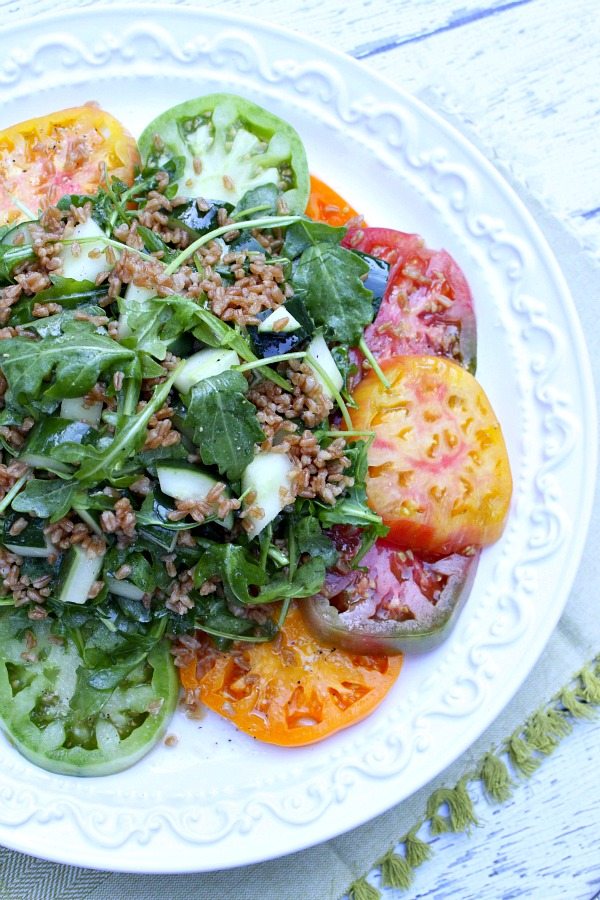 My family dubbed this as one of the best salads I've put on the dinner table in a long time.  They loved how it was very simply dressed with the Italian vinaigrette.  The sweet summer tomatoes combined with the peppery arugula and crunchy cucumber made for a good mix of flavors, and the crispy farro on top was a nice touch too.  I was just happy that they were loving their greens!
Tomato Salad with Crisped Farro, Cucumber and Arugula with Italian Vinaigrette
Yield:
4 servings
Prep Time: 30 min
Cook Time: 30 min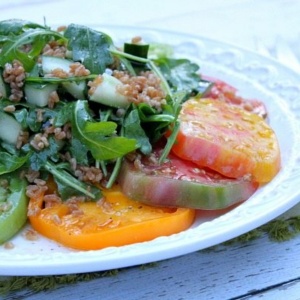 Ingredients:

1/2 cup farro
1 teaspoon kosher salt, divided
2 cups peanut oil
2 pounds heirloom tomatoes, cored and sliced
2 cups chopped seedless cucumber
2 cups arugula leaves
3 tablespoons Newman's Own Family Recipe Italian Vinaigrette
freshly ground black pepper, to taste

Instructions:

1. Bring 2 cups of water to a boil and add 1/2 teaspoon of salt and the farro. Lower heat to medium-high and cook farro until it is tender (usually about 25 to 30 minutes); strain the farro. Set aside on a paper towel to leach as much of the water as you can off of the farro.

2. In a small pot, heat the peanut oil to 350 degrees F. Add the farro and fry until crisp, about 1 minute to 1 1/2 minutes. You want them crisp, but with a bite to them.

3. Arrange the sliced tomatoes on a large platter and season them with the remaining salt. Drizzle 1 1/2 tablespoons of the vinaigrette over the tomatoes.

4. In a large bowl, combine the cucumber and arugula. Dress with the remaining 1 1/2 tablespoons of vinaigrette and toss well.

5. For serving, layer the cucumber and arugula in the center of the tomatoes on the platter. Garnish with the crisp farro. Add fresh ground black pepper, to taste.

SOURCE: RecipeGirl.com (shared with permission from Chef Hugh Acheson)
Disclosure:  This post was written in partnership with Newman's Own® to help spread the word about their Greens for Good recipe contest.  Any opinions shared about their products are entirely my own.