Here's the final week of sharing about my tour of Italy:  this week it's all about Venice!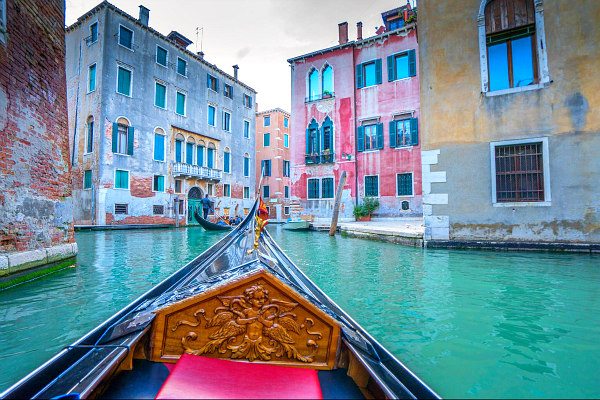 Venice is the magical place that you've read about in books… or seen hints of at The Venetian Hotel/Casino in Vegas.  The "real" Venice is in Northeastern Italy.  It sits on a collection of 117 small islands that are all separated by canals and connected by bridges.  It's such a unique place to visit!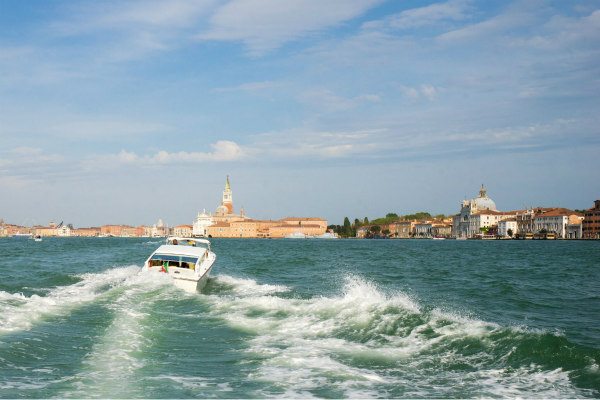 You can fly in to a suburb of Venice (Mestre), and from the airport you can walk to the harbor to get picked up in a water taxi (vaporetto) to get deeper into Venice where the canals are.  Our guide told us that some people try to save money by lodging in the suburbs and taking a water taxi in to downtown Venice during the day… but if you can swing it, I'd definitely splurge to stay in the beautiful part of Venice along one of the canals.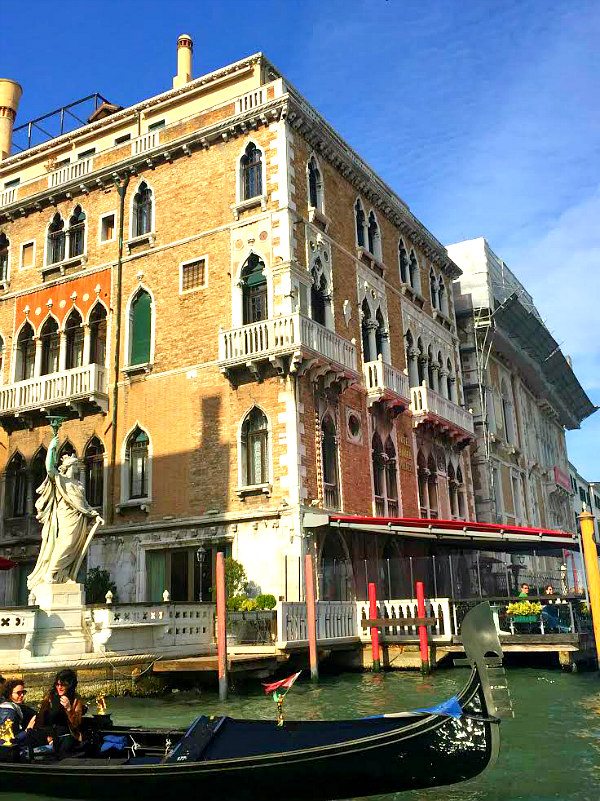 Our tour with Insight Vacations Luxury Gold had rooms reserved for us at this gorgeous waterfront hotel:  Bauer Palazzo.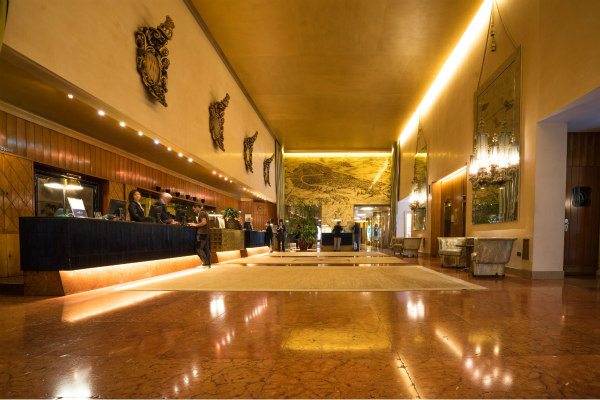 Someone told us that Elton John stays here every time he travels to Venice.  It's very elegant, and it's right in the middle of all of the good shopping, etc.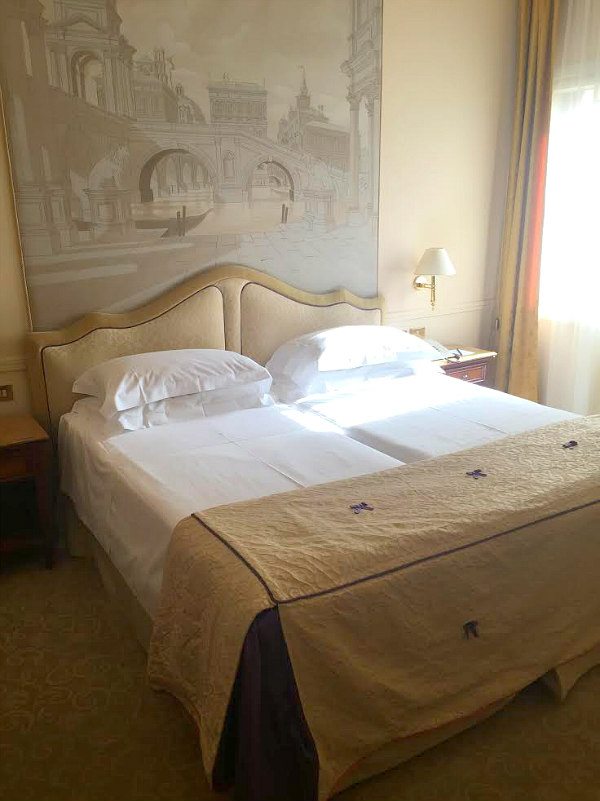 Here's a peek at what our room looked like.  It was a little on the small side, but the views out to the canals made it well worth it.  The doors were all covered in a beautiful fabric.  We could sit and relax on the bed and hear the gondeliers down below serenading their passengers!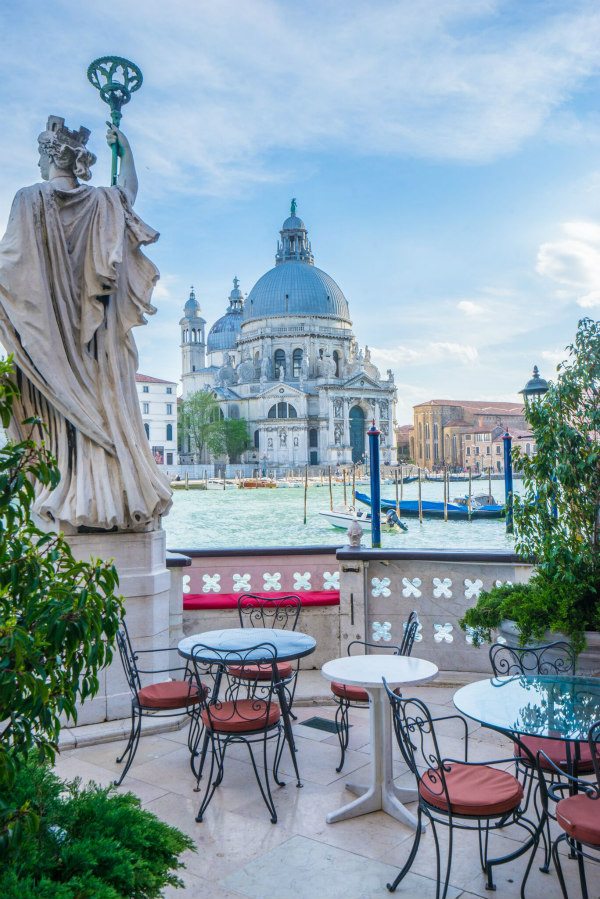 This is a peek at the hotel's waterfront terrace- where we all enjoyed a drink before dinner.  Such a pretty setting.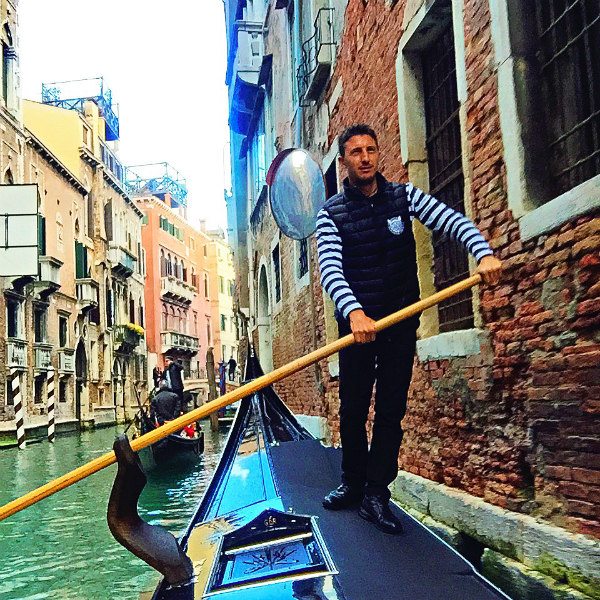 And now for the best part:  a ride on a gondola!  This is absolutely the most touristy thing you can do in Venice, Italy… but it's something you absolutely MUST DO!  I loved every minute of it, and I'll do it again next time I'm in Venice!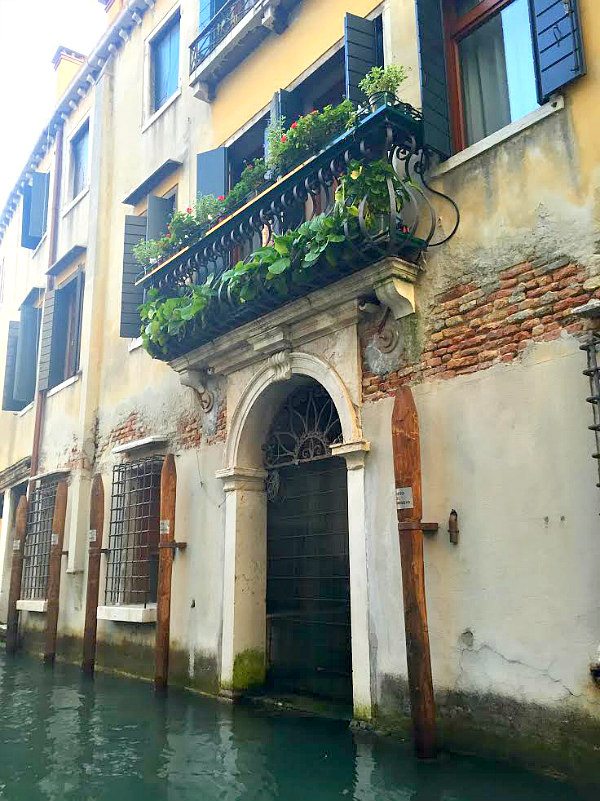 When you're on the gondola, you cruise down the canals and get to see all of the beautiful buildings that line the canal.  We were told that the water has been gradually rising over the years in the canals… flooding first floors and forcing businesses and residences to occupy upper levels.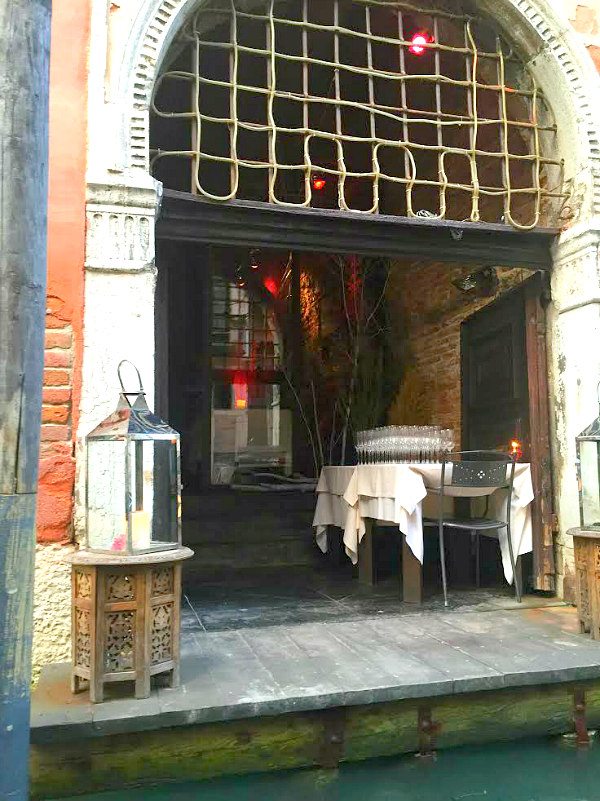 Here's a little restaurant I spotted that opens up to the canal.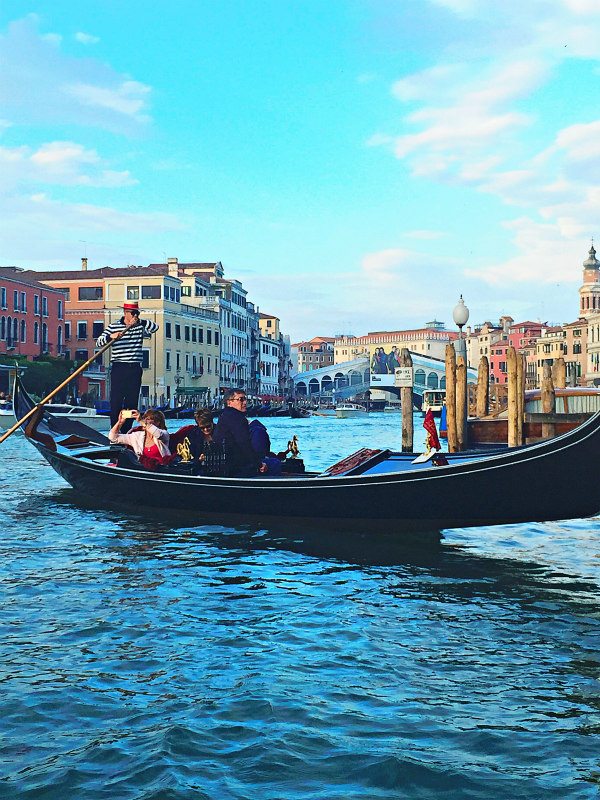 The waterways are so pretty!  A little fact for you:  Most of the gondoliers in Venice are committed to this trade because it is something that their family has done for generations.  They inherit the trade.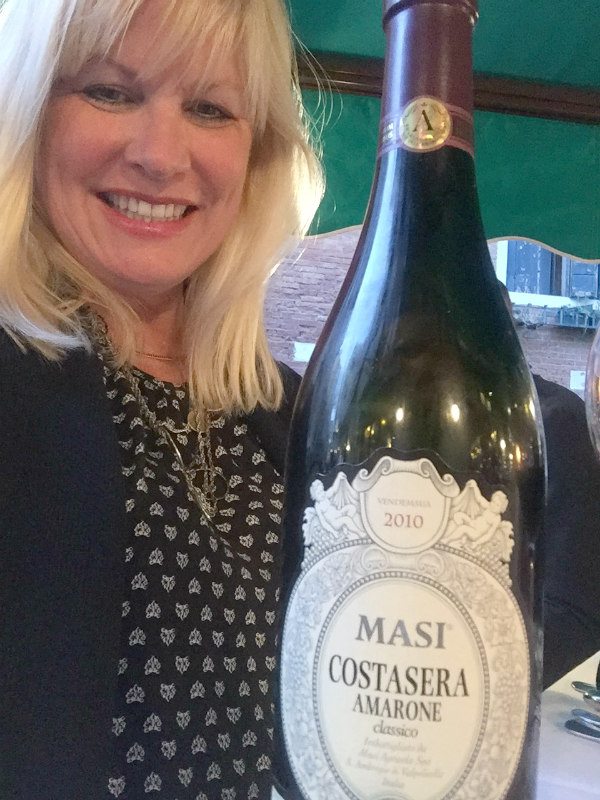 Our first night in Venice, I found my favorite wine:  Amarone…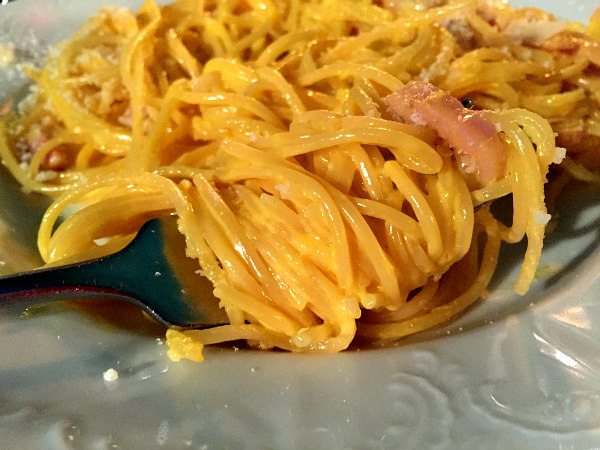 …and ordered my favorite meal: Carbonara!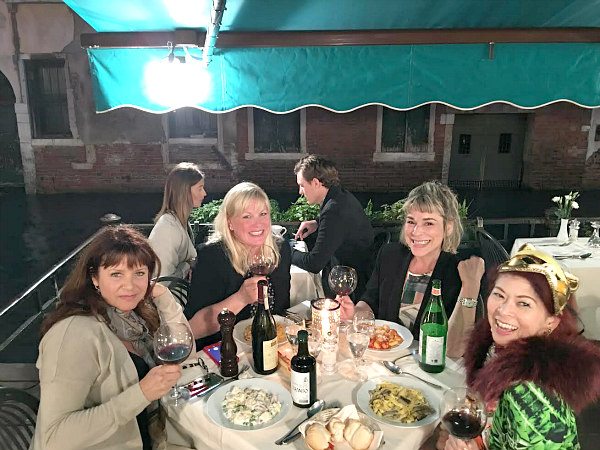 Four of us ate at a restaurant that sat along one of the canals:  Ristorante da Raffaele.  The bread was not good at all (disappointing), but the rest of the dinner was very, very good.  Hint:  Venice is known for its Squid Ink Pasta.  None of us ordered this, but we should have!!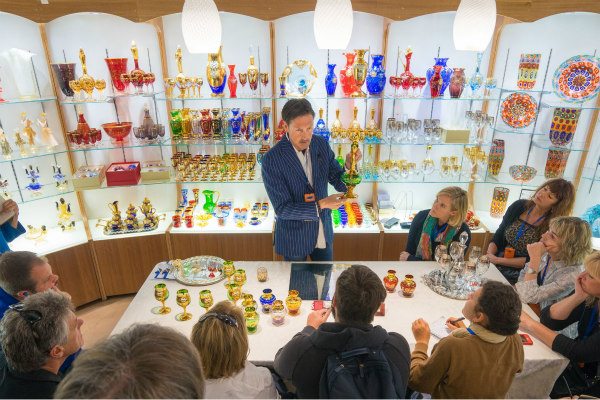 The next day started with a tour of the world famous Murano Glass Factory.  There are many copycats around town (and a lot that SAY they're Murano), but you can find original pieces at the actual factory.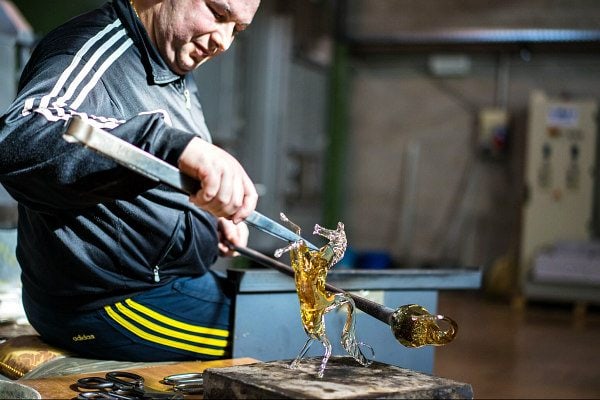 We got to see a most-impressive demonstration of how hot, fiery glass is turned into vases, cups and gadgets like this horse!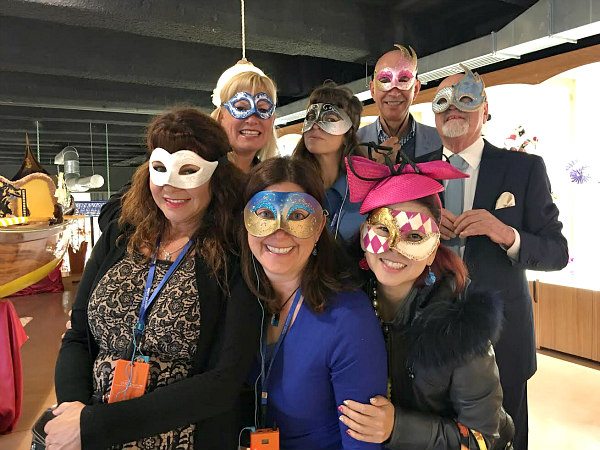 They have a selection of masks for sale at the factory too 🙂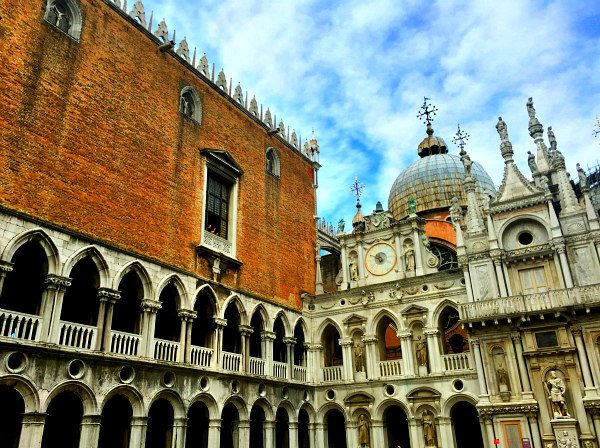 We had a tour through the Doge's Palace (originally the residence of the Doge- leader- of Venice)- one of the main landmarks in the city of Venice.  It has been a museum since 1923.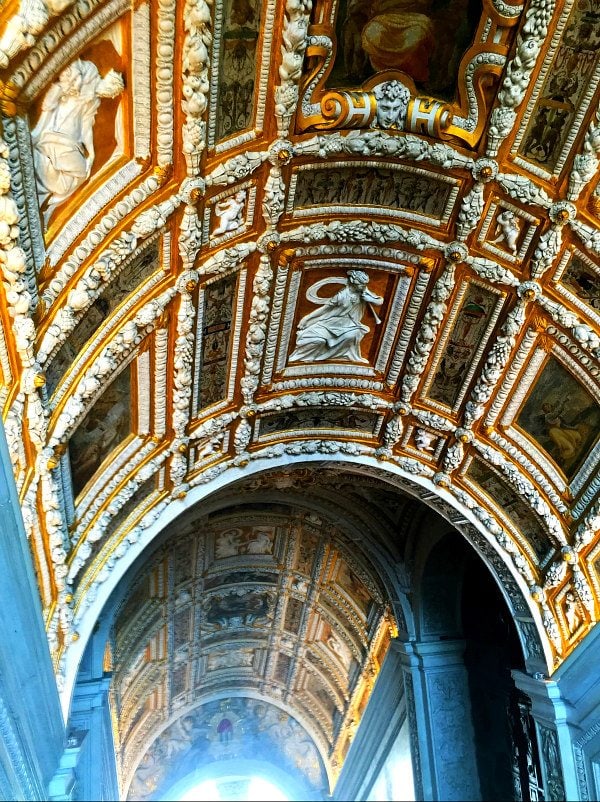 Beautiful ceilings…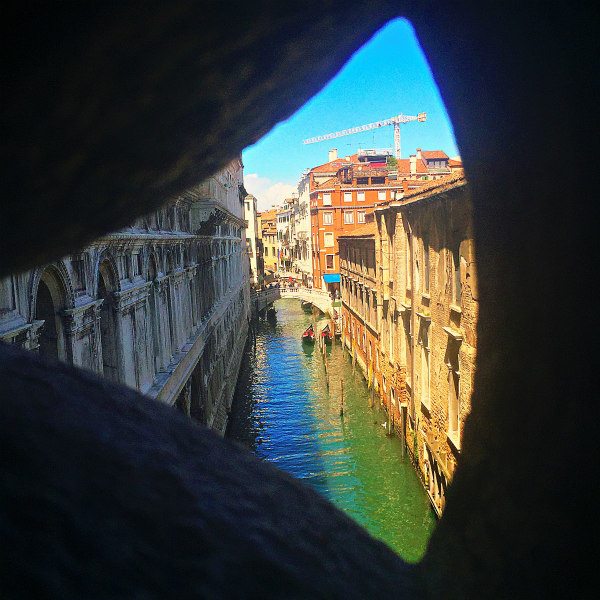 …and peeks out at the canal.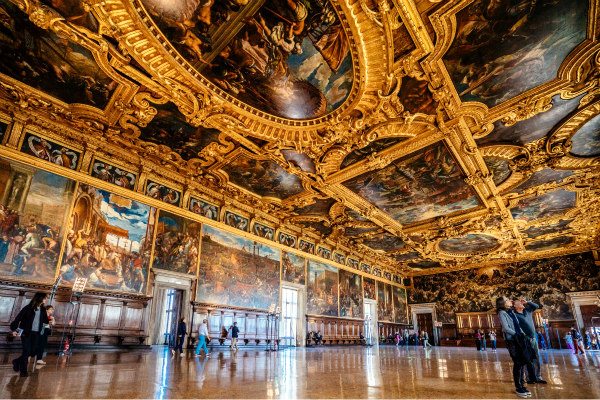 This room is the "Chamber of the Great Council."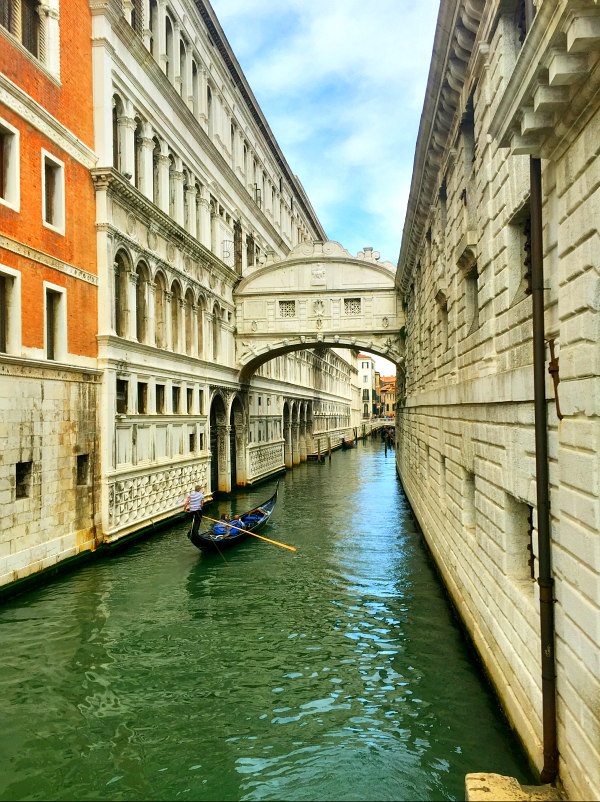 After the tour, we had plenty of time to walk around and explore Venice.  Every time you turn a corner, you see another jaw-dropping view down the canals.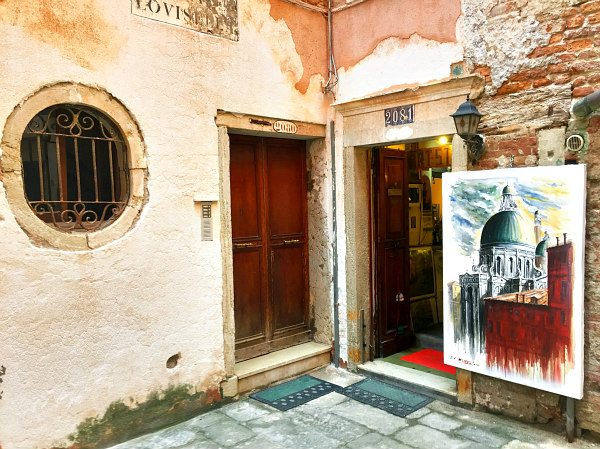 You'll find darling shops and galleries.  There are plenty of touristy souvenir shops, but there is also some good shopping… and some very high end designer boutiques to browse.  I bought a pair of Italian sandals!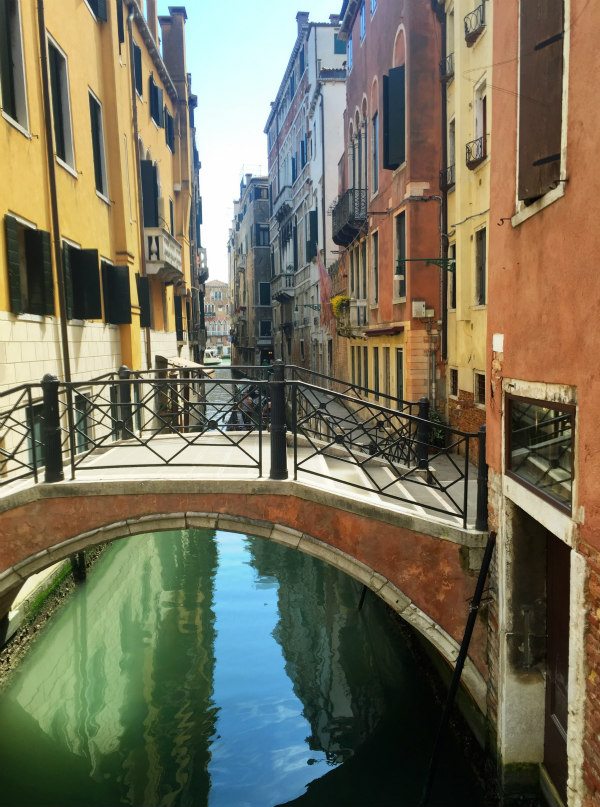 I loved the colors of the buildings!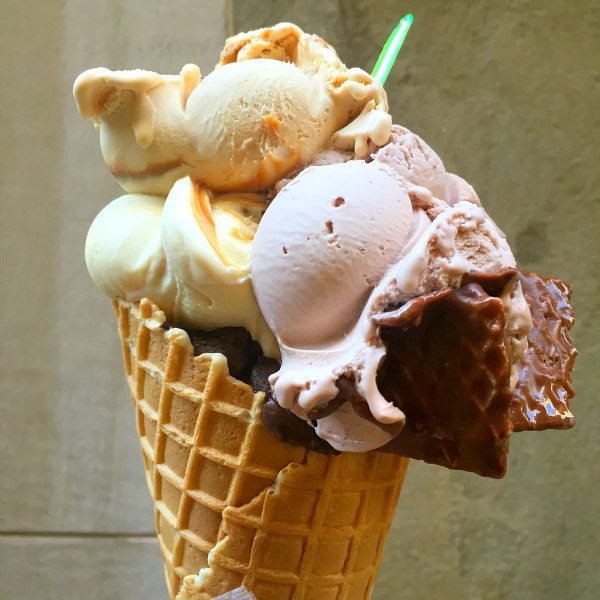 Of course we had to pick up our LAST DAILY GELATO– the granddaddy of all gelatos:  a 4-scooper of Bailey's, Peanut Butter, Nutella and Kit Kat.  P.S. I did NOT eat the whole thing, but I had to go out with a bang!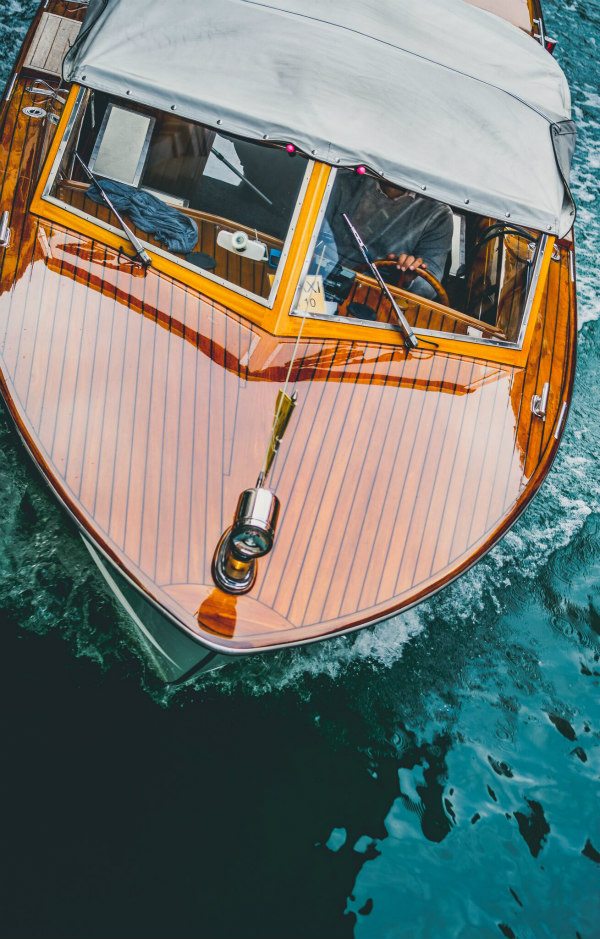 On our 2nd night in Venice, Insight Vacations planned a real treat for us.  We boarded this gorgeous boat and motored to the island of Burano for dinner (a 40 minute ride).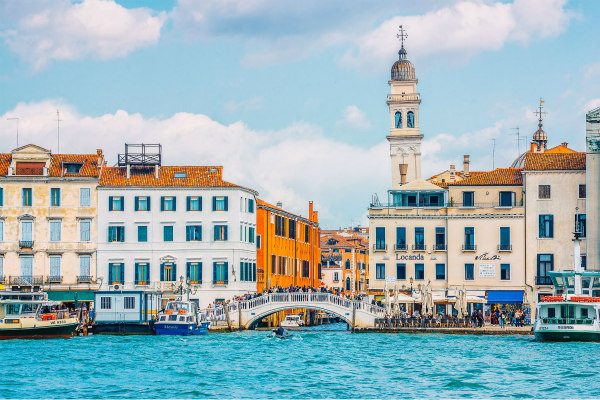 This is a view looking back at the waterfront of Venice as we motored away.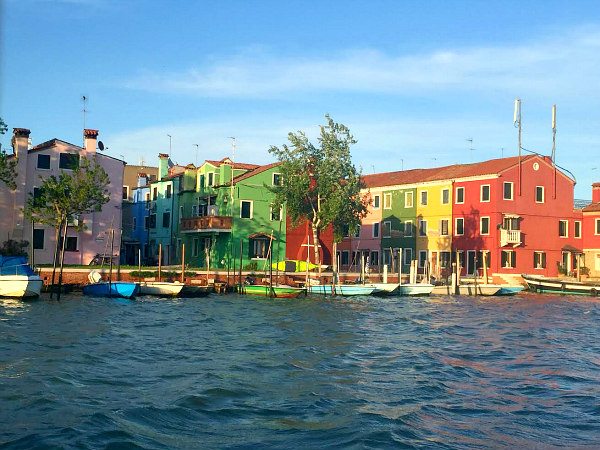 And this is a peek at the beautiful, colorful buildings you see as you come upon Burano.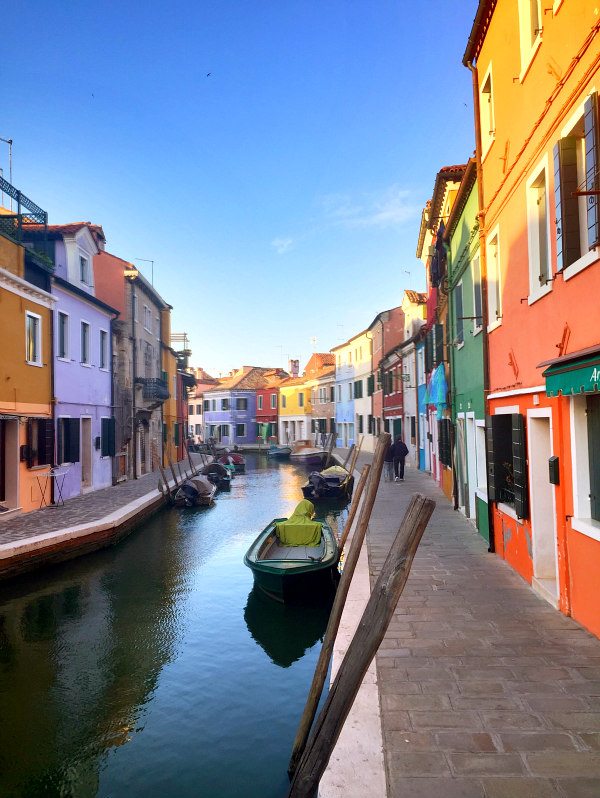 Like Venice, Burano is a collection of 4 islands that are separated by canals and connected by bridges.  It's known for having very colorful buildings!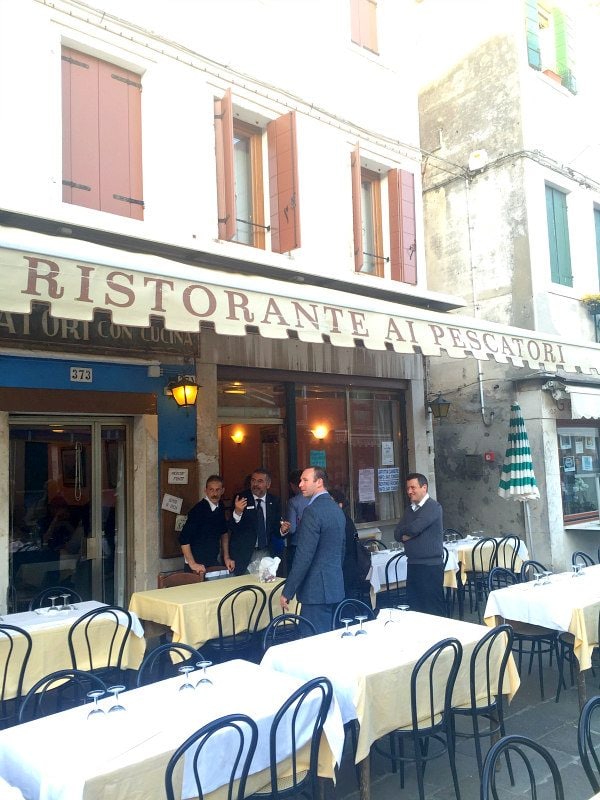 We ate at this cute family-style restaurant:  Ristorante al Pescatori.
The meal was served family style with a large dish of clam spaghetti, risott0 and other things dished table-side.  We were even serenaded aco pello by a local fisherman!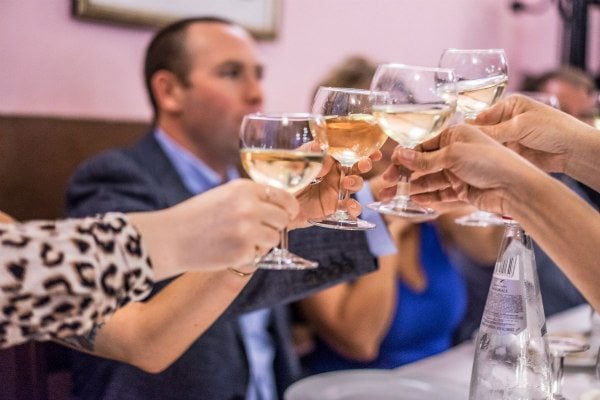 It was all such a fabulous ending to one of the most amazing trips I've ever been on in my life.  Insight Vacations really thinks of everything when planning a tour like this.  I'd go on another tour with them in a heartbeat!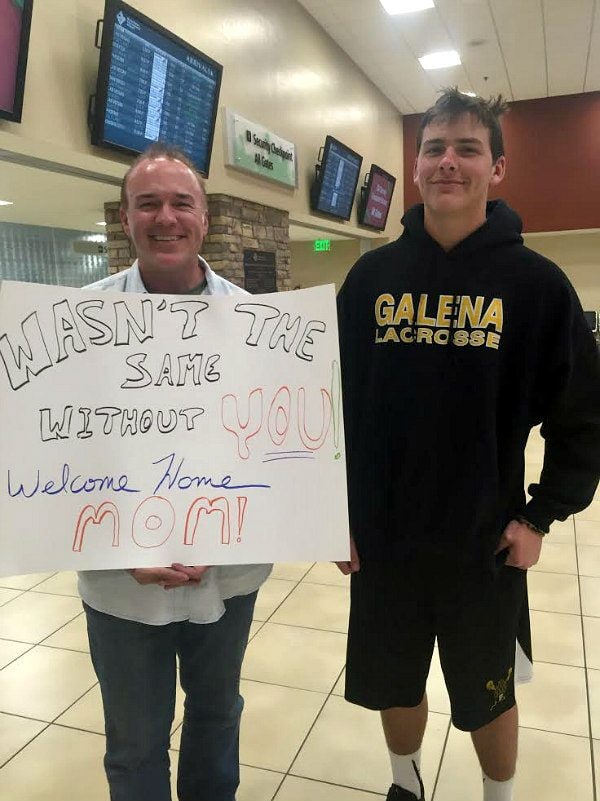 Here is what greeted me after a very long trip home: my loves.  They missed me so much.  And I missed them too.  Next time, they're coming with me to Italy!
Disclosure:  Insight Vacations invited me on their Ultimate Italy tour to experience the tour and share my travels with RecipeGirl readers.  Photos shared are a mix of my own photos… and some from professional photographer Simon Boucher-Harris from Insight Vacations.