This recipe has been featured in a post on The Recipe Girl blog: Cuban Dinner Party Menu.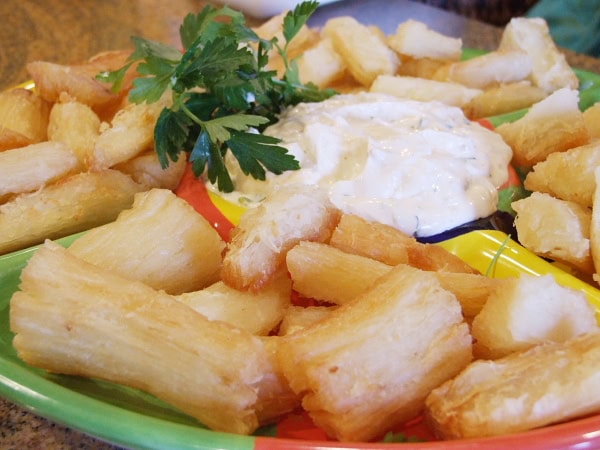 Yucca Fries with Cilantro Mayonnaise
I served this up as one of the appetizers at a Cuban Dinner Party. It was my first time cooking/eating Yucca, and I found that I loved it. It's delicious when fried and dipped in the cilantro sauce!
Yield:
Serves 8 to 10
Prep Time: 25 minutes
Cook Time: 40 minutes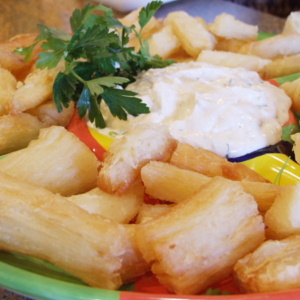 Ingredients:

4 pounds yucca, peeled
1 1/2 cups mayonnaise
3 Tablespoons chopped fresh cilantro
3 teaspoons fresh lime juice
1 1/2 teaspoons chopped garlic
1/2 teaspoons salt
1/4 teaspoon (more or less) cayenne pepper (optional)
vegetable oil (about 4 cups) for frying
sea salt, if desired

Instructions:

1. Cook yucca in boiling salted water in a large pot for 30 minutes or until fork-tender. Dry thoroughly with paper towels, and spread on baking sheets to cool. Cut each into 1/4-inch-thick fries, and set aside.

2. Combine mayonnaise, cilantro, lime juice, garlic, salt & pepper in a small bowl. Cover and refrigerate until ready to use.

3. 1st fry: Pour oil to depth of 3-inches in a large pot, and heat to 350°F. Fry yucca, in 4 or 5 batches, 6 minutes per batch. Drain on paper towels.

4. 2nd fry: Return oil to 350°F. and fry yucca, in 4 or 5 batches, another 6 minutes or until crispy. Drain on paper towels, and season with additional salt, if desired.

5. Serve with cilantro mayonnaise.