Grilled Halibut with Lemon- Caper Vinaigrette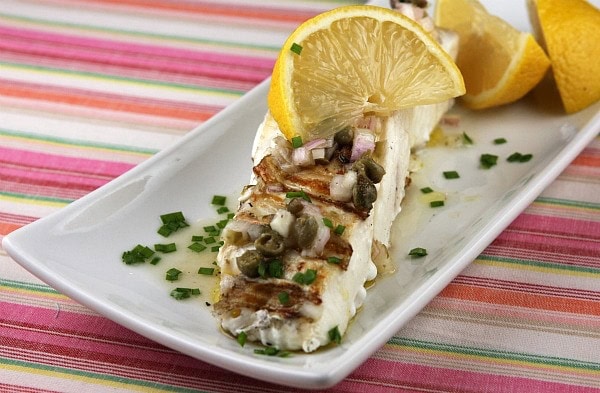 Yield: 4 servings (serv. size: 1 fillet w/ 2 teaspoons vinaigrette)
Grilled Halibut w/ Lemon- Caper Vinaigrette
This is a fresh and healthy dinner.... the fish is simply grilled and topped with a light vinaigrette.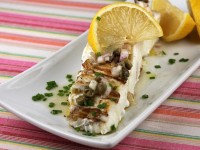 Ingredients:
VINAIGRETTE:
2 Tablespoons fresh lemon juice (about 1 lemon)
1 Tablespoon extra-virgin olive oil
2 teaspoons finely chopped shallot
2 teaspoons chopped capers
1/4 teaspoon kosher salt
1/4 teaspoon freshly ground black pepper
FISH:
4 (6-ounce) halibut fillets
1/2 teaspoon kosher salt
2 Tablespoon chopped fresh chives
Directions:
1. Prepare vinaigrette: Combine first 6 ingredients in a small bowl; stir with a whisk.
2. Prepare fish: Heat a nonstick grill pan over medium-high heat. Coat pan with cooking spray. Sprinkle fish with 1/2 teaspoon salt. Add fish to pan; grill 4 minutes on each side or until fish flakes easily when tested with a fork or until desired degree of doneness.
3. To serve, spoon vinaigrette over fish. Sprinkle with chives.
Nutritional Information per serving:
Serving size: 1 fillet with 2 teaspoons vinaigrette
Calories per serving: 220
Fat per serving: 7.25g
Saturated Fat per serving: 1g
Sugar per serving: .17g
Fiber per serving: .12g
Protein per serving: 35.5g
Cholesterol per serving: 54mg
Carbohydrates per serving: .75g
WW POINTS per serving:
Points Plus Program: 5 Old Points Program: 5
Leave a Comment