This recipe has been featured in a how-to post on The Recipe Girl blog: How to Make Coq au Zin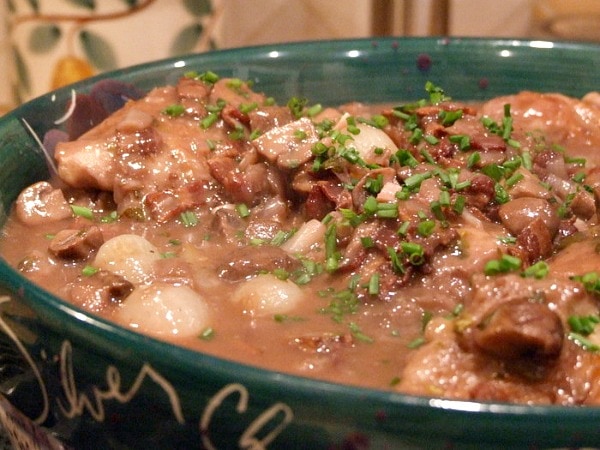 Yield: 6 servings
Prep Time: 45 min
Cook Time: 1 hr, 45 min
Coq au Zin
We chose this recipe to make for Christmas Eve dinner this year. Prepared a recipe & a half for a group of 8. Everyone at the table LOVED this chicken dish. It was an elegant dish that was tender and flavorful and just delicious.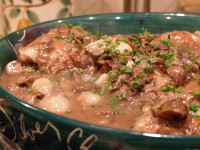 Ingredients:
1 cup + 2 tablespoons all-purpose flour
6 slices bacon, chopped
1 tablespoon olive oil
12 bone-in chicken thighs (with skin), excess fat trimmed
3/4 cup chopped shallots, (about 4)
3 cloves garlic, minced
1 pound boiling onions (the cocktail-sized ones), peeled
12 ounces crimini mushrooms, quartered (about 5 cups)
2 tablespoons chopped fresh marjoram
One 750ml. bottle red Zinfandel
2 cups chicken stock (or canned low-salt chicken broth)
2 tablespoons salted butter, at room temperature
1/4 cup freshly chopped chives
Directions:
1. Preheat oven to 350°F.
2. Cook chopped bacon in heavy large pot over medium-high heat until crisp, about 4 minutes. Using slotted spoon, transfer bacon to paper-towel-lined plate to drain.
3. Place 1 cup flour in shallow dish; set aside. Add 1 tablespoon olive oil to bacon drippings in pot. Sprinkle chicken thighs with salt and pepper. Working in batches, coat chicken thighs with flour and add to pot; sear until brown, about 4 minutes per side. Arrange chicken thighs in 15x10x2-inch glass baking dish (or any combination of glass dishes that will fit the chicken).
4. Pour off all but 3 tablespoons fat from pot. Add shallots and garlic to pot and sauté 1 minute. Add onions, crimini mushrooms, and marjoram and sauté until onions begin to brown, about 10 minutes. Add red Zinfandel and bring to boil, scraping up browned bits. Add chicken stock and bacon; boil 5 minutes.
5. Pour wine mixture over chicken in baking dish. Cover tightly with foil; bake until chicken is cooked through, about 1 hour.
6. Using tongs, transfer chicken thighs to platter or large, deep bowl. Strain wine mixture from baking dish into heavy medium saucepan. Transfer onion and mushroom mixture to platter with chicken; tent with foil to keep warm. Mix 2 tablespoons flour and butter in small bowl to blend. Bring wine mixture to boil. Whisk in flour mixture and boil until sauce thickens and is reduced to 2 3/4 cups, about 8 minutes. Season sauce to taste with salt and pepper.
7. Ladle sauce over chicken and vegetables; sprinkle with chives.
Leave a Comment