Sauteed Chicken with Cherries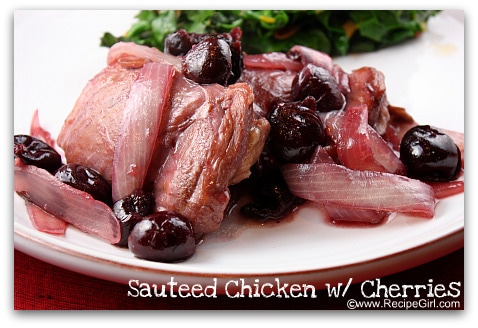 SAUTEED CHICKEN W/ CHERRIES
www.RecipeGirl.com
Four boneless skinless chicken thighs (about 1 lb)
1/2 medium sweet onion, halved and then thinly sliced
1 cup frozen, unsweetened pitted dark cherries, halved
3 Tbs cherry or raspberry all-fruit preserves
1/8 tsp salt
1 tsp red wine vinegar
1 1/2 tsp chopped fresh tarragon, optional
1. Spray medium nonstick skillet with nonstick spray and set over medium heat. Add the chicken, skinned side down, and cook until browned, about 5 minutes. Turn the chicken over and scatter the onion around it. Cook, covered, until the onion is softened, 8 to 9 minutes.
2. Turn the chicken again; stir in the cherries, preserves and salt. Increase heat and cook, uncovered, until chicken is cooked through and sauce is slightly thickened, about 3 minutes longer.
3. Stir in vinegar and tarragon (if using).
Servings: 4 (Serving size 1 thigh with 1/4 cup sauce)
Nutritional Information:
calories: 250
fat: 9g
saturated fat: 3g
trans fat: 0g
cholesterol: 71mg
sodium: 136mg
carbohydrates: 17g
fiber: 2g
protein: 25g
calcium: 41mg
WW Points: 5
Source: Adapted from Weight Watchers Magazine
PRINT THIS RECIPE using your browser's 'print' function. It's automatically formatted to print recipe & picture only.
RATE THIS RECIPE[ratings]
Leave a Comment