Weight Watchers Sugar Cookies
This recipe has been featured in a post on The Recipe Girl blog: How to Survive Valentine's Day on a Diet.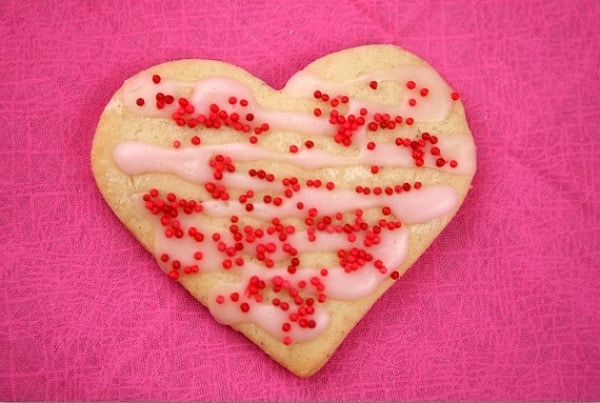 Yield: 28 cookies
Prep Time: 35 min + chill time
Cook Time: 12 min
Weight Watchers Sugar Cookies
When you're watching your calories, it's nice to be able to enjoy a treat or two guilt-free. These cookies are a delicious option.
Ingredients:
COOKIES:
1 1/2 cups all-purpose flour
1/2 teaspoon baking powder
1/4 teaspoon salt
1/2 teaspoon ground nutmeg
2/3 cup granulated white sugar
1/4 cup butter, at room temperature
1 large egg white
3/4 teaspoon vanilla extract
1/4 cup reduced-fat sour cream
ICING:
1/2 cup powdered sugar
1 Tablespoon water
1/2 teaspoon vanilla extract
food coloring, optional
colored sugar, optional
Directions:
1. Whisk together flour, baking powder, salt and nutmeg in a medium bowl. In a larger bowl, use electric mixer to blend together sugar and butter until light and fluffy. Beat in egg white and vanilla, scraping the sides of the bowl as needed. Add flour mixture and the sour cream alternately, beginning and ending with the flour mixture and beating just until blended. Shape dough into a disk and wrap with plastic wrap. Refrigerate for at least 1 hour.
2. Preheat oven to 350 degrees F. Line baking sheets with silicone mats or parchment paper (or spray with nonstick spray).
3. On a lightly floured surface, roll the dough to a thickness of 1/4-inch. Using a 2-inch cookie cutter (I used a heart, but you can use any shape), cut out the cookies re-rolling the scraps to make a total of 28 cookies. Place cookies 1-inch apart on baking sheets.
4. Bake until cookies are very lightly browned at the edges, 12 to 14 minutes. Transfer cookies to a rack and cool completely.
5. Prepare icing: In a small bowl, whisk together powdered sugar, water and vanilla. Add coloring, if using. Use a spoon to drizzle icing over the cookies. Add decorative sugar, if desired.
Nutritional Information per serving:
Serving size: 2 cookies
Calories per serving: 122
Fat per serving: 4g
Saturated Fat per serving: 2.2g
Fiber per serving: .4g
Protein per serving: 2g
Cholesterol per serving: 10.4mg
Carbohydrates per serving: 20g
WW POINTS per serving:
Points Plus Program: 3 Old Points Program: 3
4 Responses to "Weight Watchers Sugar Cookies"
Leave a Comment