The baseball cookies pictured below have been featured in a post on The Recipe Girl blog (with step by step instructions): Baseball Cookies. On another post, I detailed how to (step by step) make Soccer Ball cookies: Soccer Ball Cookies.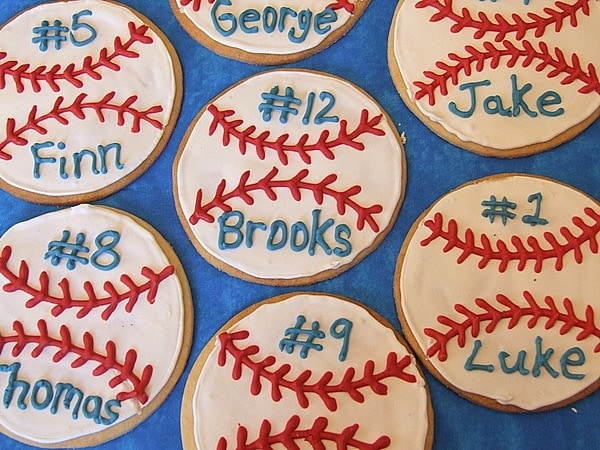 No- Fail Sugar Cookies
This is a wonderful recipe for decorator cookies of any type- the dough rolls out easily and the cookies turn out sturdy and delicious.
Yield:
5 dozen (3-inch) cookies
Prep Time: 45 min + chill time
Cook Time: 8 min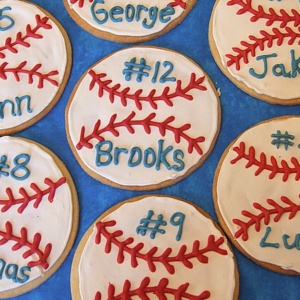 Ingredients:

2 cups butter, softened
2 cups granulated white sugar
6 cups all-purpose flour
3 teaspoons baking powder
2 large eggs
2 teaspoons vanilla extract (or desired flavoring- such as almond)
1 teaspoon salt

Instructions:

1. In a large bowl, use an electric mixer to cream butter and sugar until light and fluffy. Add eggs and vanilla. Mix well. Whisk together dry ingredients in a separate bowl, and add a little at a time to butter mixture. Mix until flour is completely incorporated and dough comes together.

2. Cover and chill for 1 to 2 hours (or see tips below).

3. Preheat oven to 350°F. Make sure you let your oven preheat for at least 1/2-hour before baking these or any other cookies.

4. Roll to desired thickness and cut into desired shapes. Bake on ungreased baking sheet for 8 to 10 minutes, or until just beginning to brown around the edges. (longer time for thicker cookies)

5. Gently remove cookies with a spatula and let them cool on wire racks.

Tips:

*KitchenGifts.com tip for rolling out dough without the mess: Rather than wait for your cookie dough to chill, take the freshly made dough and place a glob between two sheets of parchment paper. Roll it out to the desired thickness, then place the dough and paper on a cookie sheet and pop it into the refrigerator. Continue rolling out your dough between sheets of paper until you have used it all. By the time you are finished, the first batch will be completely chilled and ready to cut. Re-roll leftover dough and repeat the process. Add added bonus is that you are not adding any additional flour to your cookies.

*There are two icing recipes that work well with these cookies: Glace icing or Martha Stewart's Royal Icing