This recipe has been featured in a post on The Recipe Girl blog: Meyer Lemon Cut-Out Sugar Cookies- no chill.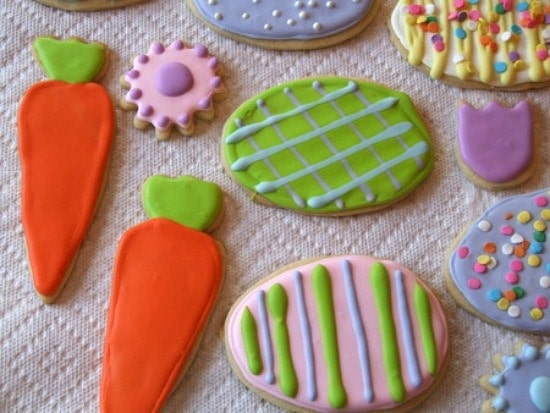 Meyer Lemon Cut-Out Sugar Cookies
Cut out sugar cookies are always fun to do, but they're even better to eat when they taste good. The flavor of Meyer Lemon in these cookies is a big win...
Yield:
3 to 4 dozen cut-out cookies
Prep Time: 30 min
Cook Time: 12 min
Ingredients:
2 cups unsalted butter, at room temperature
2 cups granulated sugar
2 large eggs
4 Tablespoons whipping cream
3 teaspoons vanilla extract
3 teaspoons Meyer Lemon Juice, freshly squeezed
zest from 2 medium Meyer lemons
6 cups all-purpose flour
1 teaspoon salt
1 Tablespoon baking powder
Directions:
1. Preheat the oven to 325°F. Line 2 baking sheets with parchment paper.
2. Combine butter and sugar. Beat until smooth but not fluffy.
3. In a small bowl mix eggs, cream, vanilla extract, lemon juice and lemon juice. Add this mixture all at once to the butter and sugar. Mix just until combined. The mixture will appear 'curdled.'
4. In another small bowl, whisk the flour, salt and baking powder. Add these dry ingredients to the liquid ingredients in the mixing bowl. Mix to form dough. This dough does not need to be chilled before rolling!
5. Flour a work surface. Knead the dough a few times to smooth it out and with a rolling pin- roll the dough. Add flour as needed, if dough appears sticky. Cut into desired shapes. The dough scraps can be re-rolled and cut several times.
6. Bake 10 to 12 minutes, or until edges turn golden brown. Cool on a wire rack.
Tips: