This recipe has been featured on The Recipe Girl blog: Meyer Lemon Ricotta Muffins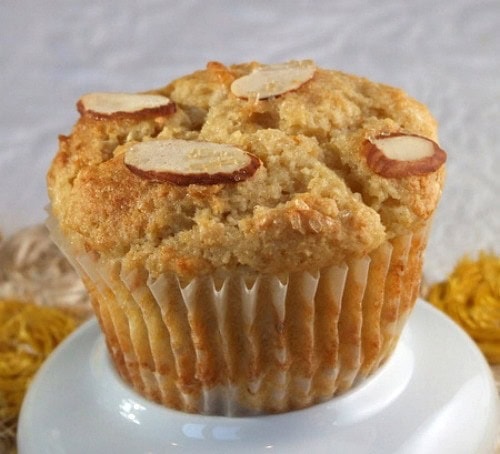 Meyer Lemon Ricotta Muffins
We love these- lemony, moist and great w/ the almond flavor too.
Yield:
12 muffins
Prep Time: 15 min
Cook Time: 20 min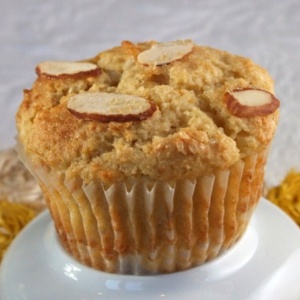 Ingredients:

1 cup whole wheat pastry flour
1 cup all-purpose flour
1/2 teaspoon baking powder
1/2 teaspoon baking soda
1/2 teaspoon salt
1 cup granulated white sugar
1/4 cup (1/2 stick) butter, at room temperature
1/2 cup unsweetened applesauce
1 Tablespoon finely grated Meyer lemon zest (from 2 lemons)
1 cup lowfat ricotta cheese
1 large egg
1 1/2 Tablespoons freshly squeezed Meyer lemon juice
1/2 teaspoon almond extract
1/3 cup thinly sliced almonds
demerara sugar (coarse sugar), optional

Instructions:

1. Preheat oven to 350°F. Line 12 cupcake tins with paper liners or spray with nonstick spray.

2. Whisk the flours, baking powder, baking soda and salt in a medium bowl.

3. Using an electric mixer, beat sugar, butter, applesauce, and zest in a large bowl until light and fluffy. Beat in ricotta, then egg, lemon juice and almond extract. Add dry ingredients and stir just until blended.

4. Using an ice cream scoop, divide batter among muffin cups. Place 3 to 5 almonds on top of each muffin and then sprinkle with coarse sugar (if desired).

5. Bake 18 to 20 minutes, or until muffins test done (toothpick inserted in the center comes out clean).

6. Place on wire rack to cool. Once cooled, store in covered container.