Try this muffin recipe to get a little green stuff into your children without their knowledge: Zucchini Chocolate Chip Muffins.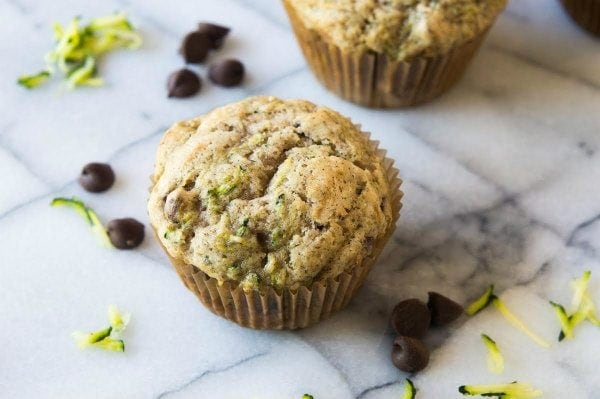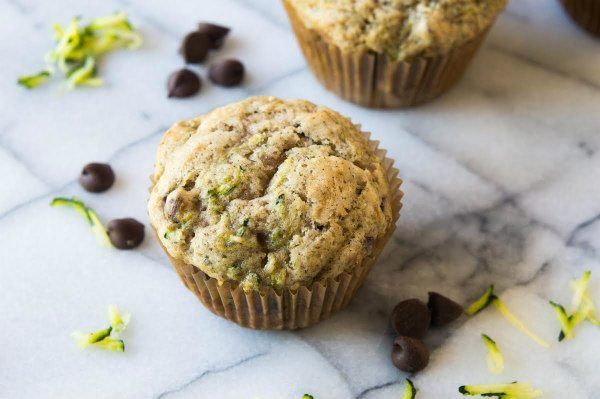 As a kid, I hated zucchini bread. My mother used to make if often since our relatives used to dump loads of zucchini in our laps in the summertime. I just didn't think it tasted good at all. So I've been reluctant to try zucchini bread recipes as an adult.
I finally caved and tried this recipe. I grated the zucchini into smallish shreds so that my green-phobic 16 year old wouldn't object. He didn't even notice, and he gobbled these up like they were dessert.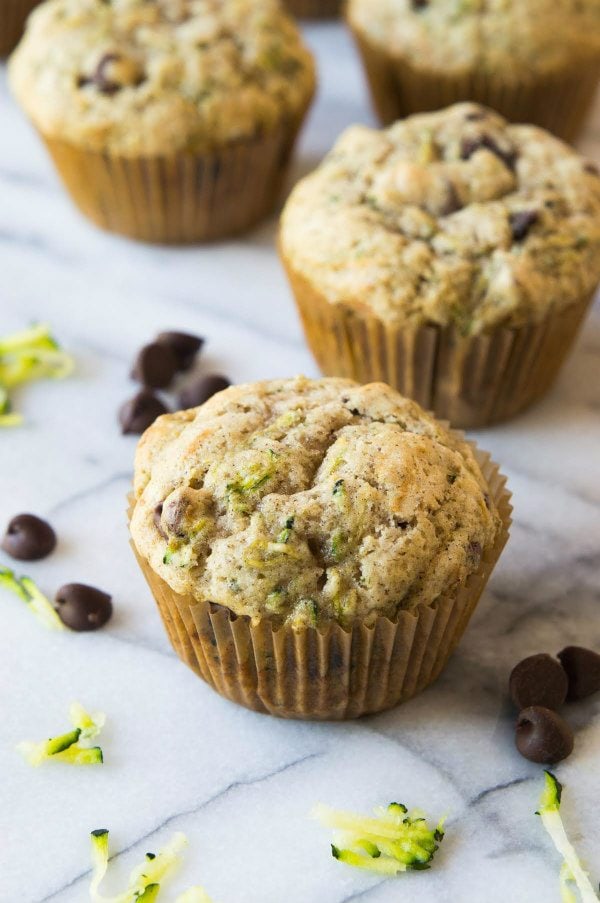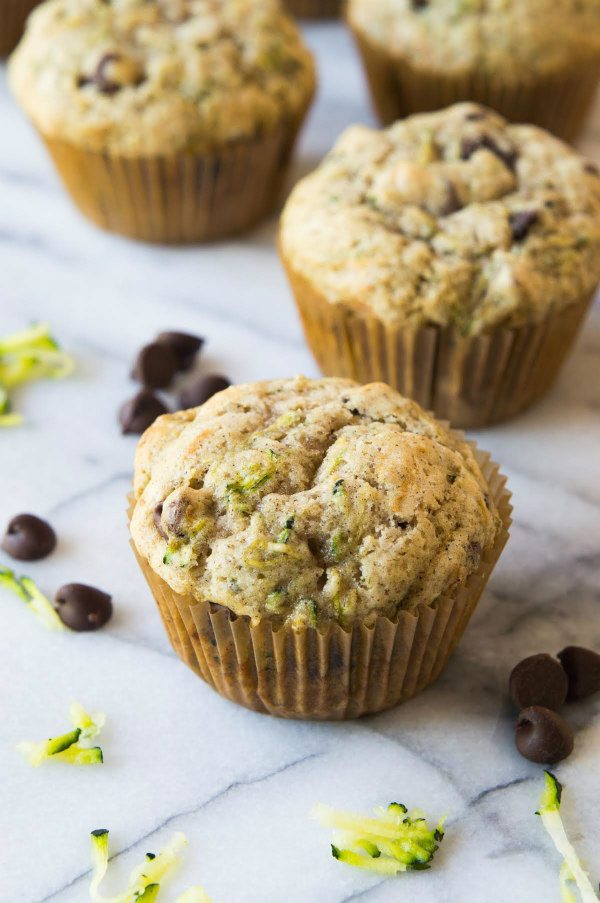 And I suppose they were like dessert with the chocolate chips and all. Is there really much of a difference between muffins and cupcakes? I can't really decide.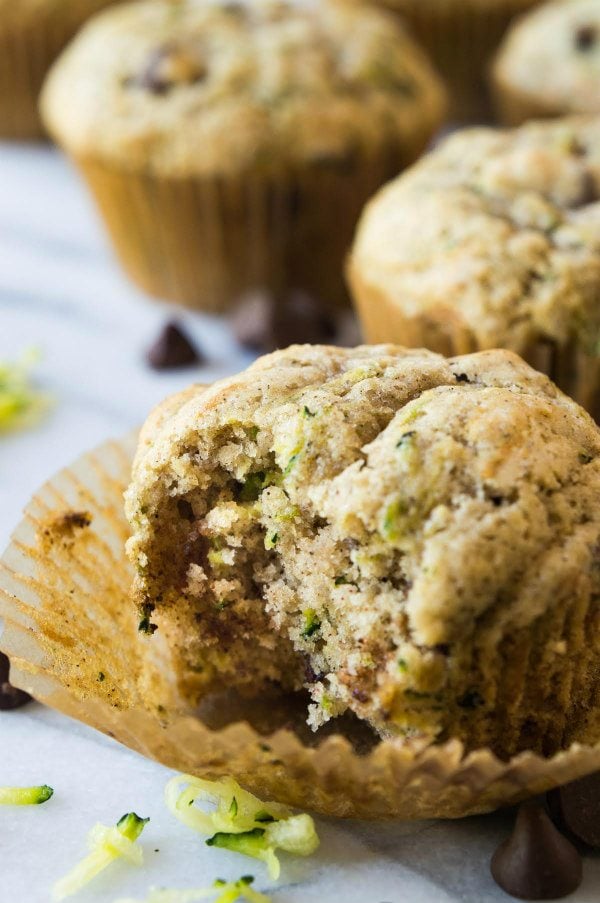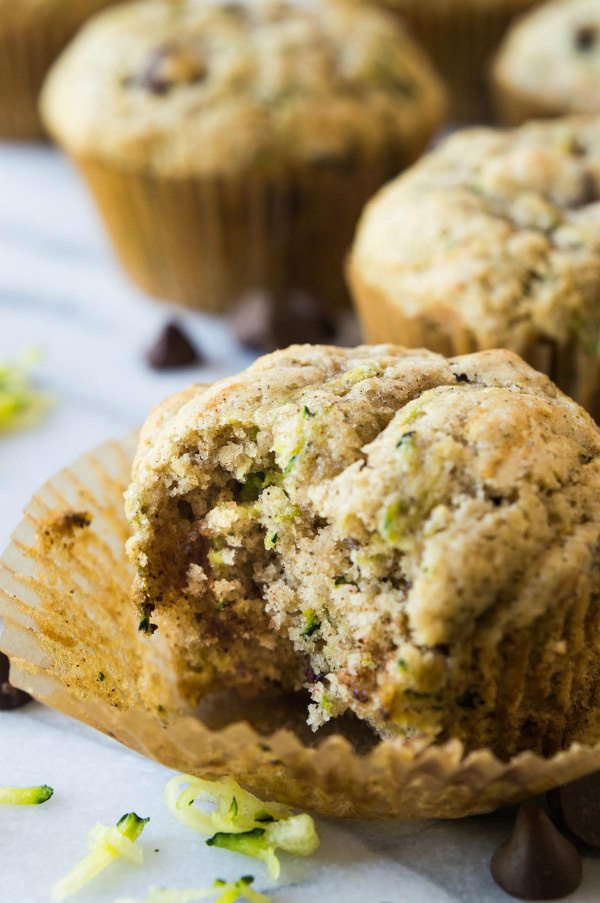 Despite the visual, there is a lot of chocolatey goodness inside!  These are a fantastic summer muffin to bake. Save this recipe for your zucchini bounty!
Thanks to Serene from the HouseOfYumm blog for these beautiful photos.  Serene is one of the photographers for RecipeGirl.com, and she captured the deliciousness of these muffins perfectly!
Zucchini Chocolate Chip Muffins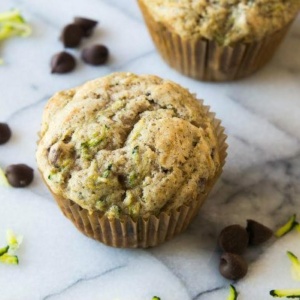 This is a great muffin to make with your summer zucchini. The chocolate chips are a great addition.
Yield:
12 muffins
Prep Time:20 minutes
Cook Time:23 minutes
Ingredients:
1 3/4 cups all-purpose flour
1 teaspoon ground cinnamon
3/4 teaspoon baking soda
1/2 teaspoon baking powder
1/2 teaspoon salt
2 large Eggland's Best eggs
1 cup granulated white sugar
1/2 cup canola oil
1 teaspoon vanilla extract
1 cup finely shredded zucchini
1 cup semi-sweet chocolate chips
3/4 cup coarsely chopped walnuts (optional)
Directions:
Position rack in middle of the oven. Preheat oven to 350°F. Line 12 muffin tin cups with paper liners. Spray the paper liners with nonstick spray.
In a medium bowl, whisk the flour, cinnamon, baking soda, baking powder and salt together. Set aside.
In a large bowl, whisk the eggs and sugar to blend them smoothly. Whisk in the oil and vanilla until blended. Use a large spoon to stir in the flour mixture just until incorporated. Stir in the zucchini, then stir in chocolate chips and walnuts (if using) until evenly distributed.
Pour about 1/3 cup of the batter into each paper liner. Bake until the tops are light brown and a toothpick inserted in center of a muffin comes out clean, about 23 minutes. If the toothpick penetrates a chocolate chip, test another spot.
Cool muffins in pan on a wire rack for 5 minutes. Using pot holders to protect your hands, invert the muffin pan onto a wire rack and tap the bottom to release the muffins. Turn the muffins right side up to cool for about 15 minutes and serve warm, or let cool completely, about 45 minutes.
Tips:
The muffins can be covered and stored at room temperature for up to 2 days.
Bittersweet or milk chocolate chips can be substituted for the semisweet chips.
Eggland's Best provided the eggs for this recipe.
SOURCE: RecipeGirl.com (Adapted from The Essential Chocolate Chip Cookbook)
Here are a few more muffin recipes you might enjoy: