These Sugar Cookies created by Ms. Martha Stewart can be cut into any shape for all holidays and occasions.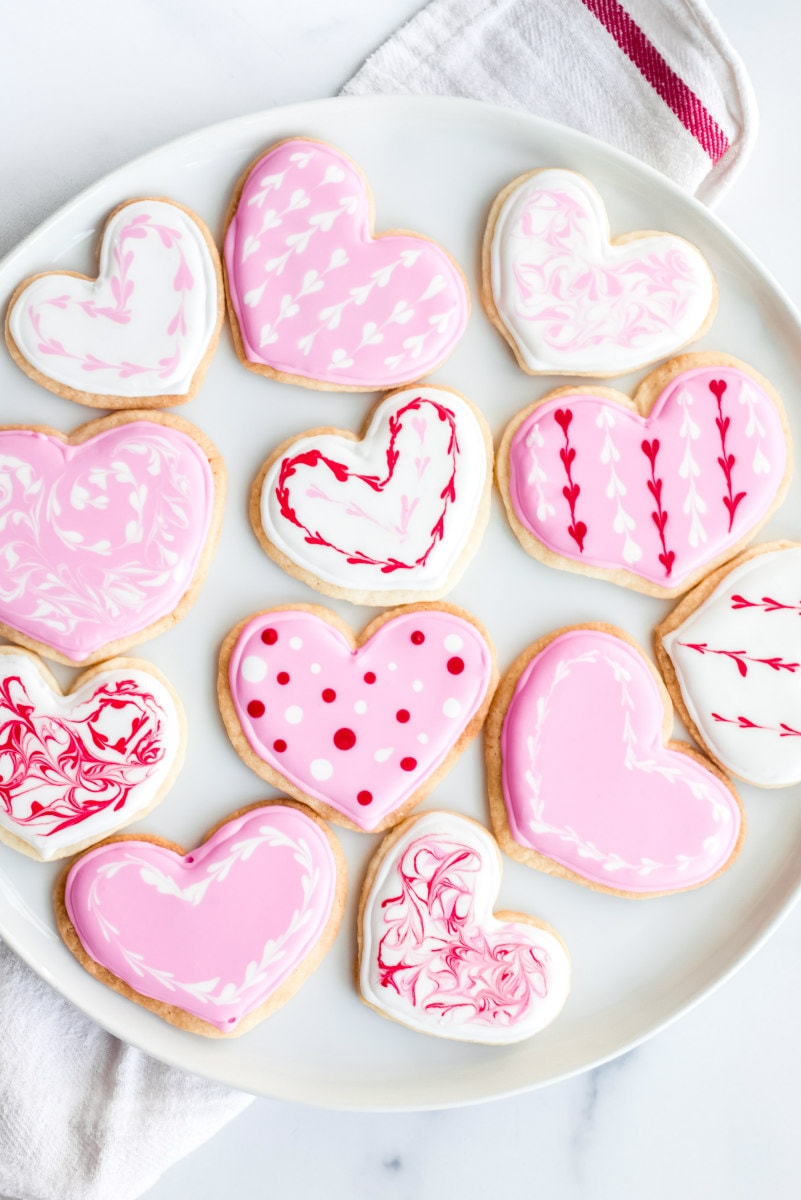 I have been baking Martha Stewart's Sugar Cookies for many years. They're a good solid sugar cookie recipe that is perfect for using to decorate. You can add some sprinkles or chunky sugar before baking them, ice them with royal icing, or simple spread some frosting on top and adorn them with festive goodies.
Supplies you might like to have for baking these Sugar Cookies: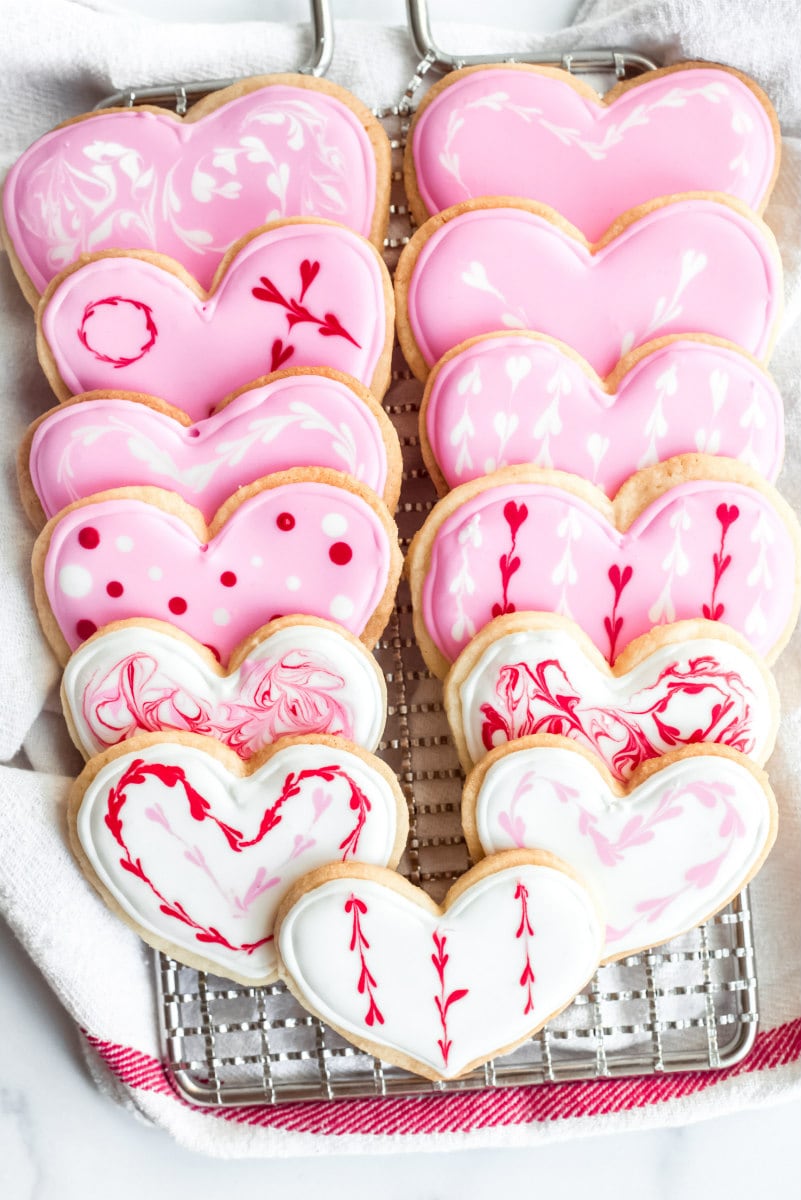 How to make Sugar Cookies:
You will follow the instructions in the recipe below for making the dough for the sugar cookies. Then you'll divide the dough in half, pat each half into rectangles, and then wrap each in plastic wrap and chill for at least two hours.
When you're ready to bake the cookies, preheat the oven while you are preparing to cut the cookies into shapes. You'll roll out a cookie dough rectangle on a floured surface and use cutters to cut the dough into shapes. The shaped cookies are then transferred to parchment-lined baking sheets. The baking sheets with the cut-out cookies on them are placed into the refrigerator or freezer for 15 minutes before baking. Don't skip this part- it helps the cookies to maintain their shape while baking. You'll repeat the process with the remaining dough. Allow the cookies to cool completely before adding icing.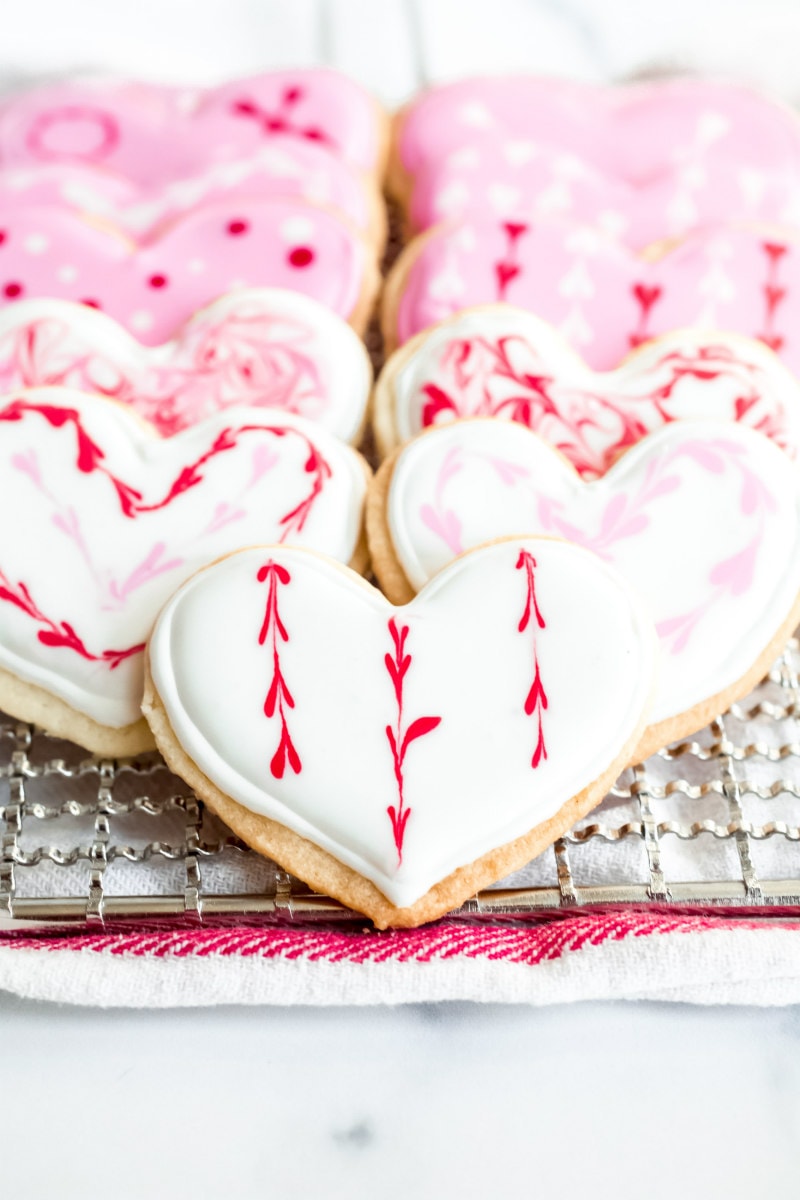 How to make Royal Icing:
The royal icing is a combination of powdered sugar, meringue powder and water. When you use an electric mixer to blend these together, the consistency will become dense and fluffy. If you don't want to order the meringue powder from Amazon, you will be able to locate it at craft stores like Michael's and baking supply shops too. If you have a Michael's coupon, use it for the meringue since it's kind of pricy! There are instructions included in the recipe below for how to add the royal icing to the sugar cookies.
The meringue powder has a little bit of a marshmallow flavor to it, and it imparts a good flavor to the royal icing. These cookies are pretty, but they're delicious too!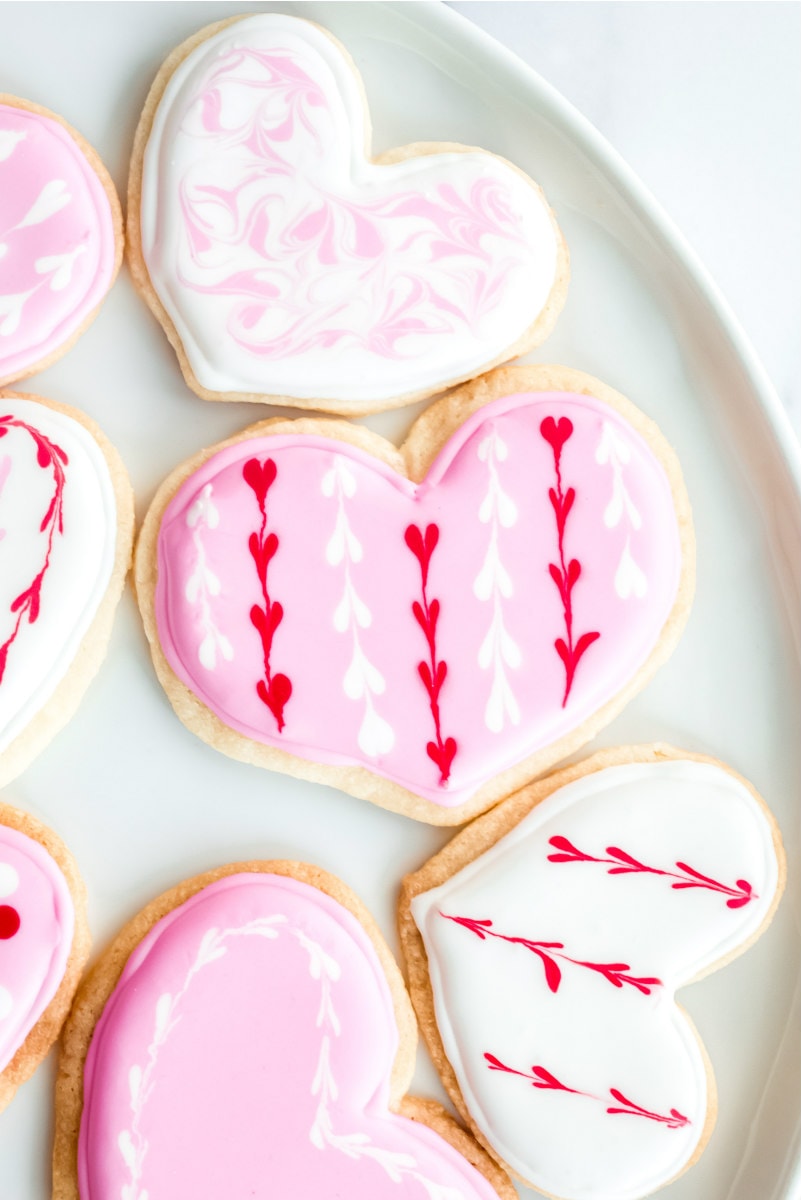 How to store Sugar Cookies with Royal Icing:
The first thing you need to know is that it's super important for the royal icing on the cookies to dry completely. And by "completely," I mean that you should be able to tap the cookie with your fingernail and not have it leaving an indentation. Store them in a covered container with layers separated by parchment or wax paper. They will be fine at room temperature for a day or two, and they can be stored in the freezer too.
Here are a few more Valentine's Day treats you might like to try:
Martha Stewart's Sugar Cookies
These sugar cookies can be shaped into anything. They are great for holiday celebrations!
Recipe Details
Ingredients
SUGAR COOKIES:
2

cups (4 sticks)

unsalted butter,

at room temperature

3

cups

granulated white sugar

2

large

eggs

1

teaspoon

vanilla extract

1½

teaspoons

salt

5

cups

all purpose flour,

plus more for dusting
ROYAL ICING (makes 2½ cups):
16

ounces

powdered sugar

5

tablespoons

meringue powder

1/2

cup

water

liquid or gel paste food coloring

(optional)
Instructions
PREPARE THE COOKIES:
In a large bowl, use an electric mixer to beat the butter and sugar on medium-high speed until light and fluffy, about 5 minutes. Add the eggs, vanilla, and salt; mix on medium-high speed until combined. With the mixer on low speed, add the flour in two batches, mixing until just incorporated.

Turn out the dough onto a clean work surface. Divide it in half, and pat into flattened rectangles; wrap each in plastic. Refrigerate for at least 2 hours or up to 1 week.

Preheat oven to 350°F., with rack in upper and lower thirds. Line large baking sheets with parchment paper or silpat mats. On a lightly floured work surface, roll out one rectangle of dough to a scant ¼-inch thickness. Using cookie cutters, cut out shapes. Using a small offset spatula, transfer the shapes to the prepared baking sheets, placing about 2 inches apart. Chill in the freezer or refrigerator until firm, about 15 minutes. Set the scraps aside. Repeat the process with the remaining rectangle of dough. Gather all the scraps, and roll out again. Chill 15 minutes; cut out more shapes, and place on sheets.

Bake, rotating sheets halfway through, until the cookies are golden around the edges and slightly firm to the touch, about 15 minutes. Transfer the cookies to a wire rack to cool completely.
PREPARE THE ROYAL ICING:
In a large bowl, use an electric mixer to combine the sugar, meringue powder, and a scant 1/2 cup water on low speed. Beat until the mixture is fluffy yet dense, 7 to 8 minutes.

To thin the icing for flooding (filling in areas with a thin layer of icing), stir in additional water, 1 teaspoon at a time. Test the consistency by lifting a spoonful of icing and letting it drip back into the bowl; a ribbon should remain on the surface for 5 to 7 seconds.

To tint the icing, dip a toothpick or wooden skewer into food coloring, and gradually mix it in until the desired shade is reached. Use a piping bag with a fine tip to pipe the royal icing around the outside edge of each sugar cookie. Then you can use a small spoon to spoon the icing onto the cookies and spread it to the edges. Let the royal icing dry completely before storing- it may take a few hours to harden completely.
Notes
*If you don't wish to use royal icing, you can decorate the cookies with sanding sugar or sprinkles, if using, before baking.
*Cookies can be kept in an airtight container, layered between sheets of waxed or parchment paper, at room temperature for up to 3 days.
Nutrition
Serving:
1
cookie
,
Calories:
274
kcal
,
Carbohydrates:
43
g
,
Protein:
3
g
,
Fat:
11
g
,
Saturated Fat:
7
g
,
Cholesterol:
39
mg
,
Sodium:
111
mg
,
Potassium:
32
mg
,
Fiber:
1
g
,
Sugar:
29
g
,
Vitamin A:
332
IU
,
Calcium:
8
mg
,
Iron:
1
mg
Thanks to Tara Liptak from the blog, Smells Like Home for the beautiful photography on this post.