I'm pretty smitten about my latest recipe created especially for Valentine's Day:  Chocolate Loaf Cake (with a Valentine's surprise inside!)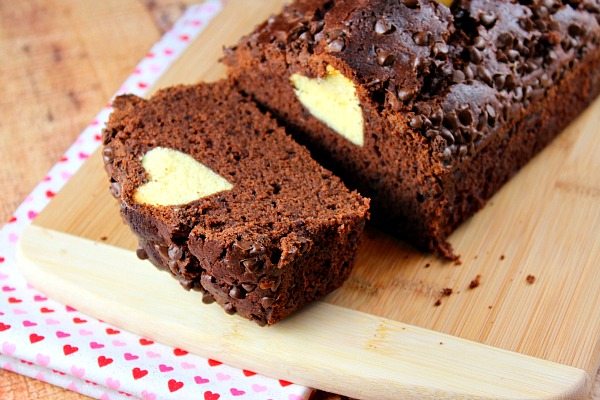 My friend Amanda Rettke is just about to release a brand new cookbook:  Surprise-Inside Cakes.  She's kinda the queen of cute shapes "hidden" inside of cakes!  I can't wait to get this book in my hands (March 11th).  In the meantime, I'm sharing a little cake I made that was inspired by Amanda's cakes.  It's much like a chocolate pound cake- dense and chocolatey and slightly fudgy in the middle.  I've hidden a heart in the middle of the cake- so when you cut into it, you get the surprise of the heart in every slice.  Here's how you make it: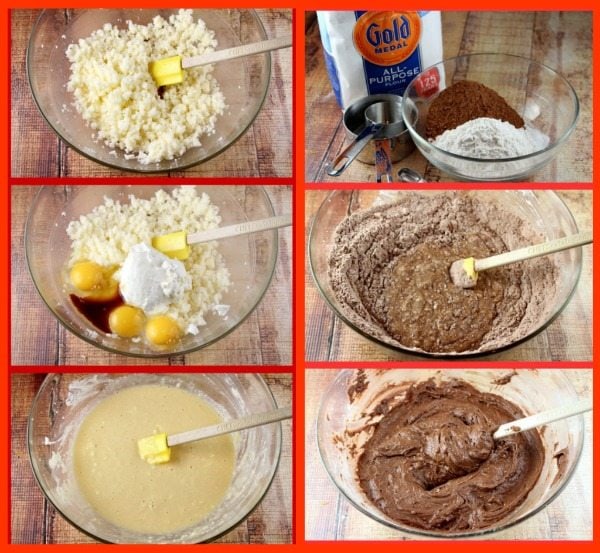 The wet mixture is combined with the dry ingredients to create your chocolatey batter.  As always, I use Gold Medal Flour for my baking recipes- this time just the classic all-purpose flour.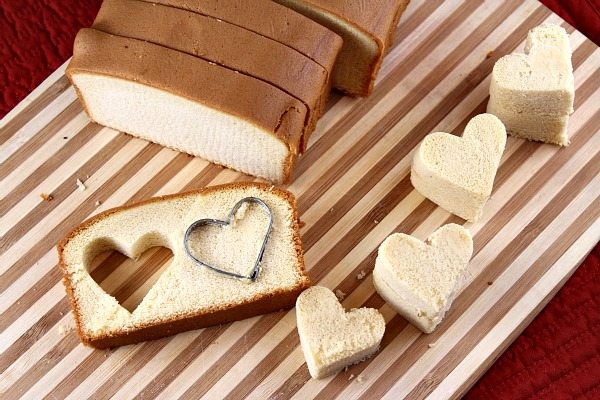 You also need a frozen pound cake for this recipe (any brand).  You certainly could make your own homemade pound cake, but it's totally not necessary.  Plus, the sturdiness of a frozen pound cake is the kind of consistency you need.  You'll cut a bunch of heart shapes from slices of the pound cake.  Those will end up being the "surprise" inside your cake!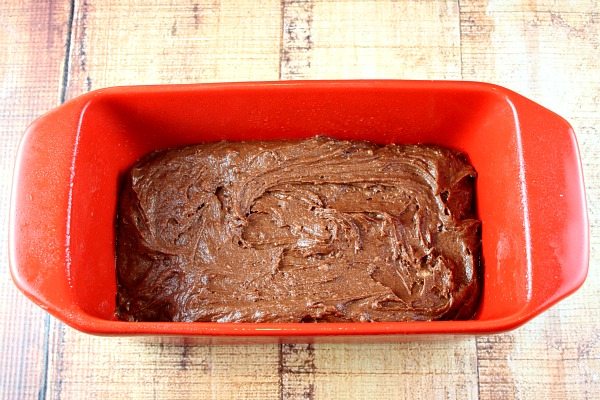 About half of the batter is spread into the bottom of your loaf pan.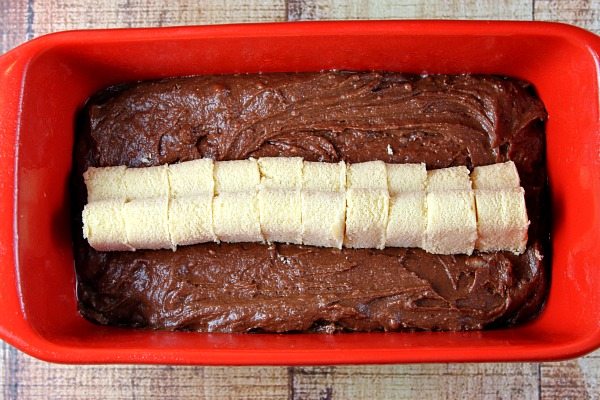 A snuggly row of evenly stacked hearts is placed on top of the batter.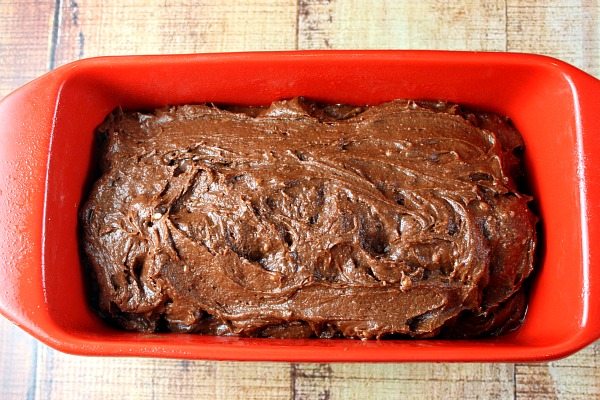 Then the rest of the batter is spooned on top.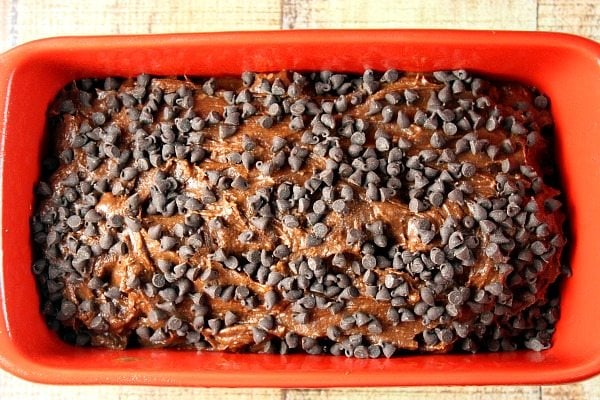 I sprinkled on chocolate chips to make sure everything was going to be extra-chocolatey!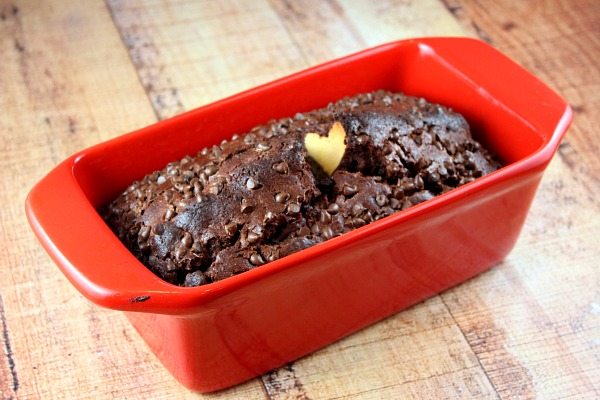 Here is the loaf all baked- you'll see that the hearts in the center of my cake popped out the top when the cake rose and cracked.  At first, I was like… OH NO!  But then I decided that I liked that the hearts peeked out the middle to tell everyone, "Hey, this is a Valentine's Day cake!)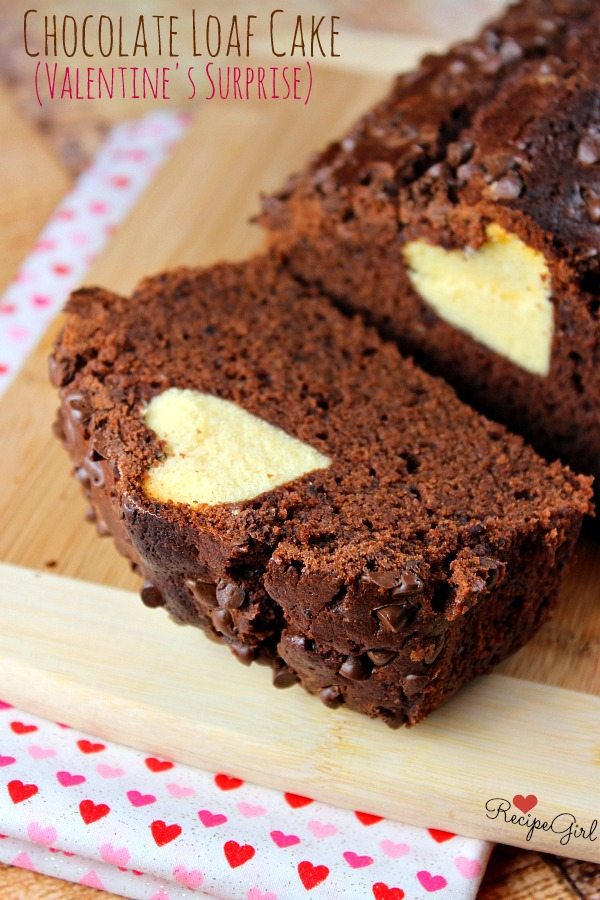 Go ahead and surprise your Valentine's this year with this delicious (heart surprise) chocolate cake.  They'll love ya for it!
Chocolate- Valentine's Surprise- Loaf Cake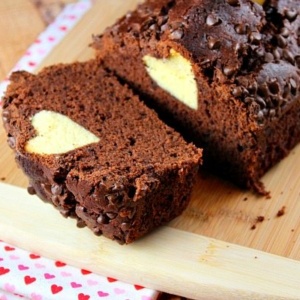 Yield:
1 loaf cake (about 8 servings)
Prep Time:25 min
Cook Time:45min
Ingredients:
10 tablespoons (1 stick + 2 Tbsp) salted butter, at room temperature
1 cup granulated white sugar
1/2 cup plain 2% or whole Greek yogurt
3 large eggs
1 teaspoon vanilla extract
1 1/4 cups Gold Medal® All-Purpose Flour
1/2 cup unsweetened cocoa powder (or Dutch process cocoa powder)
1/2 teaspoon baking powder
1/2 cup mini chocolate chips, divided
1 frozen pound cake, cut into even 3/4-inch slices
Directions:
1. Preheat the oven to 350 degrees F. Spray an 8x4-inch loaf pan with nonstick spray.
2. In a medium bowl, use and electric mixer to combine the butter and the sugar. Then mix in the yogurt, eggs and vanilla.
3. In a separate bowl, whisk together the flour, cocoa powder and baking powder. Add to the dry ingredients and mix to combine. Stir in 1/4 cup chocolate chips.
4. Using a small heart cookie cutter (1 to 2 inches), cut heart shapes from each slice of frozen pound cake. Cut enough of them so (when stacked) they'll fit across almost the entire length of the loaf pan.
5. Spread about half of the batter onto the bottom of the loaf pan. Lay a row of the evenly stacked hearts on their side on top of the batter- spanning the length of the pan and leaving about an inch of space on each end (see photo in recipe post). Scoop remaining batter over the top to cover the pound cake hearts and create a smooth surface. Sprinkle the remaining chocolate chips on top.
6. Bake 45 to 50 minutes, or until almost completely set (it will look a tiny bit like lava cake in the very center, and that's okay!) The hearts you put in the center of the cake may or may not pop up out of the cake as pictured- it depends on how deep the top layer of batter is. Let cool for 20 minutes or so in the pan, then loosen the edges of the pan with a knife and pop out onto a rack to cool completely. Keep well wrapped- this cake is best eaten within a day or two.
Source: RecipeGirl.com (with the "surprise inside" idea coming from IAmBaker)
Disclosure:  This post was created in partnership with Gold Medal Flour, a product I've used and trusted in my kitchen for many years.  All opinions shared are my own. There are Amazon affiliate links within this post.