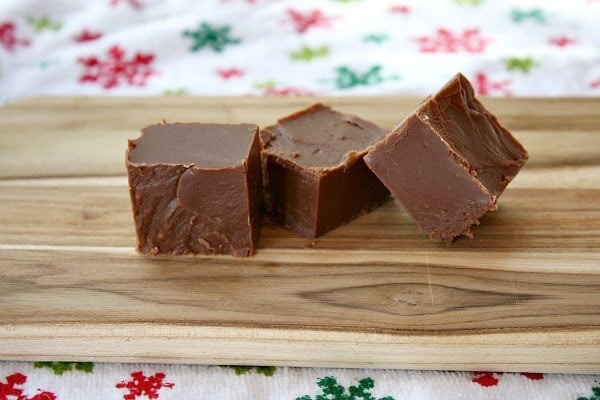 Fantasy Fudge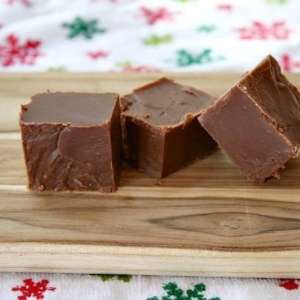 Such a super easy recipe for microwave fudge.
Yield:
36 small pieces of fudge
Prep Time: 10 min
Cook Time: 12 min
Ingredients:
3/4 cup (1 1/2 sticks) salted butter
3 cups granulated white sugar
2/3 cup evaporated milk
12 ounces semi-sweet chocolate chips
7 ounce jar marshmallow creme
1 teaspoon vanilla extract
Directions:
1. In large glass bowl, microwave the butter until it has melted. Add sugar and milk; whisk together well.
2. Microwave on high 3 minutes, then stir, then microwave on high 2 minutes more.
3. Mix well; scraping the sides of the bowl. Microwave on high for 3 more minutes, then stir and measure temp. You're looking for it to reach 234 degrees F. Microwave for 1 to 2 more minutes until 234 degrees is reached.
4. Remove from microwave and add chips. Stir vigorously until melted and smooth. Add the marshmallow creme and the vanilla extract; mix well until you no longer see any white streaks. Pour into greased 9-inch square pan, or 13x9-inch baking pan (depending on how thick you would like your fudge)- I used 9x9-inch for the photo.
5. Cool completely at room temperature. Cut into squares.
Tips:
*If you are a nut-family, by all means add in 1 cup chopped walnuts!
*Keep fudge in a covered container. It should keep for a week or two when stored well.
*This recipe is gluten-free adaptable. Just be sure to use a brand of chocolate chips that is known to be GF.
*If you would prefer not to make this in the microwave, instructions for making it traditionally on the stove are on the back of the Kraft Marshmallow Creme jar.
SOURCE: RecipeGirl.com (but I'm pretty sure it originated from the old Marshmallow Creme jars)