The Best Fudge Recipes turn out pieces of fudge that are creamy and perfect. Really good fudge should be sturdy, but it should be easy to bite into. It should be smooth and free of any grainy sort of sugar texture. Fudge can be flavored plain- like the best chocolate fudge recipes, or it can have other flavors mixed in or chunks of nuts or other goodies added in too. It can be easy-to-make fudge, or it can be slightly more complicated. Whatever you have to do to to make the most amazing fudge ever, that's what you do! Here are 25 of the Best Fudge Recipes. Click on any of the recipe titles in the post below to go directly to the fudge recipe. Enjoy!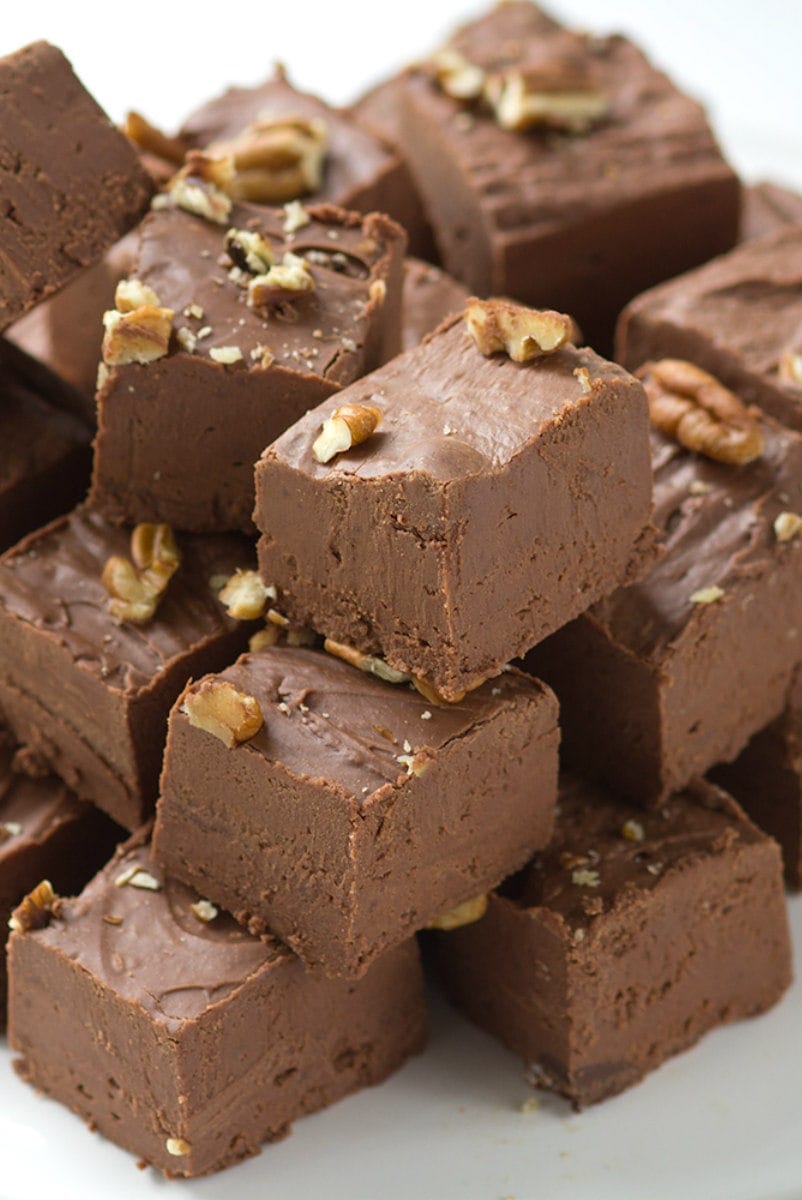 Chocolate Fudge Recipes with Nuts:
This German Chocolate Fudge recipe is delicious and easy-to-make with pecans. If you like chocolate fudge recipes with nuts, you might also like to try my Chocolate Toasted Almond Fudge, a creamy chocolate fudge that is studded with plenty of toasted almonds. Pistachio and Walnut Fudge is a foolproof, perfect fudge recipe. Rocky Road Fudge has peanuts mixed in with the added bonus of marshmallows. Mom's Easy Fudge (you've gotta love recipes from Mom) is a foolproof recipe with pecans swirled in.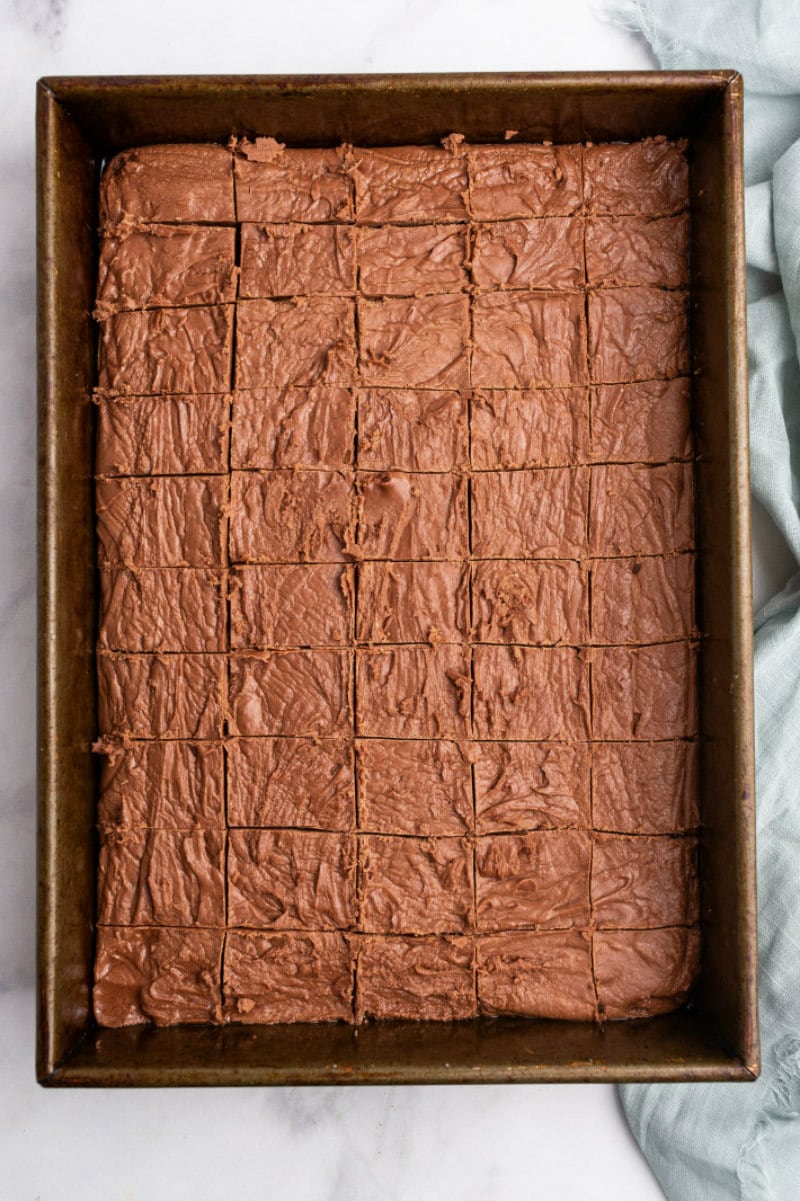 Best Chocolate Fudge recipes with no nuts:
If you prefer to make chocolate fudge without any nuts, you might like to try the Best Fudge Recipe pictured above. It's a creamy, classic version of chocolate fudge. For the easiest fudge recipe ever, try 2-Ingredient Fudge. It's a winner every time! Fantasy Fudge is my go-to recipe for a simple, no-frills, delicious and creamy chocolate fudge. I never have any problems with that recipe. Patriotic Fudge is a two-layer fudge consisting of a chocolate layer on the bottom and a white chocolate layer on top (with red, white and blue sprinkles to give it that patriotic vibe). And if you don't mind a little candy bar swirled into your chocolate fudge, try this recipe for Milky Way Fudge.
Scroll to the end of this post to find a bonus recipe for Easy Microwave Fudge. This is a classic chocolate fudge recipe that has only three ingredients and is made in the microwave in just 3 minutes!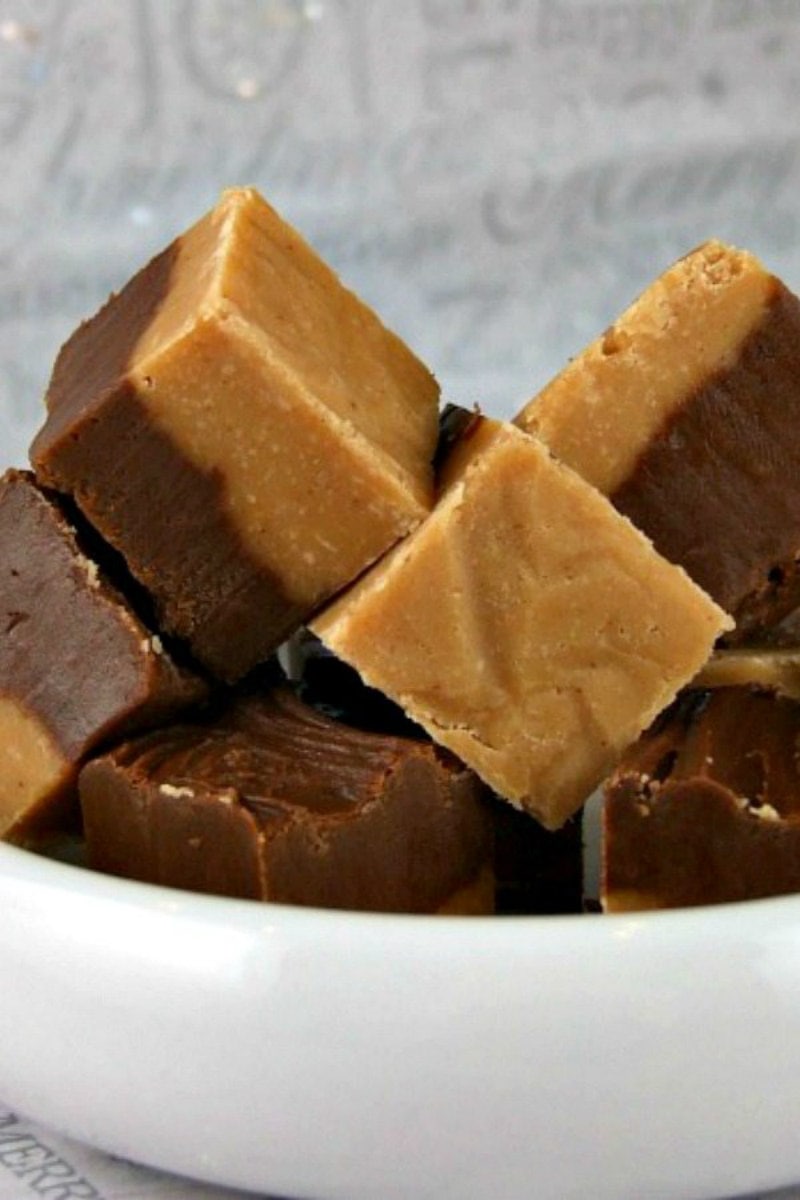 Peanut Butter Fudge Recipes
Chocolate and peanut butter are a great combination of flavors and should be included in this collection of the best! Chocolate- Peanut Butter Fudge (pictured above) is completely amazing! In this fudge recipe, there's a layer of chocolate fudge topped with a layer of peanut butter fudge. I have another Peanut Butter- Chocolate Fudge recipe where the chocolate and peanut butter are actually cooked together to make one, two-flavor fudge. If you're a lover of peanut butter cups, you'll love Peanut Butter Cup Fudge with actual peanut butter cups mixed into the fudge. And of course, if you're just a pure peanut butter lover, then you'll enjoy classic and creamy Peanut Butter Fudge.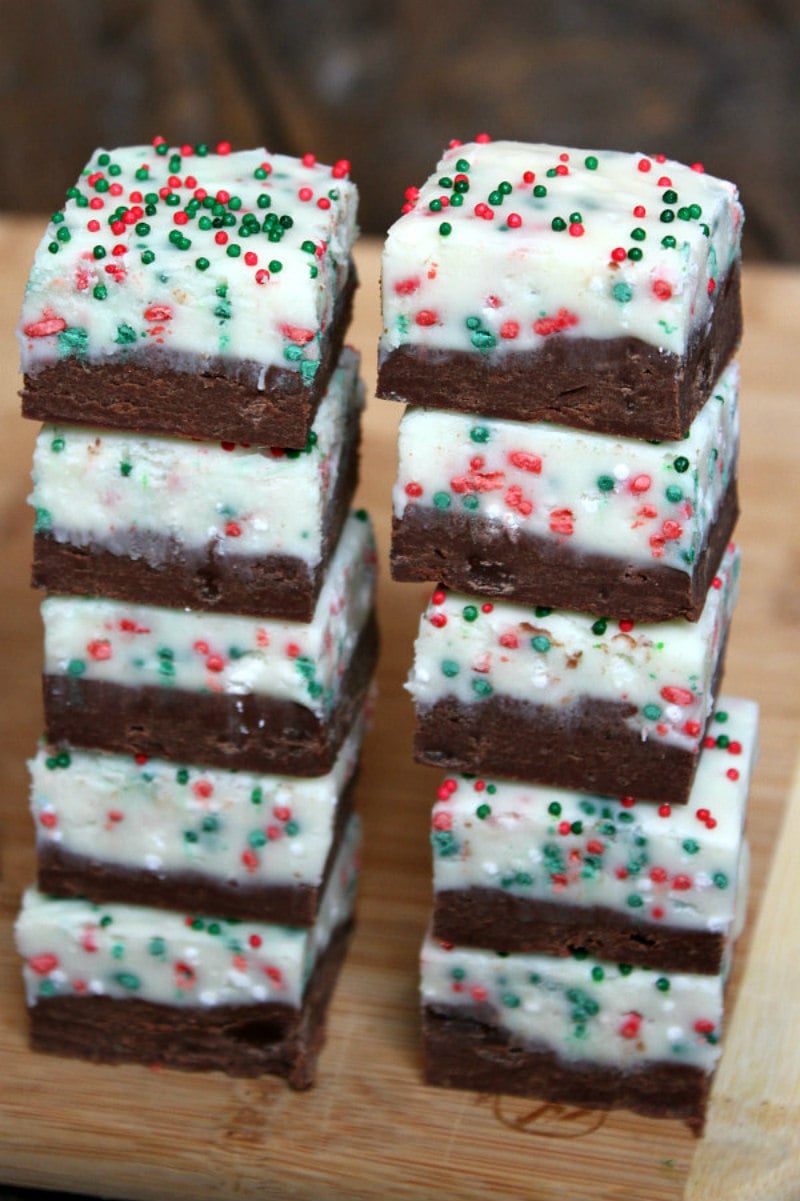 Christmas Fudge Recipes
It doesn't really feel like Christmas unless you have at least one flavor of fudge in the house! Any kind of fudge recipe is appropriate to make for Christmas, but there are also fudge recipes with a holiday theme. Christmas Fudge is pictured above. There's a chocolate fudge layer and a white fudge layer with pretty, holiday nonpareils mixed in for a festive touch.
Candy Cane Fudge and Peppermint Fudge are two fudge recipes where candy canes are present in full force. White Chocolate Christmas Fudge combines the two flavors of sugar cookies and white chocolate in a delicious fudge recipe. Mint Truffle Fudge takes advantage of adding in chopped chocolate-mint candies. And the ever-favorite Eggnog Fudge is a sweet treat with a mellow eggnog flavor and a dusting of nutmeg.

More Favorite Fudge Recipes
The fun thing about fudge is that it doesn't have to be chocolate at all! Key Lime Fudge (pictured above) is made with real key limes and it has a wonderful sweet-tart flavor. Pumpkin Fudge is another creamy and delicious fudge that is perfectly flavored for fall. Candy Corn Fudge is a good choice to serve in the fall months too. It doesn't taste like candy corn at all, but the colors are visually the same and it only calls for three ingredients.
Boozed-up Baileys Fudge is a vanilla fudge with Irish Cream and caramel swirled in. And finally, you simply must try making my favorite fudge recipe of all: Cinnamon Fudge. It's made with cinnamon chips (which can usually be found at Target or you can order cinnamon chips online). The spicy, cinnamon flavor in this fudge is so good. It's a must-try!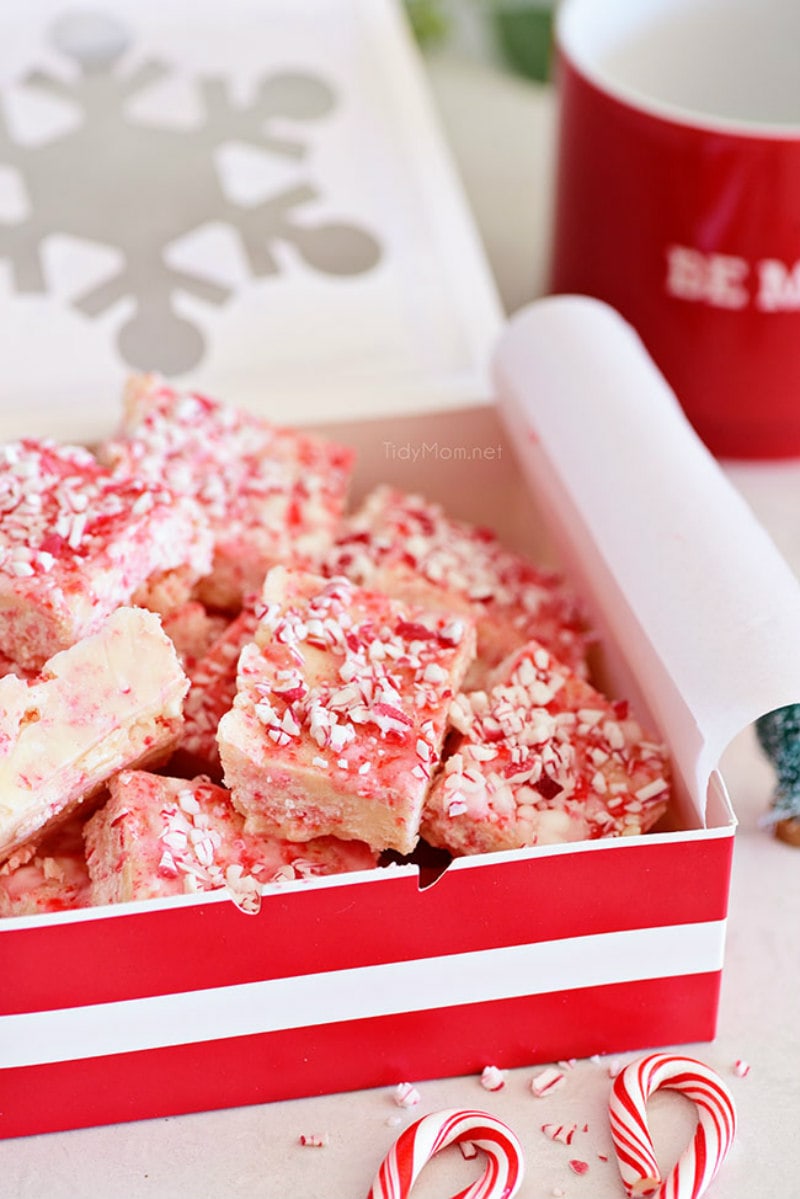 The Best Way to Store Fudge:
(Peppermint Fudge is pictured above) Fudge should be stored in an airtight container. Each layer in the container should be separated by a piece of waxed paper. If you store fudge in the refrigerator in a well-sealed container, it will keep for about 2 weeks. Fudge kept at room temperature will begin to dry out after a few days. You can freeze fudge too. Wrap a few pieces (single layer) in foil and then place the foil in a sealed container or freezer zip bag. Fudge will last in the freezer for a few months when it is wrapped well.
Easy Microwave Fudge
Recipe Details
Ingredients
3

cups

semi-sweet or milk chocolate chips

One

14-ounce can

sweetened condensed milk

1/4

cup (1/2 stick)

butter
Instructions
Line an 8x8-inch pan with foil and spray with nonstick spray (or rub lightly with butter).

In a large bowl, melt the butter in the microwave (about 40 seconds).

Add the chocolate chips and the sweetened condensed milk to the bowl and stir.

Microwave again for 30 seconds. Stir again. Repeat 5 more times- microwaving for 30 seconds each time, then stirring after each burst in the microwave.

Pour the fudge into the prepared pan and smooth to even in the pan. Refrigerate until firm. Cut into pieces.
Notes
Use peanut butter chips to make peanut butter fudge!
Nutrition
Serving:
1
piece
,
Calories:
105
kcal
,
Carbohydrates:
13
g
,
Protein:
2
g
,
Fat:
5
g
,
Saturated Fat:
3
g
,
Cholesterol:
16
mg
,
Sodium:
57
mg
,
Potassium:
92
mg
,
Sugar:
13
g
,
Vitamin A:
155
IU
,
Vitamin C:
1
mg
,
Calcium:
71
mg
,
Iron:
1
mg