This Chocolate Toasted Almond Fudge is a creamy chocolate fudge that is studded with plenty of toasted almonds.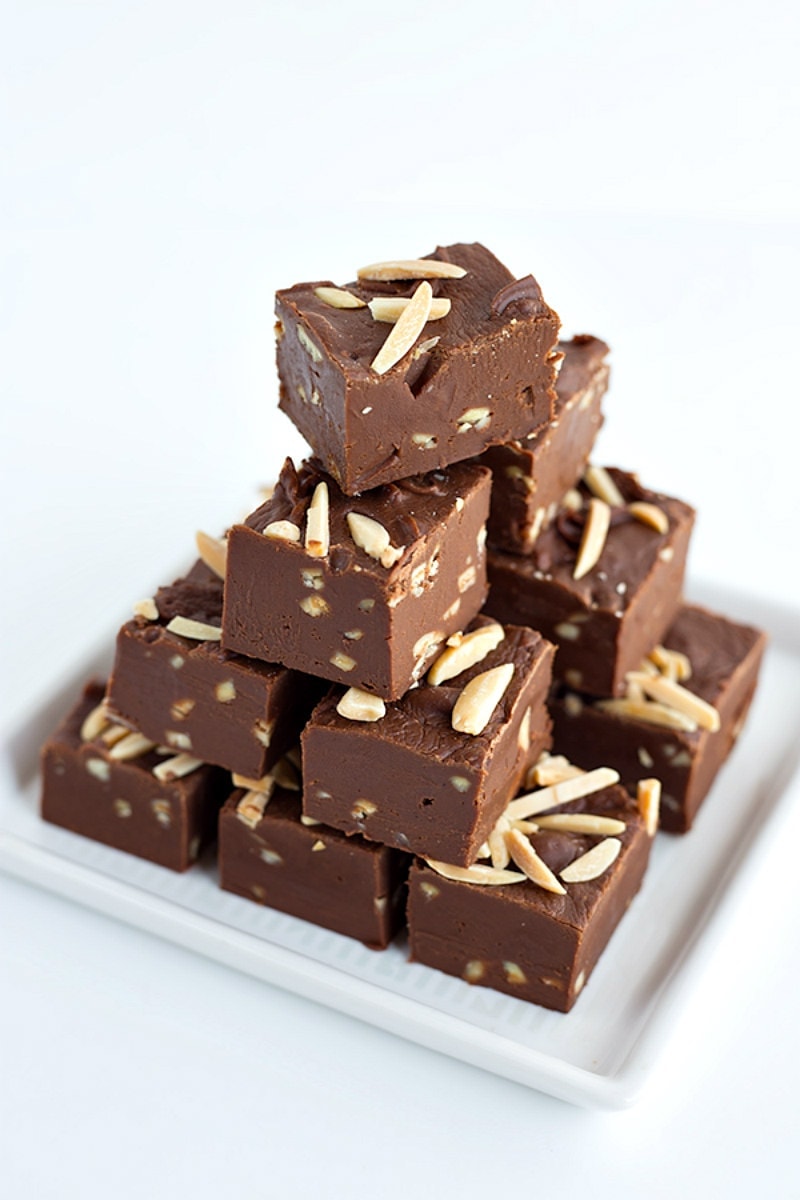 The Perfect Fudge Recipe!
If you follow the directions in the recipe to a "T," this fudge should turn out nice and creamy.  Creamy chocolate fudge happens to be what everyone is looking for in a fudge recipe, so that makes this the perfect fudge.  Toasted almonds are so incredibly delicious, and they're the perfect addition to fudge to create Chocolate Toasted Almond Fudge!
How to Toast Almonds:
I toast almonds all the time since I love them so much.  And I find that the easiest way to toast almonds is to take out a small skillet and just add the slivered almonds to the skillet and set the heat to medium.  Have a wooden spoon handy, and don't leave those almonds alone!  Stir them here and there, and watch the almonds as they begin to turn light brown.  Remove them from heat, and scrape them onto a paper towel or plate so they can cool.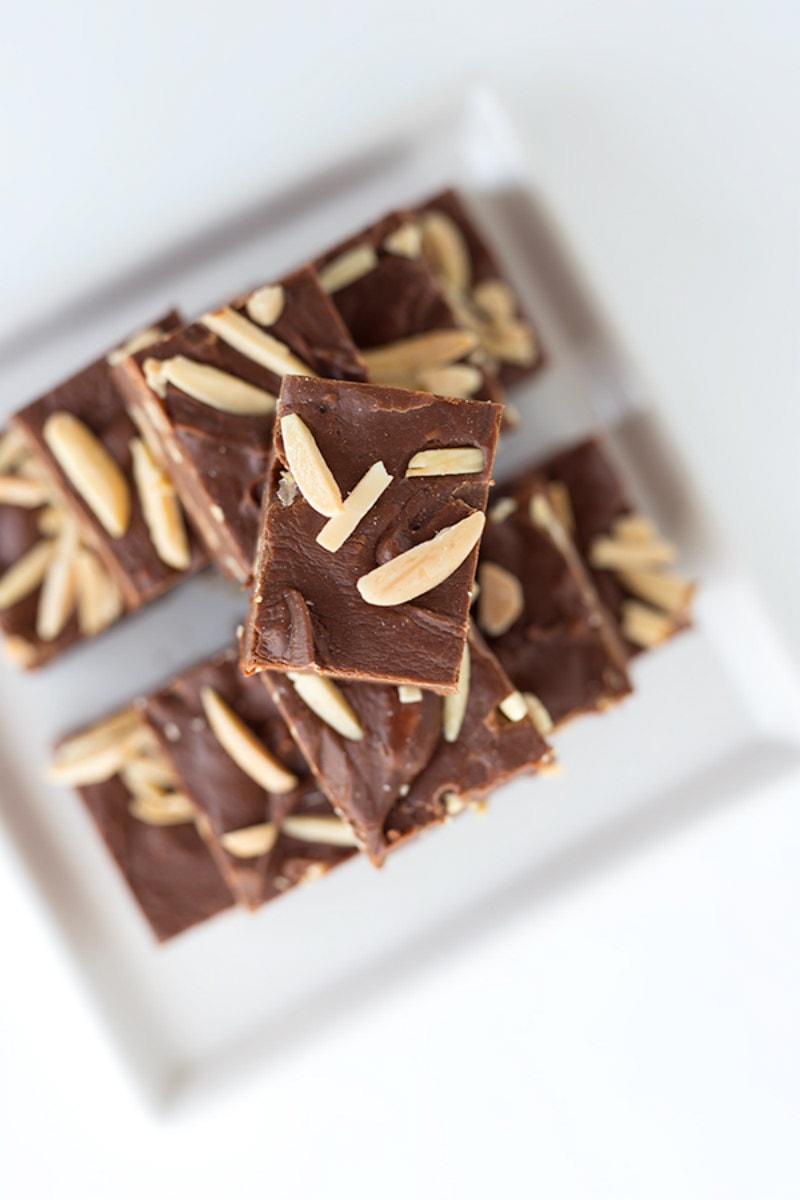 Do you need a candy thermometer to make fudge?
It's best to use a candy thermometer when making fudge because the sugar mixture needs to reach a certain temperature in order to dissolve the sugar crystals and turn into the right consistency for creamy fudge.  If you don't use a thermometer, you're likely to end up with a fudge laden with sugar crystals or a dry fudge.  Check out Amazon for a clip-on Candy Thermometer, or look for one at one of your local home supply stores.  The clip-on type of thermometer is important because you want to be able to keep a constant eye on the temperature while making the fudge.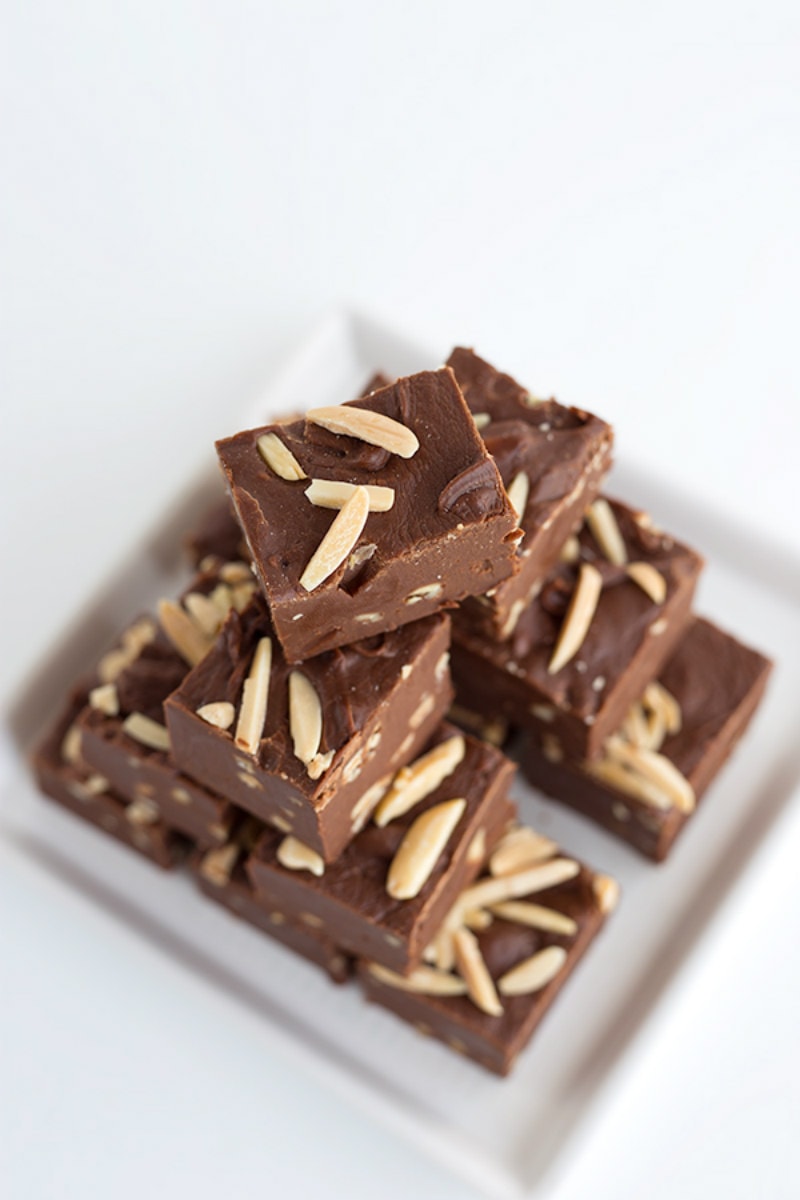 More recipes using slivered almonds:
I love almonds of all kinds, but slivered almonds are my absolute favorite.  If you happen to have any slivered almonds leftover after making this Chocolate Toasted Almond Fudge recipe, use them up in one of my other recipes!
This Triple Berry Salad with Sugared Almonds is one of my favorite salad recipes, and the sugared almonds that go in the salad are super addicting! And these Almond Dream Cookies are for mega almond lovers.  Cranberry Almond Broccoli Salad is another favorite.  Oh, and this Almond Brittle is a big time delicious recipe using slivered almonds too.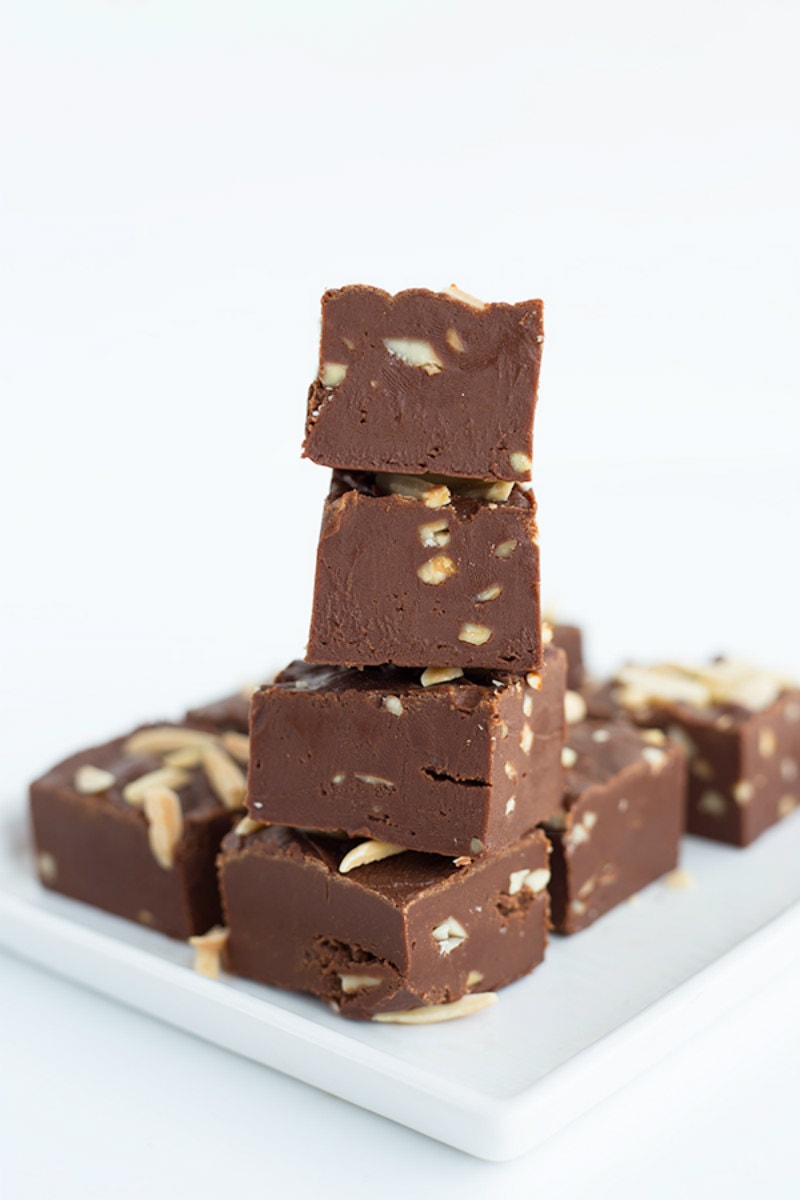 Tips for making fudge:
The pan: Use the kind of pan the recipes calls for.  Fudge recipes will usually call for a heavy pan that seems larger than you need.  This is important!  A heavy pan allows the heat to distribute evenly.  And a large pan allows for the ingredients to expand when they bubble up.
The temperature: Use a clip-on candy thermometer so there's constant assessment of the temperature.  Watch it closely, and pull off the fudge as soon as it reaches the right temperature.
More: Use a strong wooden spoon with a long handle, for stirring the fudge.  Have your lined pan ready for pouring the fudge into when it's done cooking.
And the most important thing:  follow the directions exactly.  Making fudge is kind of a science, and it can be tricky!  Don't try to modify the recipe or make small changes here and there.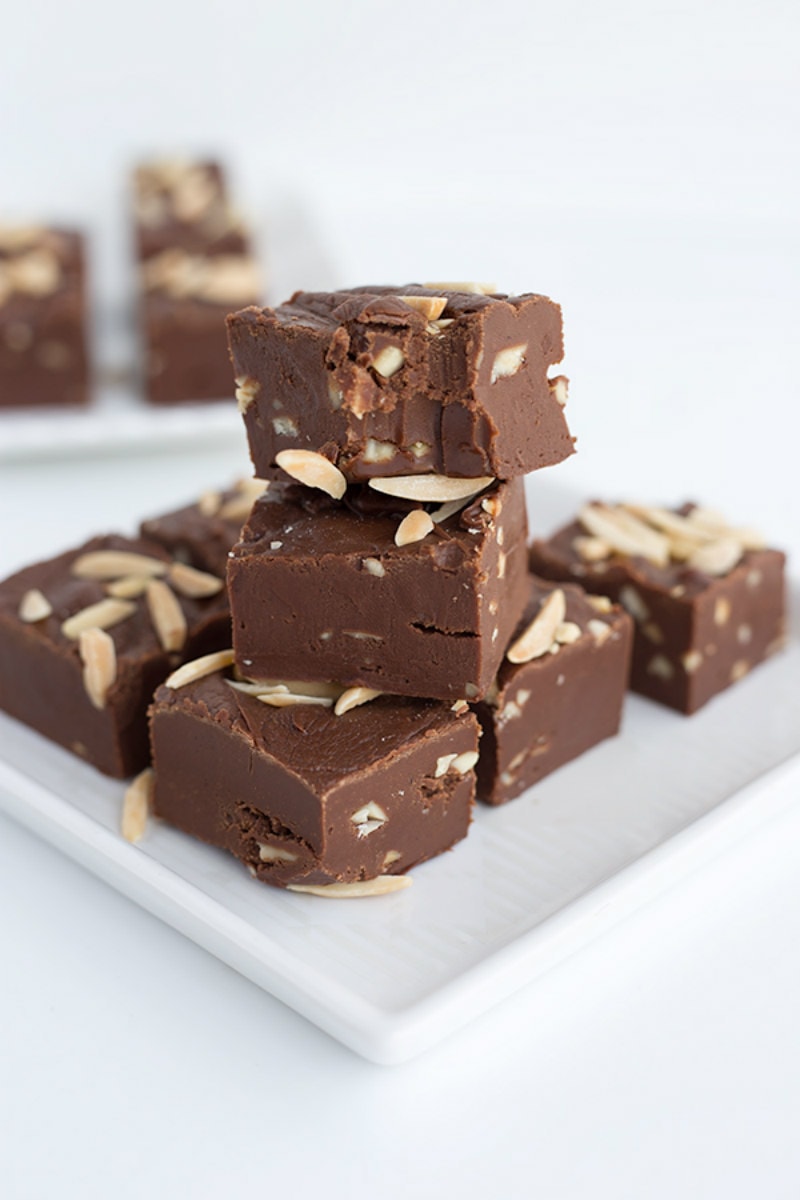 Chocolate fudge is great, but if you're looking for non-chocolate fudge recipes, I've got you covered.  You might like to try my Key Lime Fudge or this Pumpkin Fudge. Peanut Butter Fudge, Vanilla Fudge and Eggnog Fudge are great fudge recipes too!  Oh, and this Cinnamon Fudge is my absolute favorite!!
Chocolate Toasted Almond Fudge
Another perfect chocolate fudge recipe studded with toasted almonds!
Recipe Details
Ingredients
6

ounces

bittersweet or semisweet chocolate,

chopped

1/4

cup

jarred marshmallow creme

1 1/2

ounces

unsweetened chocolate,

chopped

1

teaspoon

vanilla extract

1/8

teaspoon

almond extract

1 1/2

cups

granulated white sugar

3/4

cup

sweetened condensed milk

1/3

cup

water

1/3

cup

whipping cream

1/4

cup (1/2 stick)

unsalted butter,

cut into pieces

3/4

cup

slivered almonds,

toasted
Instructions
Line a 9x5-inch loaf pan with foil, overlapping the sides.

Place the first 5 ingredients (through almond extract) in medium metal bowl; set aside.

Combine the sugar, condensed milk, water, cream and butter in heavy 3-quart saucepan. Stir over medium-low heat until the sugar dissolves. Increase the heat to high and bring the mixture to a rolling boil. Reduce the heat to medium-high and stir the mixture constantly but slowly with a wooden spoon until a clip-on candy thermometer registers 234°F., about 9 minutes.

Pour the mixture over the ingredients in the metal bowl (do not scrape the pan). Stir the fudge vigorously with a wooden spoon for about 2 minutes (the chocolates will melt and the fudge will thicken slightly, but the mixture will still be very glossy). Set aside 2 tablespoons of toasted nuts for garnish, and stir the remaining nuts into the fudge.

Transfer the fudge to the prepared pan; smooth the top with a rubber spatula. Sprinkle with the reserved nuts. Refrigerate, uncovered, until firm enough to cut, about 2 hours.

Using the foil as an aid, lift the fudge from the pan. Fold down the foil sides. Trim the ends of the fudge to make even. Cut into 24 pieces.
Notes
*This fudge may be prepared 1 week ahead. Refrigerate in airtight container. Bring to room temperature before serving.
*If preparing this fudge as gluten-free, just be sure to use a brand of chocolate that is known to be GF.
Nutrition
Serving:
1
piece
,
Calories:
182
kcal
,
Carbohydrates:
23
g
,
Protein:
2
g
,
Fat:
9
g
,
Saturated Fat:
4
g
,
Cholesterol:
13
mg
,
Sodium:
15
mg
,
Potassium:
116
mg
,
Fiber:
1
g
,
Sugar:
21
g
,
Vitamin A:
140
IU
,
Vitamin C:
0.2
mg
,
Calcium:
45
mg
,
Iron:
0.9
mg