Almond Brittle is my favorite kind of brittle candy recipe, and it is a great one for gifting too.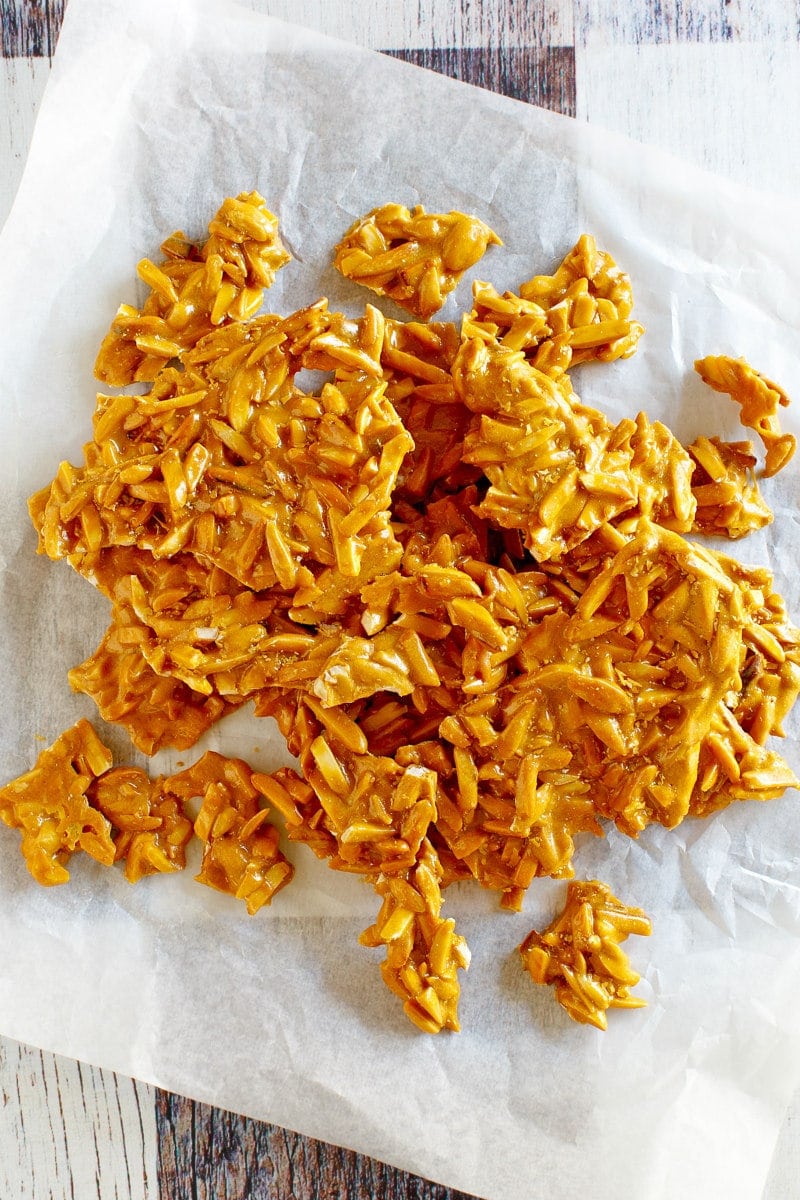 Everyone knows about peanut brittle, right? It's the buttery, crunchy, toffee-like candy that's full of peanuts. It's been around a long time, and it has always been a much-loved, old-fashioned sweet treat. If you prefer almonds to peanuts, you will love the twist of creating almond brittle instead of peanut brittle.
What kind of almonds do you use for almond brittle?
The best type of almonds to use for this recipe are slivered almonds. Whole almonds are too big. Chopped almonds are too small. Sliced almonds are too flimsy. Slivered almonds are nice and sturdy, and they work well when used in this brittle recipe.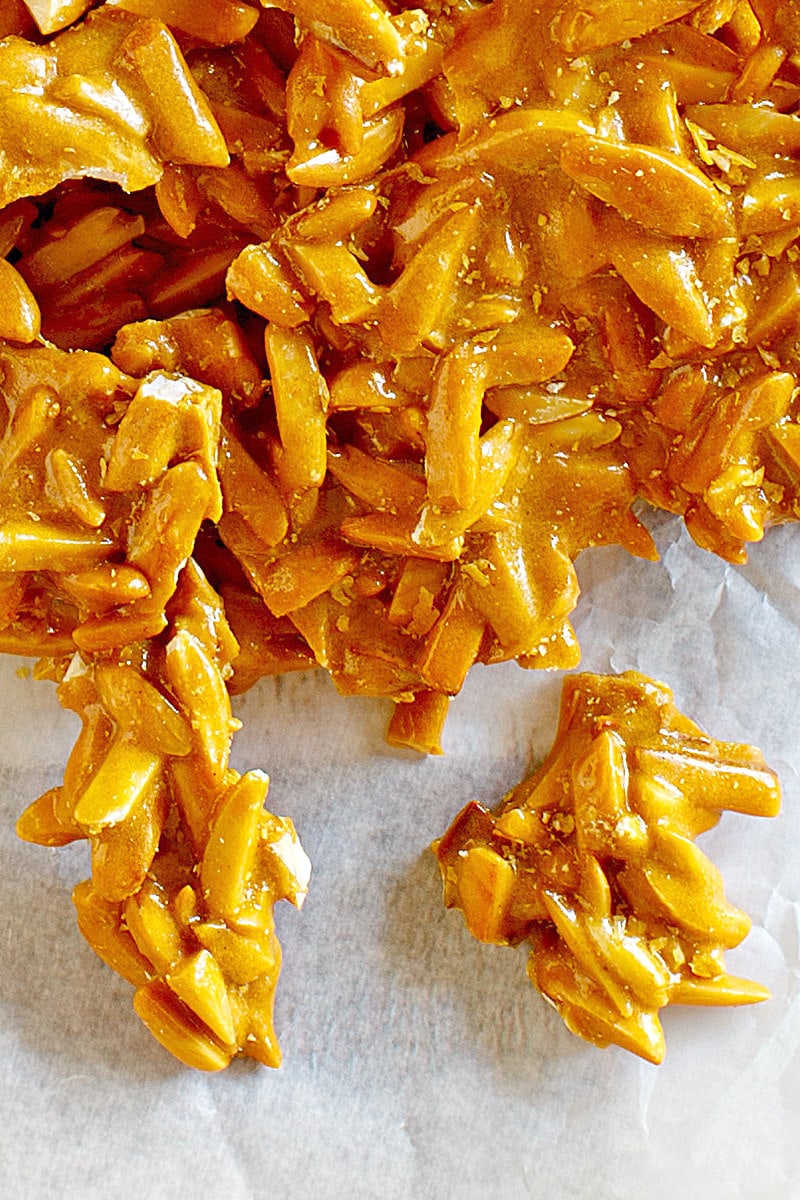 How to make Almond Brittle:
The first thing you need to do is butter a baking sheet. This is super important because you need to have it ready when the almond brittle is done cooking. You will be transferring hot almond brittle to the prepared baking sheet as soon as it's done, and the sheet needs to be ready to go!
The brittle candy is made up of sugar, corn syrup, water and salt. You'll heat that mixture until the sugar dissolves, and then you'll add the almonds and cook the mixture (monitoring it with a candy thermometer) until it reaches 300 degrees. Then you'll pull it off the heat and stir in the butter and baking soda. Once that's all combined, this is the point when you'll transfer the almond brittle mixture to the buttered baking sheet. The mixture is spread out on the sheet. When it's cooled, you can break it apart into bite-sized pieces.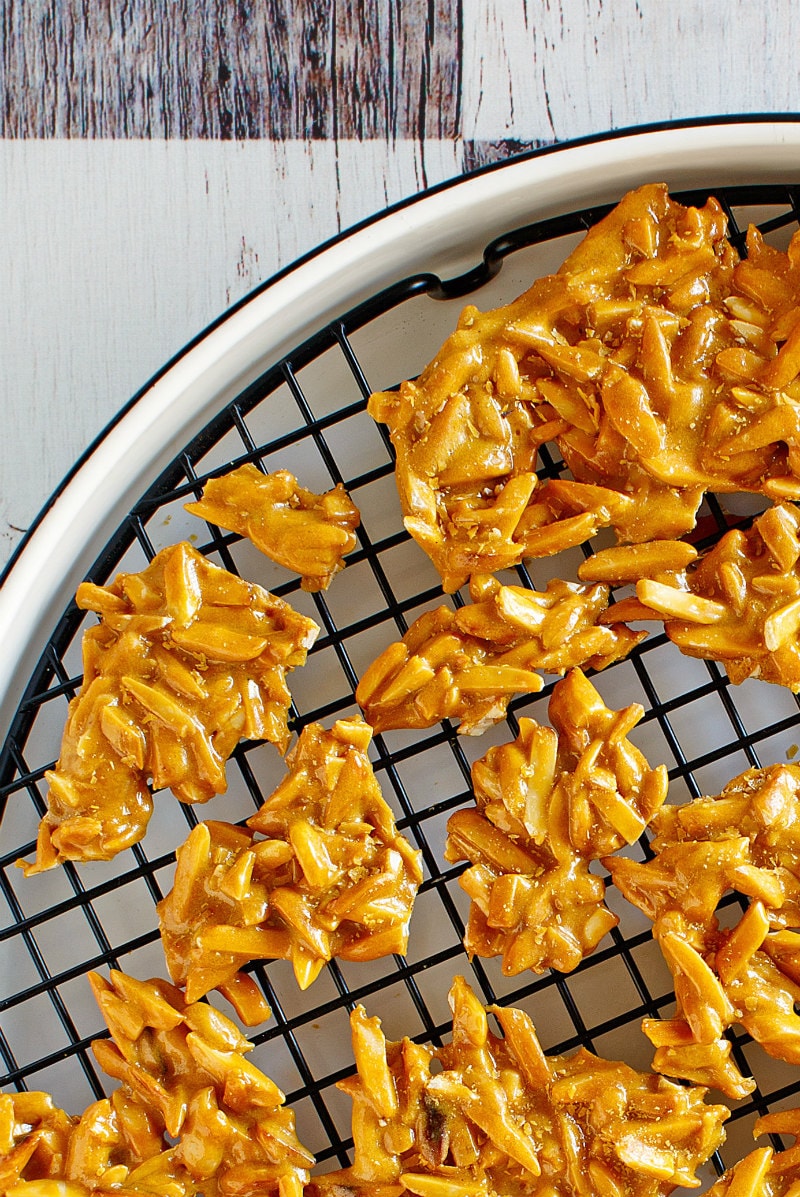 The Best Candy Thermometer:
There are Amazon affiliate links included within this post.
Candy is such a tricky thing to make, so I highly suggest you always use a good candy thermometer. My favorite kind of candy thermometer is one that can clip to the pot. This makes it much easier for you because you can keep it in place and keep tabs on the temperature of the boiling mixture while you are tending to the ingredients in the pot by stirring or whatever you need to do.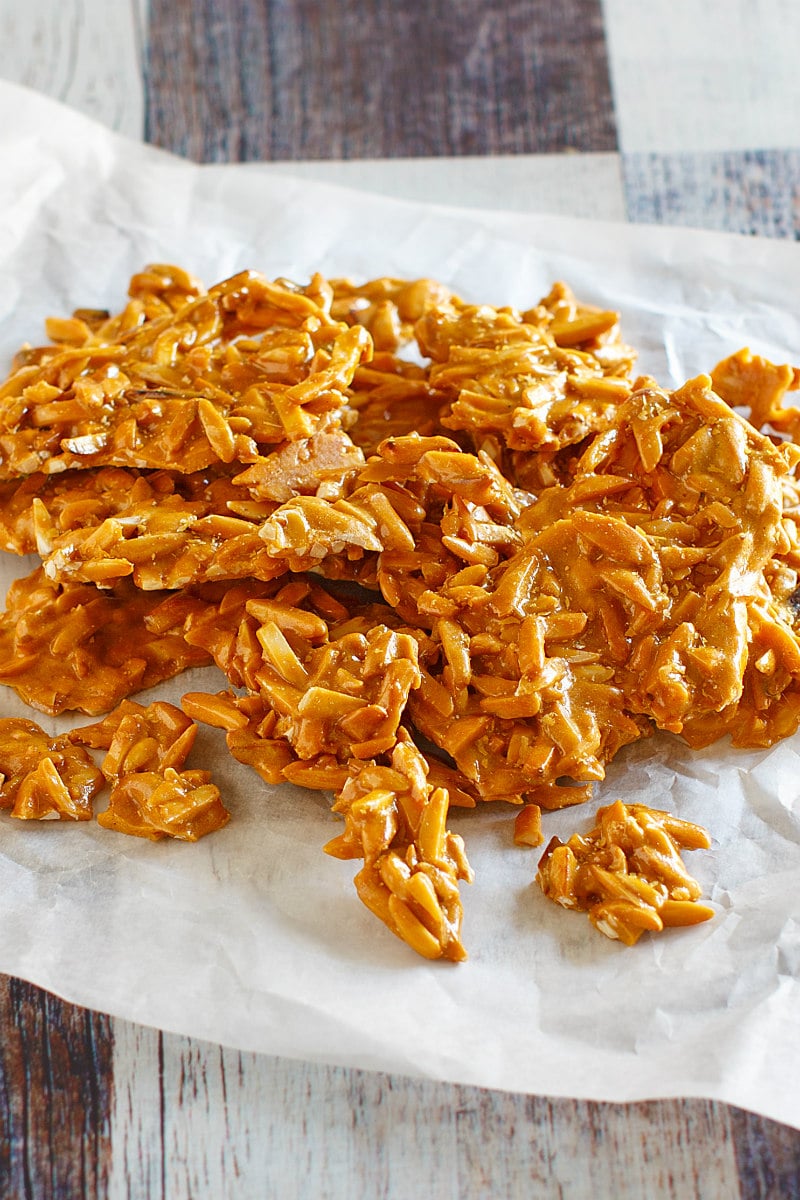 How to store almond brittle:
Keep it in a covered container until ready to serve and eat. Humidity in the air can greatly affect the texture of candy, so you want to keep it in a sealed environment. It's okay to make it a few days ahead, as long as it's stored properly. This almond brittle is great for gifting to friends, relatives and neighbors. It also makes a nice hostess gift, if you are attending a party. Enjoy!
Here are a few more recipes featuring almonds that you might like to try:
Almond Brittle
Great candy recipe for the holidays!
Recipe Details
Ingredients
1

cup

granulated white sugar

1/2

cup

light corn syrup

1/4

teaspoon

salt

1/4

cup

water

10

ounces

slivered almonds

2

tablespoons

salted butter

1

teaspoon

baking soda
Instructions
Lightly butter a large cookie sheet.

In a heavy 2-quart saucepan over medium-heat, heat the sugar, corn syrup, salt and water to boiling, stirring constantly until the sugar completely dissolves. Stir in the almonds. Set a candy thermometer in place and continue cooking, stirring frequently, until the temperature reaches 300 degrees, or the hard-crack stage (about 15 to 20 minutes). As the mixture begins to darken, stir constantly.

Remove the saucepan from heat; stir in the butter and baking soda. Immediately pour onto the prepared cookie sheet. With 2 forks, quickly pull apart the almond mixture into a large rectangle.

Place the cookie sheet on a wire rack and cool completely. Use your hands to break the brittle apart into small pieces. Store in a tightly covered container.
Nutrition
Serving:
1
serving
,
Calories:
193
kcal
,
Carbohydrates:
25
g
,
Protein:
4
g
,
Fat:
10
g
,
Saturated Fat:
2
g
,
Cholesterol:
4
mg
,
Sodium:
124
mg
,
Potassium:
125
mg
,
Fiber:
2
g
,
Sugar:
21
g
,
Vitamin A:
44
IU
,
Calcium:
48
mg
,
Iron:
1
mg