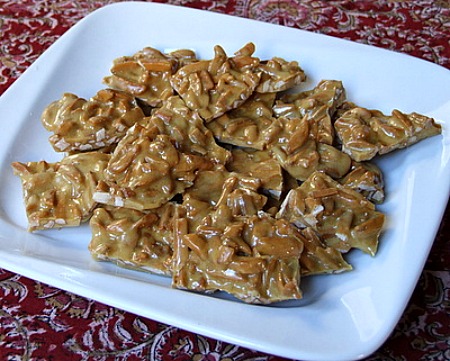 Almond Brittle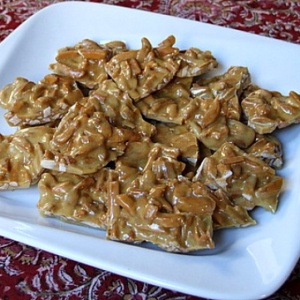 A recipe that my sister has made for years and years. We love to make it and give it away as gifts during the holidays.
Yield:
16 servings
Prep Time:30 min
Cook Time:25 min
Ingredients:
1 cup granulated white sugar
1/2 cup light corn syrup
1/4 teaspoon salt
1/4 cup water
10 ounces slivered blanched almonds
2 Tablespoons salted butter
1 teaspoon baking soda
Directions:
1. Lightly butter a large cookie sheet.
2. In heavy 2-quart saucepan over medium-heat, heat sugar, corn syrup, salt and water to boiling, stirring constantly until sugar completely dissolves. Stir in almonds. Set candy thermometer in place and continue cooking, stirring frequently, until temperature reaches 300 degrees, or hard-crack stage (about 20 minutes). As mixture begins to darken, stir constantly.
3. Remove saucepan from heat; stir in butter and baking soda. Immediately pour onto cookie sheet. With 2 forks, quickly pull apart almond mixture into about a large rectangle.
4. Place cookie sheet on wire rack and cool completely. With hands, break brittle apart into small pieces. Store in a tightly covered container.