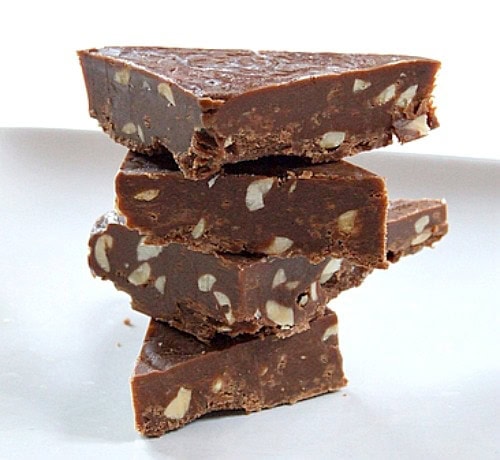 Peanut Butter- Chocolate Fudge
Yield:
2 pounds
Prep Time: 25 min + chill time
Cook Time: 16 min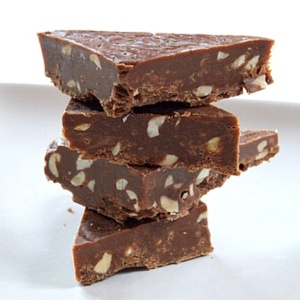 Ingredients:

1 1/2 cups granulated white sugar
5-ounce can evaporated milk (2/3 cup)
1/2 cup creamy peanut butter
2 cups mini marshmallows
1 cup semi-sweet chocolate or bittersweet chocolate, chopped
1/2 cup chopped unsalted peanuts (optional)
1/2 teaspoon vanilla extract

Instructions:

1. Line an 8x8x2-inch baking pan with foil, extending the foil over the edges of the pan; set aside.

2. Butter the sides of a 2-quart heavy saucepan. In saucepan, combine sugar, evaporated milk, and peanut butter. Cook and stir over medium-high heat until mixture boils (about 10 minutes). Reduce heat to medium, continue cooking, stirring constantly, for 6 minutes.

3. Remove saucepan from heat. Add marshmallows, chocolate, peanuts (if using) and vanilla; stir until marshmallows and chocolate have melted and mixture is evenly combined. Beat by hand for 1 minute.

4. Spread fudge evenly in prepared pan. Score into squares while still warm. Cover and chill for 2 to 3 hours until firm. When fudge is firm, use foil to lift it out of the pan. Peel off foil and cut fudge into squares. Store tightly in covered container in the refrigerator for up to one month.

Tips:

*If you are preparing this recipe as gluten-free, just be sure to use brands of peanut butter, marshmallows and chocolate that are known to be GF.
*If you'd like thicker fudge, line a 9x5-inch loaf pan with foil.
*You may wish to use chunky peanut butter if you're omitting the peanuts.