Chocolate Peanut Butter Snowballs are festive cookies with peanut-buttery chocolate hidden inside.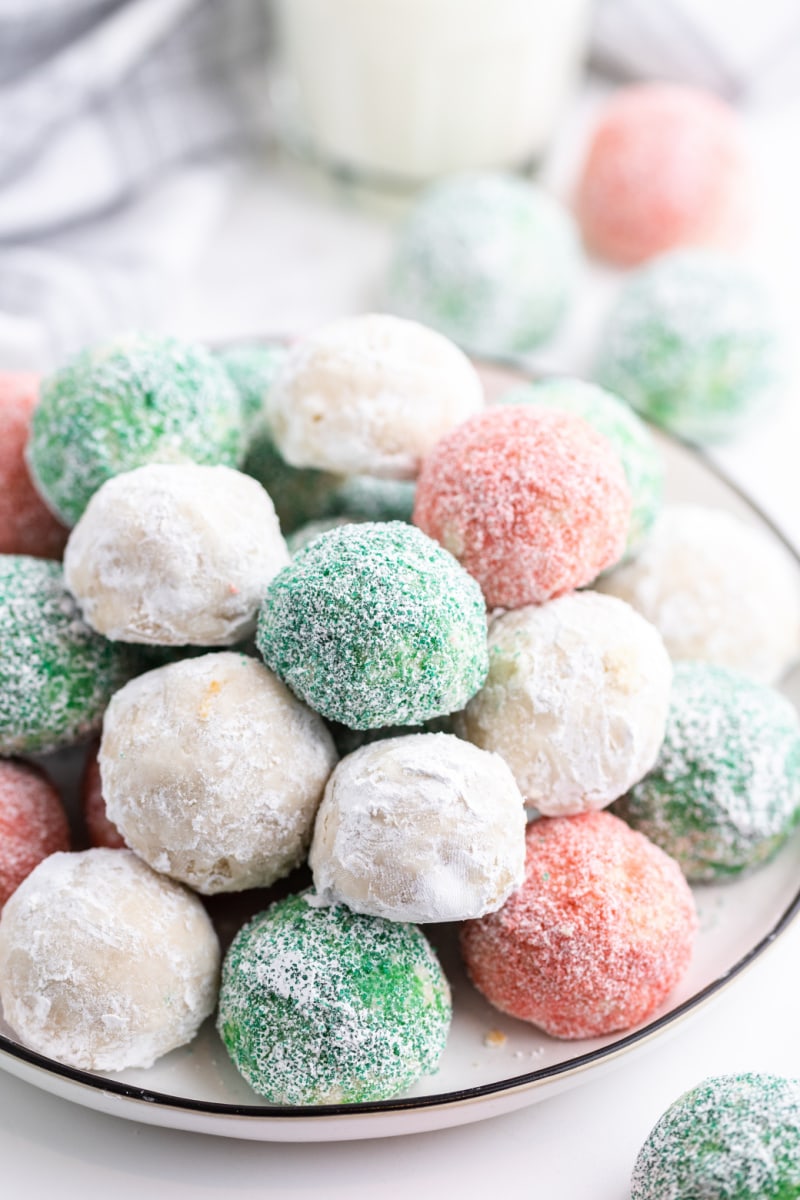 These chocolate peanut butter snowballs are similar to my Holiday Nuggets, but they have a surprise inside! The exterior of the cookie is a simple shortbread layer, and the inside is a delicious chocolate and peanut butter filling. These are a fun holiday cookie!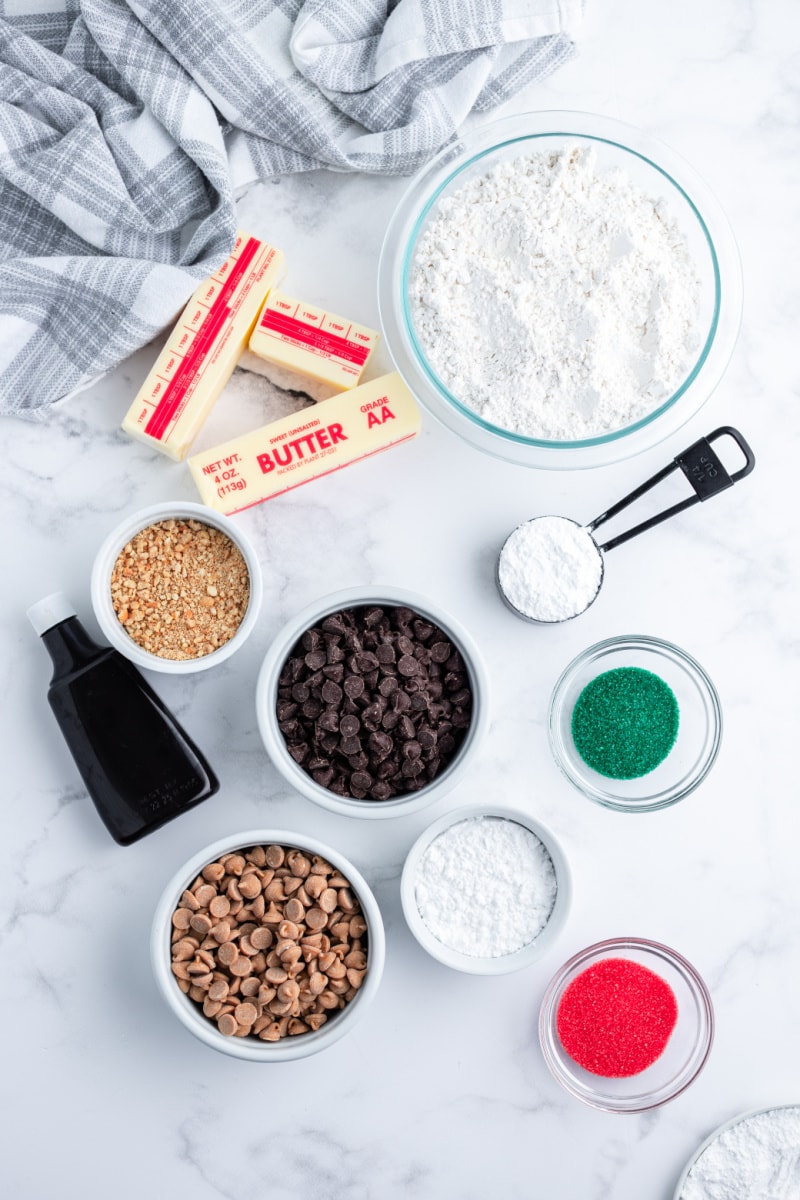 Ingredients needed:
peanut butter chips
semisweet chocolate chips
powdered sugar
peanuts
all purpose flour
butter
colored rolling sugar (optional)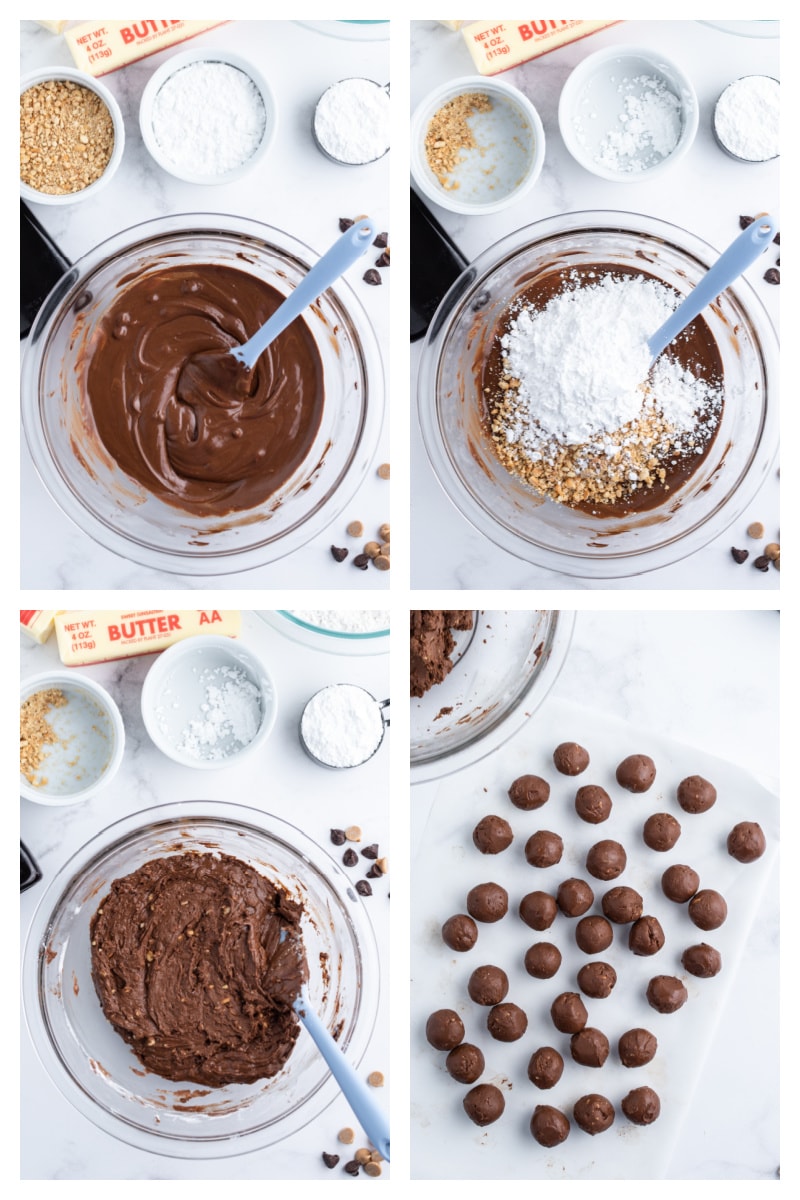 How to make Chocolate Peanut Butter Snowballs:
Melt peanut butter and chocolate chips together and mix with a small amount of powdered sugar and chopped peanuts. Set that aside for a while to let it get slightly firm, and then roll out teaspoonfuls into little balls.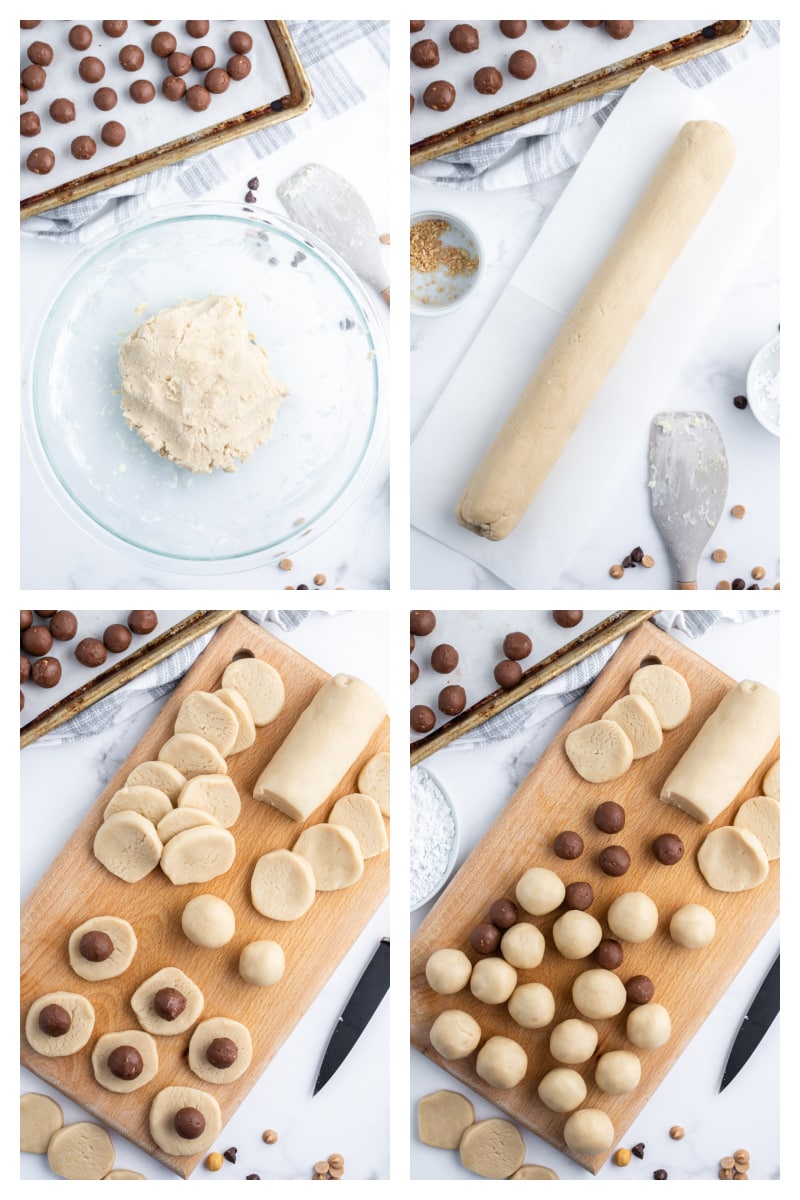 The exterior of these snowballs is made up simply of flour, butter, powdered sugar and vanilla- that's it! Knead those ingredients together. If the mixture appears too dry, sprinkle in a little milk until it feels good.
Form the dough into a log. Cut thin slices and flatten out the slices with your fingers. You really want the exterior dough to be a thin layer, so be sure to cut thin slices. Place a chocolate ball in the middle, and wrap the exterior dough around it.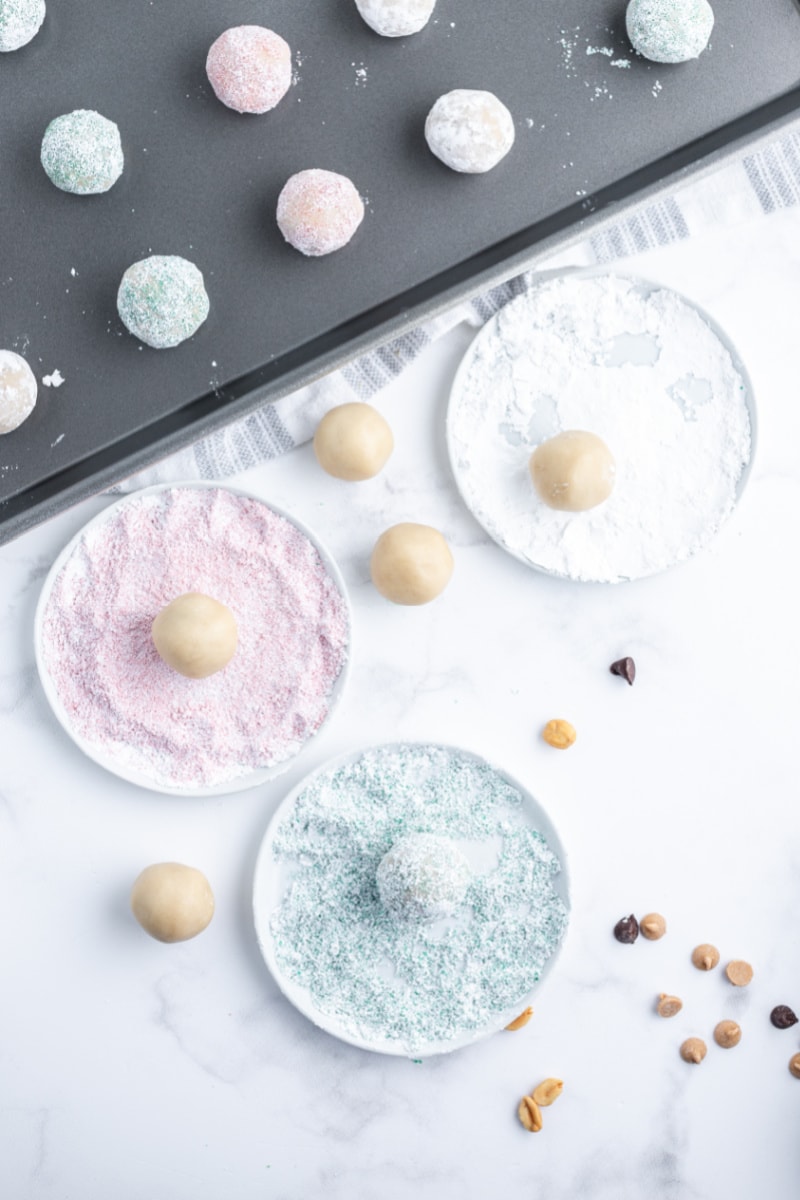 Roll the balls in powdered sugar or green and red sprinkle-tainted powdered sugar and then bake.
Note!
There is a rather disturbing trend taking place in the world of Christmas cookies. It's that folks are doing so-called "Christmas Cookie Baking," that isn't really holiday baking at all. What I mean by this is that some people bake chocolate chip cookies or snickerdoodles and such, add them to their cookie platters and call them Christmas cookies. Those are just cookies, people! And there is nothing holiday or festive about them unless you give them a good dose of holiday sprinkles. It's my Mom's fault, really, that I feel this way. She always baked holiday cookies that were garnished heavily with red and green. Isn't that the way it's supposed to be? Holiday cookies should look like holiday cookies!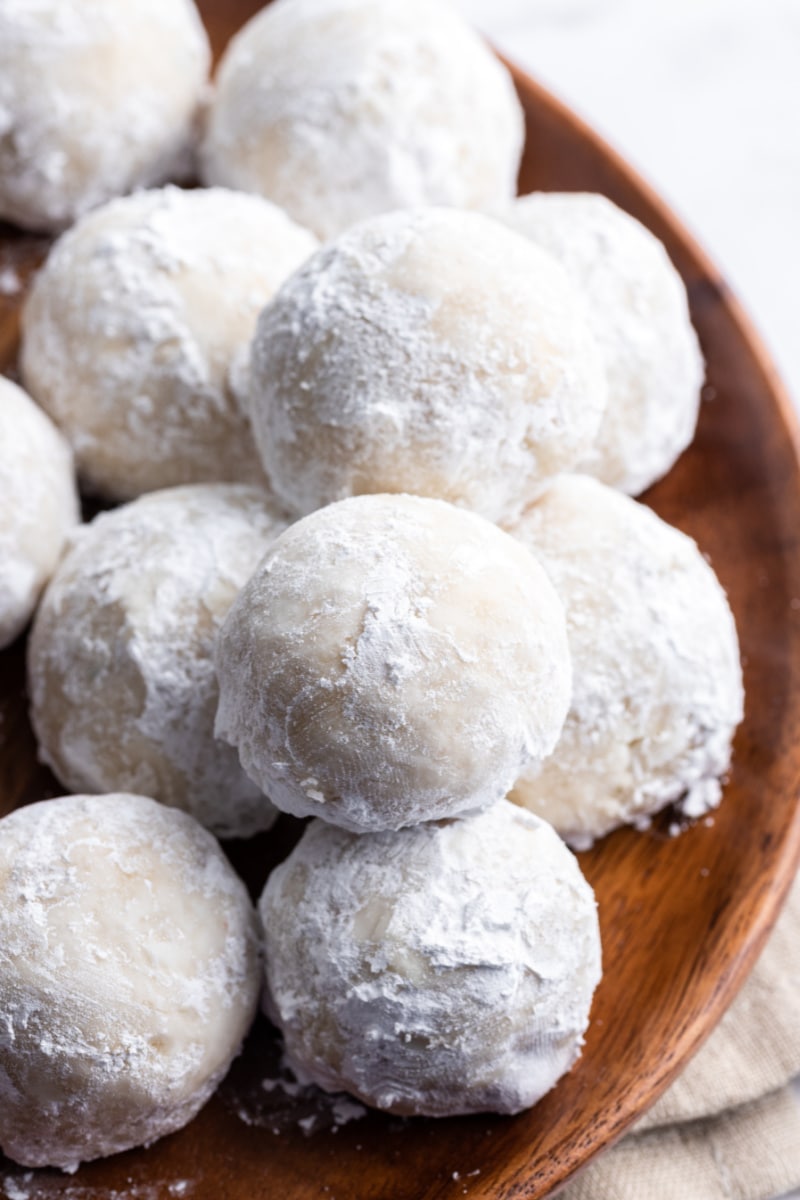 But they're perfectly pretty and delicious if you just use white powdered sugar. While still warm, you can roll them in sugar one more time to make sure they are well-covered.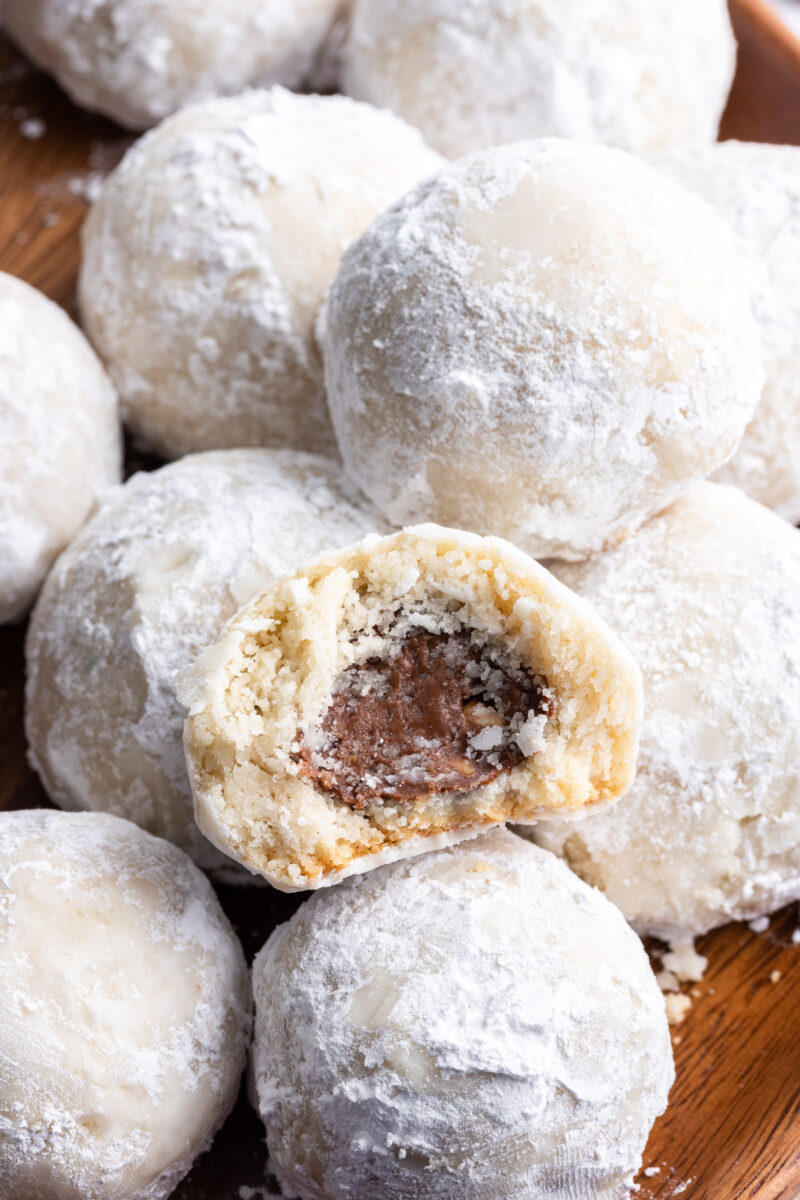 Straight out of the oven, these are a crumbly delight, and you'll get a mouthful of gooey peanut buttery- chocolate too. Once cooled and set, they become a more solid cookie, still rather delicious. Now tell me… is there any question whether or not these belong on a holiday platter? Add them to your holiday baking list this year. Enjoy!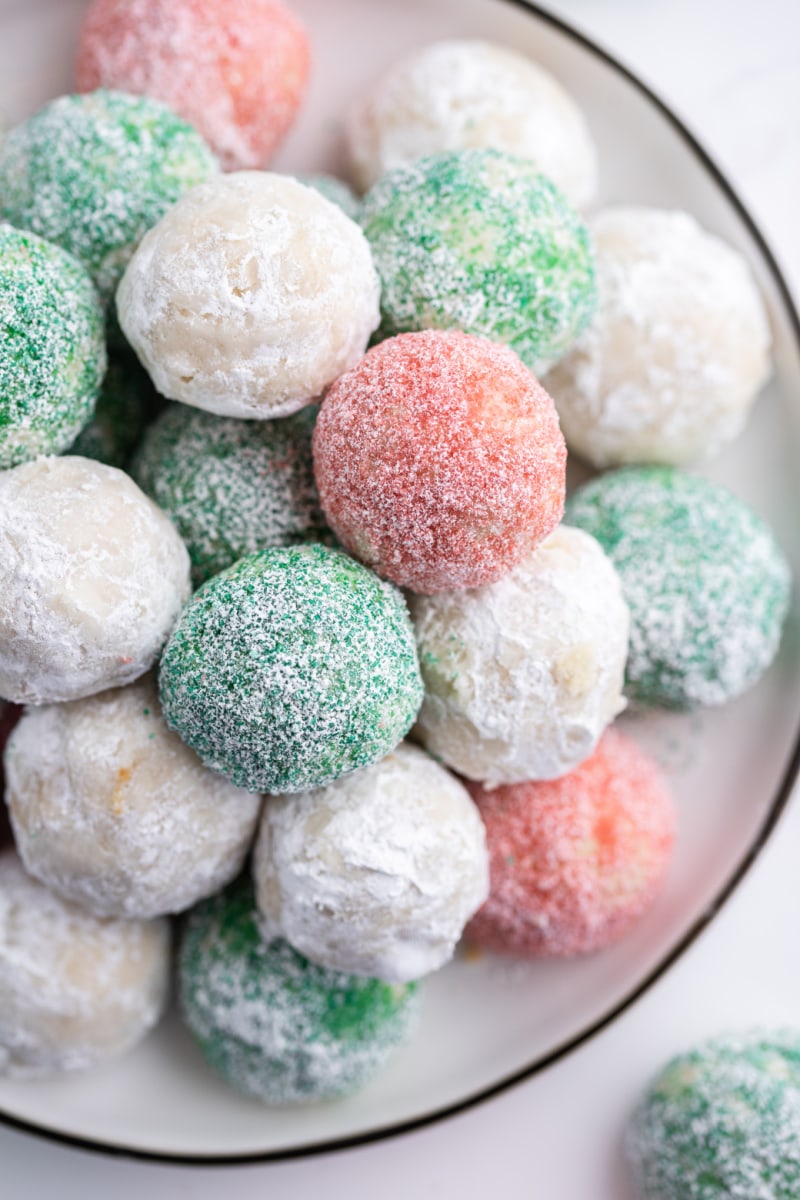 Here are a few more holiday cookie recipes to try:
Chocolate Peanut Butter Snowballs
Delicious snowball cookies with chocolate hidden inside!
Recipe Details
Ingredients
FILLING:
6

ounces

peanut butter chips

6

ounces

semisweet chocolate chips

¼

cup

sifted powdered sugar

¼

cup

finely chopped peanuts
OUTSIDE COOKIE:
3

cups

all purpose flour

1¼

cups (2½ sticks)

salted butter,

at room temperature

¼

cup

powdered sugar

1

tablespoons

vanilla extract
ROLLING SUGAR:
powdered sugar

colored sugar,

optional
Instructions
MAKE THE FILLING:
Combine the peanut butter and semisweet chips in a double boiler and heat until mixture is smooth. (Alternately, you can melt them in a glass bowl in the microwave). Remove from heat. Add the powdered sugar and peanuts. Stir to mix well. Let sit at room temperature until the mixture is firm enough to shape. Roll into ¾-inch balls and set aside.

Preheat the oven to 400 degrees F.
MAKE THE OUTSIDE COOKIE:
In large bowl, combine the flour, butter, powdered sugar and vanilla; knead until well blended (if the dough is too dry, work in a teaspoon to a tablespoon of milk until it's not so dry.) Shape into one 11-inch log; cut into ¼-inch slices. Lay a slice of dough in your hands and use your fingers to gently spread it out into a thin circle. Place a chocolate-peanut butter ball in the center of the slice. Shape the dough slice around the filling, seal and roll into a ball with your hands. Roll the ball in the powdered sugar (add colored sanding sugar if you're making a holiday cookie), and place on un-greased cookie sheet.

Bake for 10 minutes. Cool slightly. Roll in the powdered sugar mixture again while still warm.
Nutrition
Serving:
1
cookie
,
Calories:
244
kcal
,
Carbohydrates:
22
g
,
Protein:
4
g
,
Fat:
16
g
,
Saturated Fat:
10
g
,
Polyunsaturated Fat:
1
g
,
Monounsaturated Fat:
4
g
,
Trans Fat:
1
g
,
Cholesterol:
28
mg
,
Sodium:
104
mg
,
Potassium:
72
mg
,
Fiber:
1
g
,
Sugar:
8
g
,
Vitamin A:
311
IU
,
Calcium:
11
mg
,
Iron:
1
mg