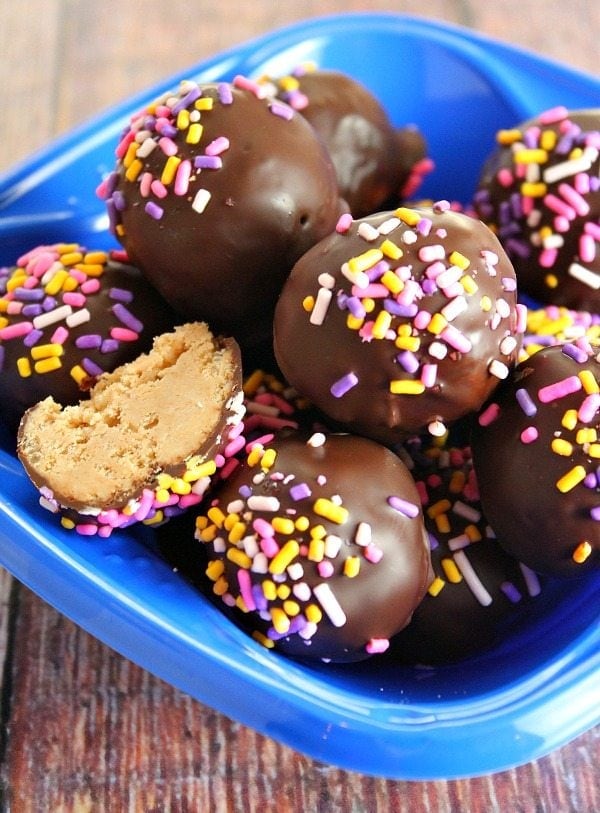 Chocolate- Peanut Butter Balls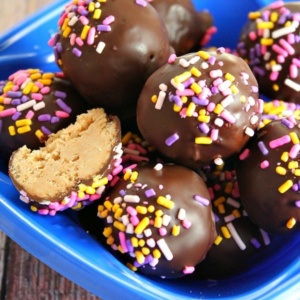 Yield:
3 dozen
Prep Time:45 min
Cook Time:2 min
Ingredients:
1 pound (16 ounces) powdered sugar
2 cups crunchy peanut butter
1/2 cup salted butter, softened
3 cups Rice Krispies cereal
12 ounces chocolate chips
1 tablespoon shortening
Directions:
1. In a large bowl, use an electric hand mixer to combine the sugar, peanut butter, and butter.
2. Stir in the Rice Krispies, and then roll into heaping tablespoon- sized balls.
3. Melt the chocolate and shortening together in a glass bowl in short bursts of 30 seconds in the microwave, stirring after each burst- until smooth. (Or set a heatproof bowl over a pot of simmering water and melt the chocolate and shortening that way). Dip rolled balls into the hot chocolate mixture with a slotted spoon or fork. Gently place on waxed paper to set.
Tips:
*This recipe is gluten-free adaptable: Be sure to use brands of chocolate, peanut butter and Rice Krispies that are known to be GF.
*These treats are beautiful with melted white chocolate drizzled in a zig-zag pattern on top. It makes them look like truffles!
*Place in the refrigerator for quick setting.