Here's another one for Cookie Dough Lovers only. I mean it. If you aren't one of those people that licks the rubber spatula when you're making cookies, then you might not be impressed with this recipe. If you're one of those people who is freaked out by the idea of eating raw eggs… there are no raw eggs in the cookie dough of this recipe. All is good. Or fabulous, I should say. Here you go: Peanut Butter Cookie Dough Brownies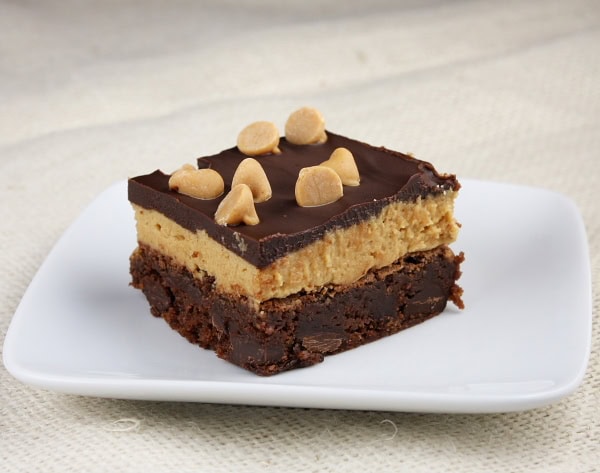 Dreamy, aren't they?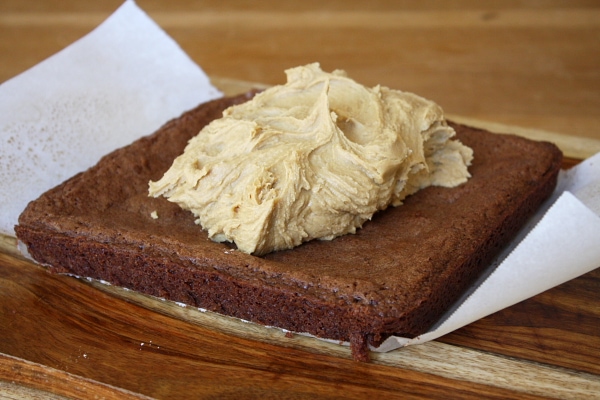 They start with a fudgy brownie.  Then they're topped with an egg-free peanut butter cookie dough layer.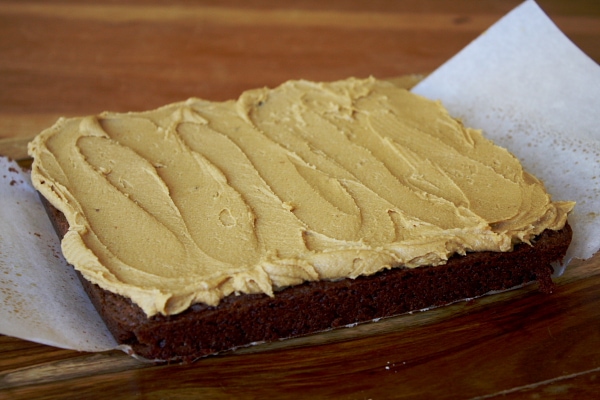 Cookie dough is spread all the way to the edges.  You don't want to gyp anyone out of a bite of cookie dough when they bite into these brownies, do you?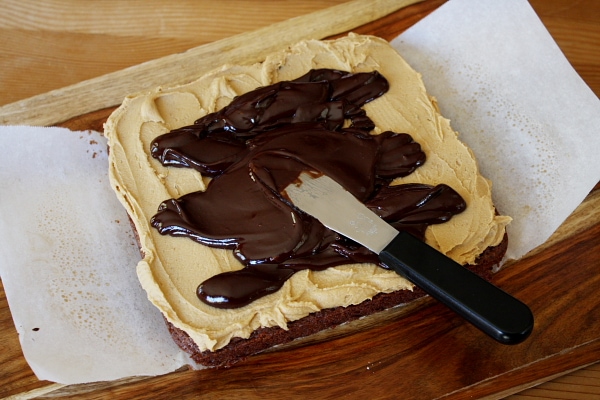 A layer of ganache on top makes them look a little fancy… and it holds them all together too.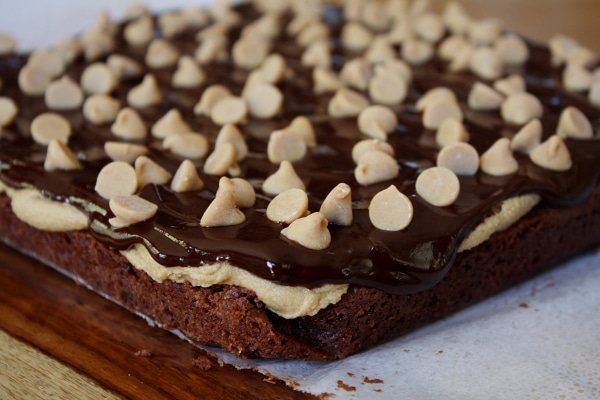 And as if you didn't have enough in there already, they're topped with a handful of peanut butter chips.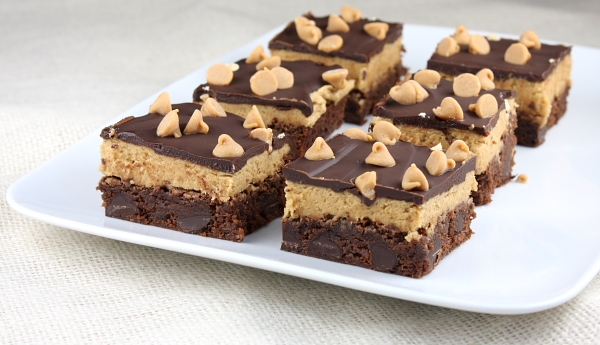 Refrigerate until everything is nice and set.  They'll slice nicely if you're patient enough for the refrigerator to do its job.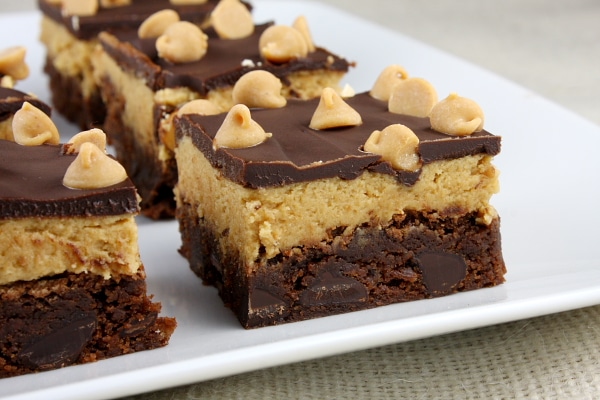 Keep these brownies in the fridge when you're not eating them.  Warm cookie dough just isn't as appetizing.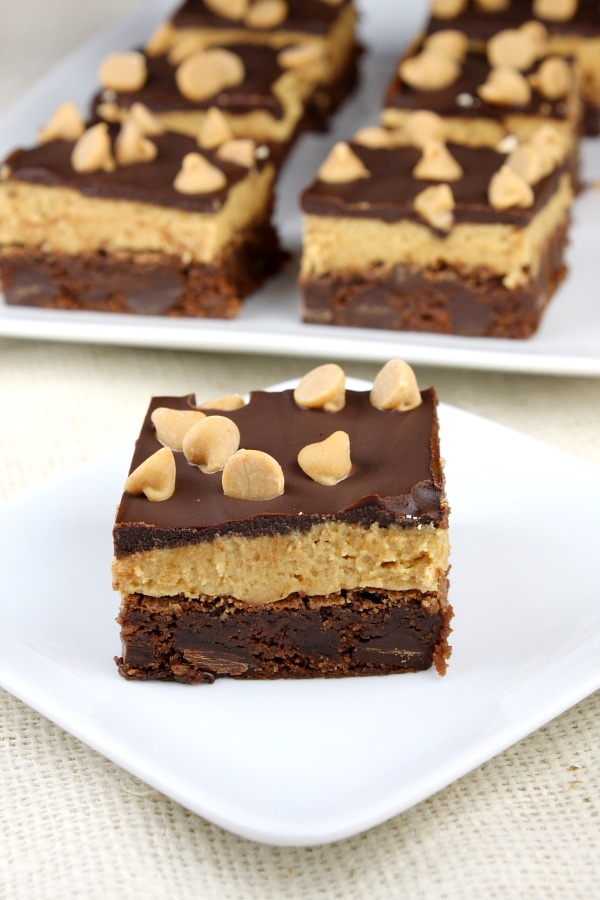 Clearly I got a little out of hand with photos of these guys, but can you blame me?  They were so photogenic… and delicious.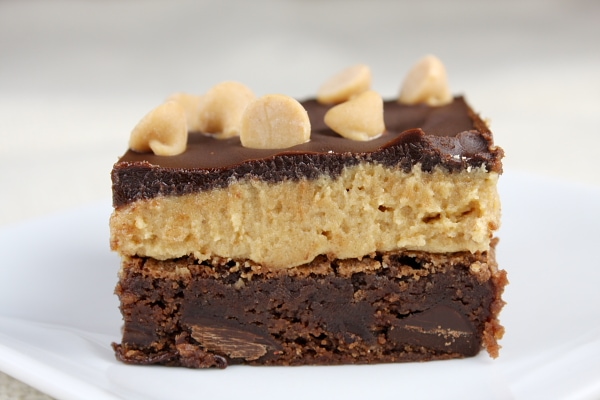 And there's one more photo of those layers.  I love the fudgy brownie layer, and it's made even better by the addition of some chocolate chunks.  The peanut butter definitely helps even out all of that chocolate stuff.  These are a must-try for my cookie dough loving friends out there.
If you like this recipe, you may like my recipe for Chocolate Chip Cookie Dough Brownies too.  Hoo-ray for cookie dough!
Head to Cake, Batter & Bowl to get the scoop on how this recipe did when it was featured on Food Network's Ultimate Recipe Showdown!
Peanut Butter Cookie Dough Brownies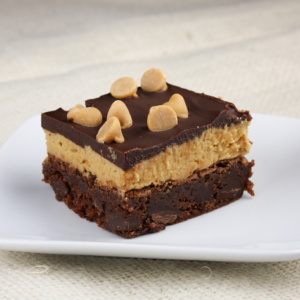 Another one for cookie dough lovers only!
Yield:
16 brownies
Prep Time: 30 min
Cook Time: 30 min
Ingredients:
BROWNIE LAYER:
1/2 cup unsalted butter
2 ounces unsweetened chocolate
1 teaspoon vanilla extract
1 cup granulated white sugar
2 large eggs
1/2 cup + 2 tablespoons all-purpose flour
1/2 teaspoon baking powder
1/2 teaspoon salt
3/4 cup bittersweet chocolate chips
COOKIE DOUGH LAYER:
1/4 cup unsalted butter, at room temperature
1/2 cup packed light brown sugar
2 tablespoons milk
1/2 cup creamy peanut butter
1/2 cup + 2 tablespoons all-purpose flour
1/2 teaspoon salt
GANACHE TOPPING:
3/4 cup bittersweet chocolate chips
1/4 cup heavy whipping cream
1 tablespoon granulated white sugar
1 cup peanut butter chips
Directions:
1. Preheat oven to 350 degrees F. Spray an 8x8-inch pan with nonstick spray. Line the bottom of the pan with a strip of parchment paper, so that it comes up two of the sides that are opposite each other. Spray the parchment with nonstick spray too.
2. Prepare the brownies: In a small bowl, melt the butter and unsweetened chocolate in the microwave until the butter is melted, about 2 minutes. Stir briskly until well-combined, then stir in the vanilla. Meanwhile, in a large bowl- use an electric mixer to beat together the sugar and eggs. Scrape in the partially cooled chocolate mixture and mix to combine. In separate medium bowl, whisk together flour, baking powder and salt. Stir the flour ingredients and chocolate chips into the wet ingredients. Spread the batter into the prepared pan. Bake 22 to 28 minutes, or until a toothpick inserted into the center of the brownies comes out clean. Remove from the oven and let cool.
3. Prepare cookie dough layer: In a large bowl, use an electric mixer to combine butter and brown sugar. Mix until creamy. Add milk and peanut butter and mix to combine. Stir in flour and salt. Spread the peanut butter cookie dough in an even layer over the cooled brownies.
4. Prepare ganache: In a small bowl, microwave chocolate chips cream and sugar for 1 minute, stirring after 30 seconds. Continue to microwave in 30 second bursts, stirring after each heating time. Continue heating and stirring until the chocolate is melted and the mixture is smooth. Drizzle the ganache over the peanut butter cookie dough layer and carefully spread to cover the top. Sprinkle with peanut butter chips. Refrigerate until the dough and the ganache topping are set (at least 1 hour). Use a knife to loosen the sides, then carefully grab the parchment paper and remove the whole pan of brownies to a cutting board. Use a sharp knife to cut them into squares. Keep refrigerated until ready to serve.
Source: RecipeGirl.com (Adapted slightly from Food Network)