If you hadn't heard already, our food blogging friend Jennie lost her husband Mikey last week. It was a sudden and unexpected loss. The kind of loss that is unfair in every way. In the midst of grieving for her lost love, she asked the world to make a peanut butter pie (Mikey's favorite) and share it with someone they love. In response, the world made pies. Lots of them. Todd and Diane even created a video tribute, showing how strong and supportive our food community truly is.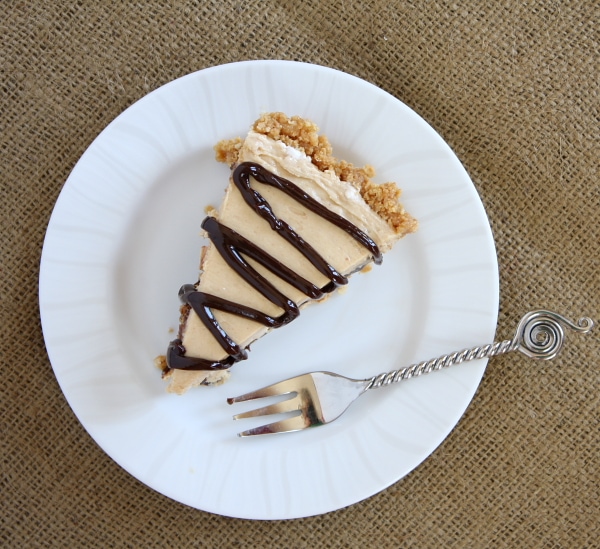 So here's my Peanut Butter Pie, my tribute to Mikey and love to Jennie and her family, that I was able to share with my own family.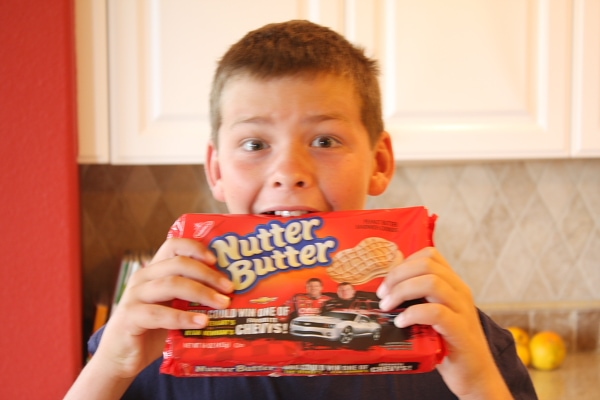 I went with a Nutter Butter crust. You can see that Nutter Butters are kind of a big deal around here. If you're gluten free, use GF Oreos instead!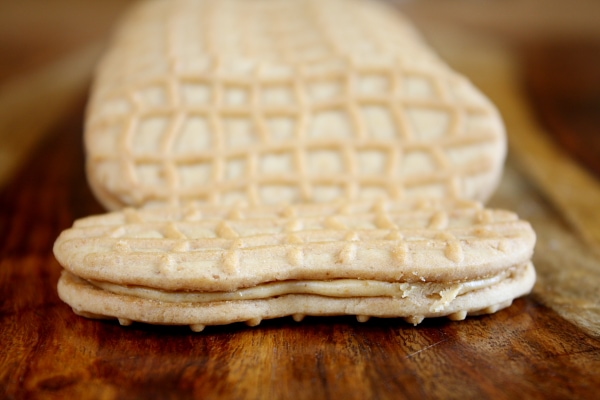 If you're not familiar with Nutter Butters- they're pretty much just like an Oreo… with peanut butter cookie and peanut butter cream filling.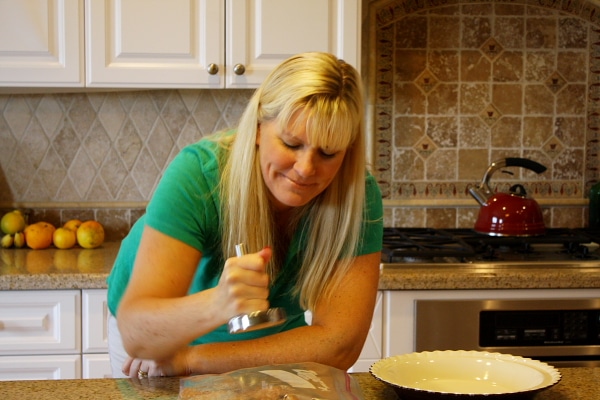 As much as we love Nutter Butters, they had to be smashed into bits for the crust.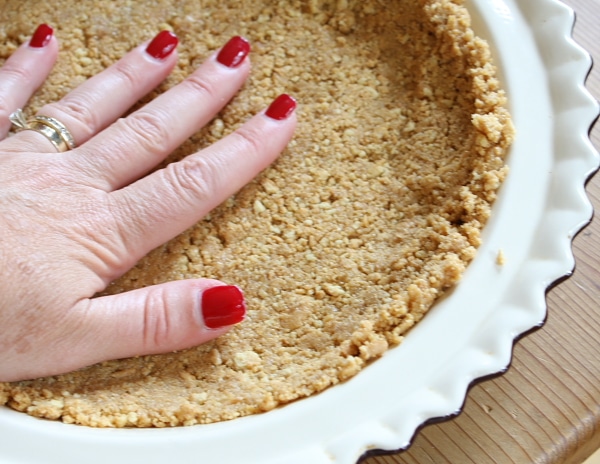 This is a no-bake, perfect-for-summer kind of pie. The Nutter Butter crumbs are mixed with melted butter and simply patted into a pie plate.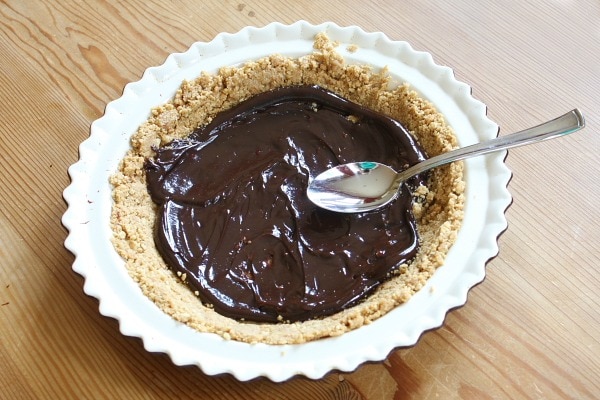 A nice layer of hot fudge is then spooned on top.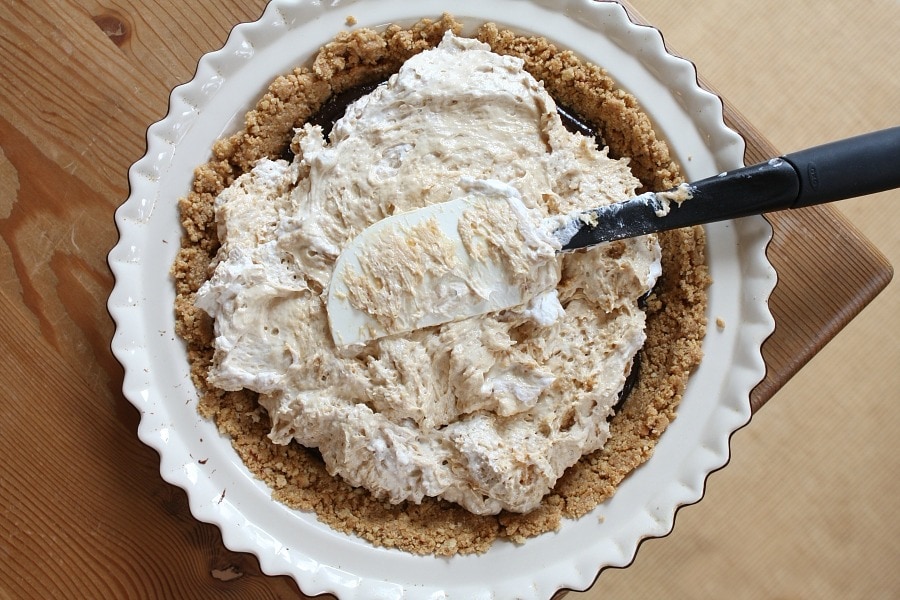 Then it's topped with the peanut butter cream filling…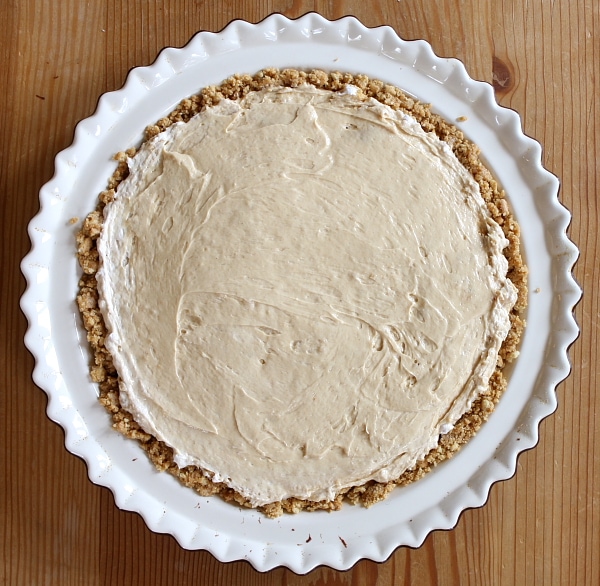 …and smoothed on top. In true summer-pie fashion, this one is stored in the freezer until it's ready to eat.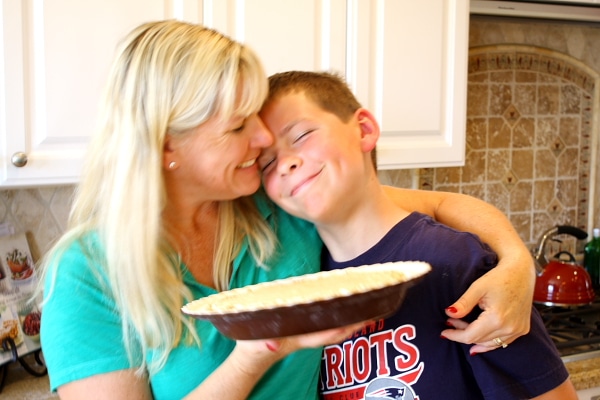 This was a rather emotional pie-making day. My family was clued in on Jennie's loss. There were hugs all around and this pie was made with great love.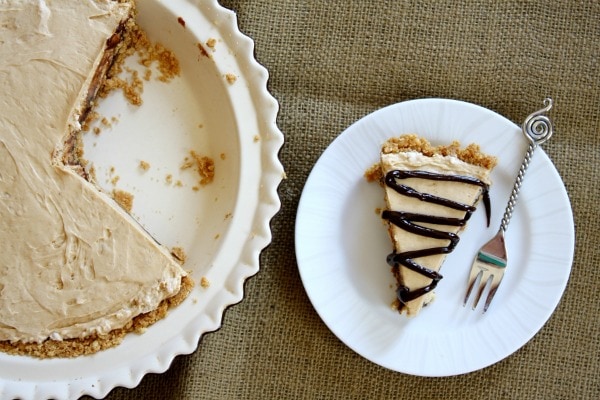 Drizzling slices of pie with more hot fudge just seemed like the right thing to do.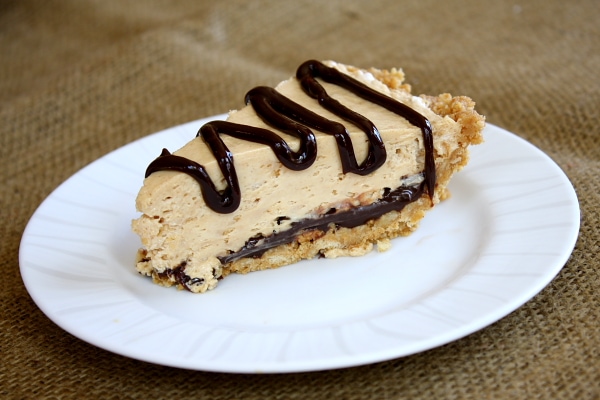 Thank you, Jennie, for reminding us how important it is to spend time with family. I sure hope the peanut butter pie shared around the world helped you feel comfort in some way.  There's a whole lotta of love in those pies.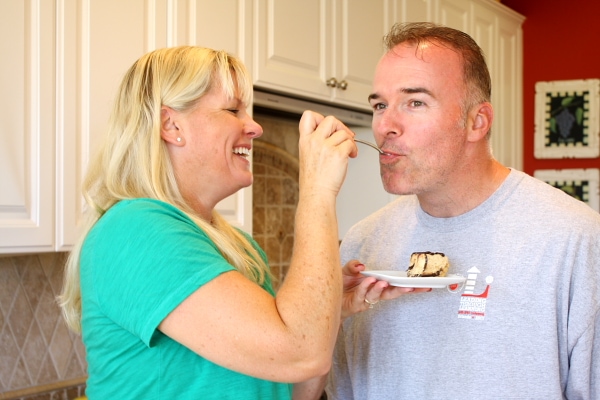 Make a pie (or anything else) for your family, and enjoy it together. Tomorrow is never certain, so make the most of today.
Nutter Butter- Peanut Butter Pie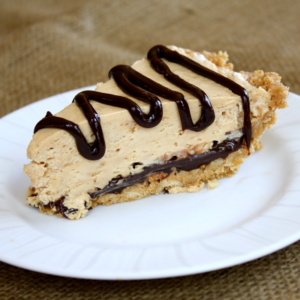 A no-bake pie to make and enjoy with your family. This pie is gluten-free adaptable- please see tips below the recipe.
Yield:
10 to 12 servings
Prep Time:25 min
Ingredients:
24 Nutter Butter cookies, crushed into crumbs
5 Tablespoons butter, melted
1 cup hot fudge
8 ounces cream cheese, at room temperature
3/4 cup powdered sugar, sifted
1 cup creamy peanut butter (not the natural kind)
1 Tablespoon vanilla extract
8 ounces Cool Whip, defrosted
additional hot fudge for drizzling, optional
Directions:
1. In a medium bowl, combine cookie crumbs and butter. Press the mixture into a pie plate. Drizzle the hot fudge on top and smooth it out. Place in the freezer while you're preparing the filling.
2. In a large bowl, use an electric mixer to mix cream cheese and powdered sugar. Mix in peanut butter and vanilla; beat until smooth. Beat in about 1 cup of the Cool Whip. Set the beaters aside and use a rubber spatula to fold in the rest of the Cool Whip. Keep folding until the mixture is well combined.
3. Spoon the peanut butter filling into the frozen pie crust, smooth the top, and place back into the freezer. Freeze for at least 3 hours, or until set enough to slice easily. Drizzle additional hot fudge on individual slices, if desired.
Tips:
*Why not natural peanut butter? It will not mix in well and make this the creamy pie that it's meant to be.
*If allergic to peanuts, try using Oreos for the crust and a creamy version of almond butter instead (like the Barney's brand)
*If preparing this recipe as GLUTEN-FREE, just use some gluten free cookies in place of the Nutter Butters (like GF Oreos), use GF hot fudge, GF peanut butter and GF whipped topping.
Source: RecipeGirl.com (adapted from several similar recipes spotted on the internet)