Here's a little something to get you prepared for Valentine's Day: Nigella Lawson's Vanilla Apples with Sweetheart Croutes. This recipe comes from Nigella's cookbook, Nigella Express.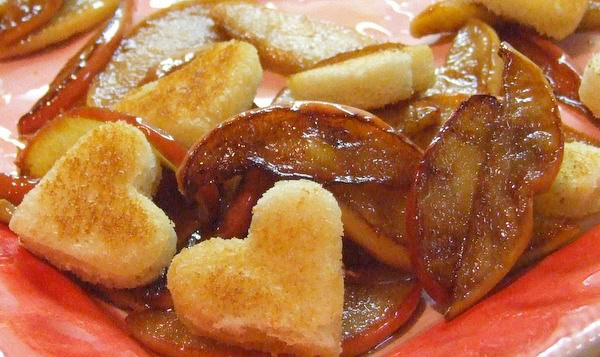 Vanilla Apples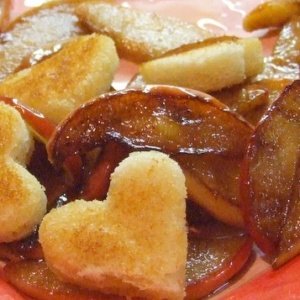 Yield:
4 servings
Prep Time: 20 min
Cook Time: 10 min
Ingredients:
4 tablespoons (1/2 stick) butter, divided
2 large Gala apples (or another variety of red apple)
2 tablespoons vanilla extract
3 slices white country bread, cut into heart shapes with a cookie cutter
sugar, for sprinkling (optional)
Directions:
1. Melt 2 tablespoons butter in a large skillet.
2. Core and finely slice apples (leave peel on if your intended eaters will go for that). Add them to the skillet, cooking for about 3 minutes, then add the vanilla and cook for about another 5 minutes total, turning once (until browned).
3. Remove apples to platter, then add the remaining 1 tablespoon butter to the pan and quickly fry the sweetheart croutes until browned and slightly crisp.
4. Arrange croutes on the plate with the apples; sprinkle with sugar (if using).