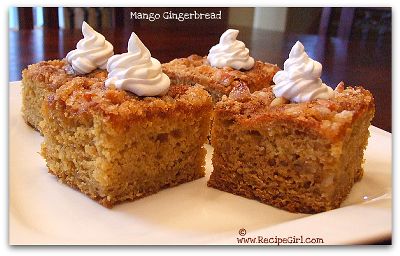 MANGO GINGERBREAD W/ MACADAMIA STREUSEL
www.RecipeGirl.com
STREUSEL:
1/3 cup finely chopped lightly salted dry-roasted macadamia nuts
¼ cup granulated sugar
2½ Tbs finely chopped crystallized ginger
GINGERBREAD:
2 cups all-purpose flour
¾ cup (packed) golden brown sugar
1½ Tbs ground ginger
2 tsp baking powder
1 tsp baking soda
¼ tsp salt
1 lb ripe mangoes, peeled, pitted
½ cup buttermilk
¼ cup canola oil
2 large eggs
1. Prepare streusel: Stir all ingredients in small bowl to blend.
2. Prepare gingerbread: Position rack in center of oven and preheat to 350°F. Butter 9x9x2-inch metal baking pan.
3. Whisk first 6 ingredients in medium bowl to blend. Coarsely puree mangoes in food processor. Transfer 1 cup mango puree to large bowl (reserve any remaining puree for another use). Add buttermilk, oil and eggs to puree; whisk until blended. Add flour mixture; stir just until combined.
4. Transfer half of batter (about 2 cups) to prepared pan. Sprinkle half of streusel over. Spoon remaining batter over, smooth evenly with spatula, then sprinkle with remaining streusel.
5. Bake bread until springy to touch and tester inserted in center comes out clean, about 45 minutes. Cool completely in pan on wire rack. Cut bread into 9 squares and serve.
Servings: 9
Recipe Source: Bon Appetit
Leave a Comment