The 'Baked' Spicy Brownie
This recipe has been featured in a post on The Recipe Girl blog: Oscar- Worthy Baked Spicy Brownies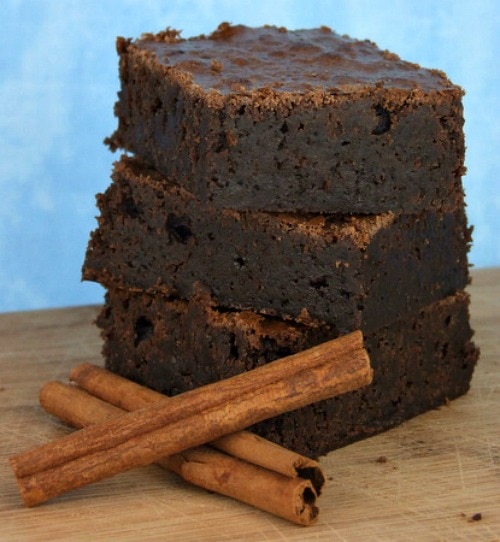 Yield: 16 brownies
Prep Time: 30 min
Cook Time: 30 min
Baked Spicy Brownies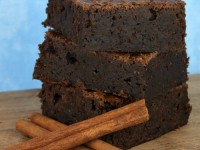 Ingredients:
3/4 cup all-purpose flour
1/4 teaspoon salt
1 tablespoon + 1 teaspoon Dutch cocoa powder
1 tablespoon ancho chili powder
1/2 teaspoon ground cinnamon
5 ounces dark (60%) chocolate, coarsely chopped
1/2 cup (1 stick) unsalted butter, plus more for pan
3/4 cup granulated white sugar
1/4 cup packed light brown sugar
3 large eggs
1 teaspoon pure vanilla extract
1/4 teaspoon freshly grated ginger
Directions:
1. Preheat the oven to 350°F. Butter the sides and bottom of a glass or light-colored metal 8x8-inch pan.
2. In a medium bowl, whisk together the flour, salt, cocoa powder, chili powder, and cinnamon.
3. Configure a double boiler (fill a medium saucepan with 2 inches of water and fit a metal bowl on top without letting it touch water; bring water to a boil). Place chocolate and butter in the bowl and stir occasionally until both are completely melted and combined, about 6 minutes. Turn off the heat, but keep the bowl over the water and add both sugars. Whisk until completely combined and remove bowl from pan. Let stand until room temperature, about 20 minutes.
4. Add the eggs to chocolate-butter mixture and whisk until just combined. Add vanilla and ginger; whisk to combine. Do not overbeat the batter at this stage or the brownies will be cakey.
5. Sprinkle the flour-cocoa mixture over chocolate mixture. Using a spatula (do not use a whisk!), fold the dry ingredients into the wet until there is just a trace amount of the flour-cocoa mix visible.
6. Pour the batter into the greased pan and smooth the top with the spatula. Bake for 25 to 30 minutes; brownies are done when a toothpick inserted in the center comes out with a few moist crumbs.
7. Cool brownies completely before cutting and serving.
One Response to "The 'Baked' Spicy Brownie"
Leave a Comment