Brown Butter Snickerdoodles
This recipe has been featured in a post on The Recipe Girl blog: Snickerdoodle Lovers.
Yield: 2 to 3 dozen cookies
Prep Time: 20 min
Cook Time: 15 min
Brown Butter Snickerdoodles
Snickerdoodle fanatic and brown butter fan here! Combined, they are a perfect match...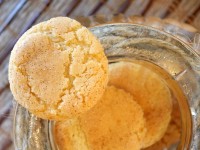 Ingredients:
COOKIES:
1 cup butter
1 1/2 cups granulated white sugar
2 large eggs
2 3/4 cups all-purpose flour
2 teaspoons cream of tartar
1 teaspoon baking soda
1/2 teaspoon salt
ROLLING MIXTURE:
3/4 cup granulated white sugar
2 teaspoons ground cinnamon
Directions:
1. In a small saucepan, melt butter at medium heat. Reduce to simmer and stir until butter turns golden brown. Remove from heat and let cool.
2. In a large bowl, whisk together cooled butter, sugar and eggs.
3. Sift dry ingredients together and stir into wet mixture. Cover bowl and chill dough in refrigerator until firm.
4. Preheat oven to 375 degrees F.
5. Roll dough into small balls (about 1 1/2 Tablespoons of dough per ball). Roll balls in mixture of cinnamon and sugar, and place on ungreased baking sheet.
6. Bake 8-10 minutes until cookies are flattened and crinkly.
11 Responses to "Brown Butter Snickerdoodles"
Leave a Comment