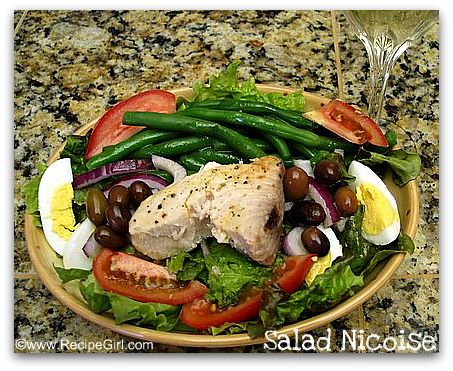 SALAD NICOISE
www.RecipeGirl.com
1 lb green beans
2 cloves garlic, minced
2 medium lemons, juiced
1/3 cup olive oil
salt and pepper to taste
2 cups Romaine lettuce, torn into bite-sized pieces
6 cups mixed gourmet salad greens
2 large hard-boiled eggs, chilled and sliced
½ lb tuna chunks, fresh cooked or canned
½ cup Niçoise or black olives
2 small red onions, minced
4 roma tomatoes, seeded and chopped
1. Prepare green beans by rinsing and snapping ends. Steam 8-10 minutes until almost tender. Rinse under cold water to stop the cooking process. Drain well.
2. Combine garlic, lemon juice, oil, salt and pepper in a shaker jar. Set aside.
3. To prepare salad, place lettuce on individual serving plates, followed by green beans, tuna, olives, onions and tomatoes.
4 Shake dressing jar well. Pour over salads and serve.
Servings: 6
Nutrition Facts
Amount Per Serving
Calories 295
Calories From Fat (57%) 167
Total Fat 18.72g
Saturated Fat 3.40g
Cholesterol 209.22mg
Sodium 183.44mg
Potassium 715.85mg
Carbohydrates 16.59g
Dietary Fiber 5.42g
Sugar 4.36g
Net Carbohydrates 11.17g
Protein 17.81g
WW Points: 8.5
Cooking Tips:
*Reduce fat/calories by reducing amount of oil.
PRINT THIS RECIPE using your browser's 'print' function. It's automatically formatted to print recipe & picture only.
RATE THIS RECIPE[ratings]
"Great salad- suggest using fresh tuna for best flavor."
-Gig Harbor, WA