I served this Grilled Tuna for a small dinner party and it was quite the hit. The citrus salsa that accompanies the tuna is delicious.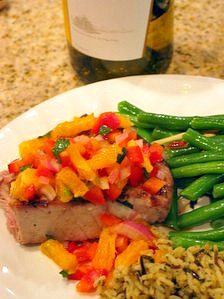 Grilled Tuna with Citrus Salsa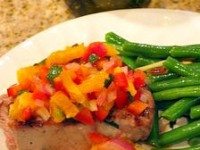 Yield:
4 servings
Prep Time: 20 min
Cook Time: 6 min
Ingredients:
2 medium oranges, peeled and diced (be sure to cut off all white pith)
1 red bell pepper, chopped (seeds removed)
1/2 cup diced red onion
1/4 cup torn fresh mint leaves
2 tablespoons red wine vinegar
sea salt and fresh ground pepper to taste
4 fresh tuna steaks (about 6-ounces each)
olive oil (not included in the nutritional info below)
1 teaspoon ground coriander seed
Directions:
1. To prepare salsa, in medium bowl mix together oranges, pepper, onion, mint and vinegar. Season with salt and pepper and set aside.
2. Heat your grill to high. Oil the grates generously with vegetable oil (not cooking spray), and let heat up. Rub tuna with a little bit of oil, coriander, salt and pepper. Place on grill and cook 4 to 6 minutes, turning just once. It will still be pink in the center.
3. Garnish with salsa.
Nutrition:
Nutritional Information per serving:
Serving size: 1 tuna steak + 1/4th of the salsa
Calories per serving: 259
Fat per serving: 2g
Saturated Fat per serving: .5g
Sugar per serving: 9.5g
Sodium per serving: 70mg
Fiber per serving: 3.3g
Protein per serving: 45g
Cholesterol per serving: 83mg
Carbohydrates per serving: 14.5g
WW POINTS per serving:
Points Plus Program: 6 Old Points Program: 5