Wedding Cupcake Buttercream
This recipe has been featured in a how-to post on The Recipe Girl blog: How to Make Wedding Cupcakes. If you have questions about this icing and wedding cupcakes… it may be helpful to read through the comments/questions/answers below the recipe- many of your questions may be answered there!
Yield: Frosting for 12 cupcakes
Prep Time: 10 min
Wedding Cupcake Buttercream
This is my go-to recipe for icing basic cupcakes and wedding cake. It's so easy to make, and it works through a piping bag well.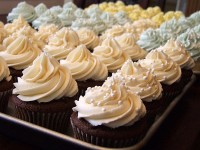 Ingredients:
3 cups powdered sugar
1 cup butter, at room temperature
1 teaspoon vanilla extract
1 to 2 Tablespoons whipping cream
Directions:
1. In a large bowl, with a hand or stand mixer, cream together sugar and butter on low speed. Mix until well blended. Increase speed to medium and beat for another 3 minutes.
2. Add vanilla and cream and continue to beat on medium speed for 1 minute more, adding more cream if needed for desired spreading/piping consistency.
3. Scoop into a piping bag and pipe decoratively onto cupcakes, or spread onto cupcakes as desired.
Tips:
*This recipe doubles or triples well.
*There is no need to sift the powdered sugar, unless you're worried that your sugar is quite lumpy.
*Do not try to replace the butter with margarine or shortening- it won't work out well.
*Add in color, if desired. I like to use colored gel paste instead of liquid food coloring- then you're not messing with adding additional liquid to the perfect consistency of the frosting. Gel paste is sold at craft stores and baking supply shops.
*For the cupcakes in the photograph above, I used a 1G Tip by Bakery Crafts to pipe the frosting.
361 Responses to "Wedding Cupcake Buttercream"
Leave a Comment