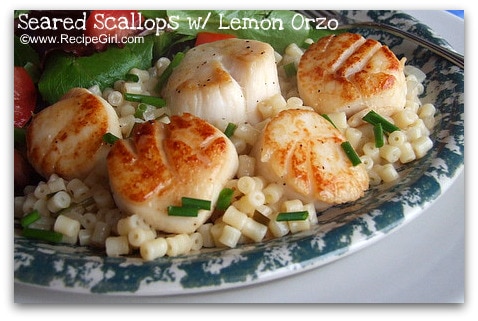 SEARED SCALLOPS W/ LEMON ORZO
www.RecipeGirl.com
1/2 cup pre-chopped onion
1 cup uncooked orzo (rice-shaped pasta) or other small pasta
1 cup fat-free, low-sodium chicken broth
1/2 cup dry white wine
1/4 tsp dried thyme
2 Tbs chopped fresh chives
2 Tbs freshly squeezed lemon juice
2 tsp olive oil
1 1/2 lbs sea scallops
1/4 tsp salt
1/4 tsp black pepper
1. Heat medium saucepan over med-high heat. Coat pan w/ cooking spray. Add onion to pan; sauté 3 minutes. Stir in pasta, broth, wine and thyme; bring to a boil. Cover, reduce heat, and simmer 15 minutes or until liquid is absorbed and pasta is al dente. Stir in chopped chives and lemon juice. Keep warm.
2. Heat oil in a large skillet over med-high heat. Sprinkle scallops evenly with salt and pepper. Add scallops to pan; cook 3 minutes on each side or until desired degree of doneness. Serve with pasta mixture.
Servings: 4
Yield: Serv Size: 4 1/2 oz. scallops + 3/4 cup pasta
Nutrition Facts
Amount Per Serving
Calories 361
Calories From Fat (11%) 39
Total Fat 4.30g
Saturated Fat 0.56g
Cholesterol 56.13mg
Sodium 520.87mg
Potassium 733.26mg
Carbohydrates 38.75g
Dietary Fiber 1.67g
Sugar 1.07g
Net Carbohydrates 37.08g
Protein 34.83g
WW Points: 8
Cooking Tips
*The picture above shows an alternate pasta in the recipe: tubetti #62. If you sub this sort of pasta, you'll need to keep adding additional chicken broth until pasta tests done.
Recipe Source: Adapted from Cooking Light
PRINT THIS RECIPE using your browser's 'print' function. It's automatically formatted to print recipe & picture only.
RATE THIS RECIPE[ratings]