Yield: 1 loaf
Prep Time: 15 min
Cook Time: 50 min
Banana- Blueberry Bread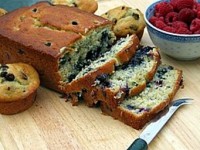 Ingredients:
1 3/4 cups all-purpose flour
2 teaspoons baking powder
1/2 teaspoon salt
1/4 teaspoon baking soda
1/3 cup salted butter
2/3 cup granulated white sugar
2 large eggs
1 cup mashed ripe bananas
1 cup fresh blueberries
Directions:
1. Preheat oven to 350 degrees F. Spray a 9x5-inch loaf pan with nonstick spray.
2. Sift first four ingredients (dry) into a small bowl. Set aside.
3. In a large bowl, use an electric mixer to beat butter until creamy. Then beat in sugar until light and fluffy. Add eggs, beating in one at a time. Stir in dry ingredients and then banana.
4. Carefully stir in blueberries.
5. Pour batter into prepared loaf pan and bake 50 minutes. A toothpick inserted into the center should come out clean.
6. Let sit for 15 minutes, then remove from the pan to a wire rack to cool.
One Response to "Banana Blueberry Bread"
Leave a Comment