Pumpkin Banana- Nut Bread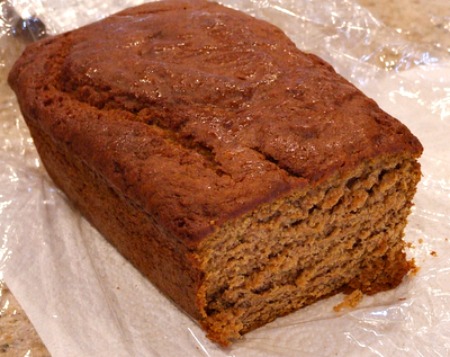 Yield: 2 loaves
Prep Time: 15 min
Cook Time: 55 min
Pumpkin- Banana Nut Bread
Great fall quick bread recipe. Super moist.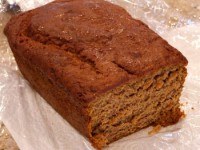 Ingredients:
4 cups all-purpose flour
4 teaspoons baking powder
4 teaspoons ground cinnamon
2 teaspoons ground ginger
2 teaspoons baking soda
1/2 teaspoon salt
1 15-ounce can pure pumpkin puree
4 large eggs
1 cup granulated white sugar
1 cup packed light brown sugar
1 cup (2 medium) very ripe bananas, mashed
3/4 cup vegetable or canola oil
1 cup chopped walnuts (optional)
Directions:
1. Preheat oven to 350°F. Grease and flour two 9x5-inch loaf pans.
2. In a medium bowl, whisk together flour, baking powder, cinnamon, ginger, baking soda and salt.
3. In a large bowl, combine pumpkin, eggs, sugars, bananas and vegetable oil. Beat with an electric mixer until smooth. Gradually beat in flour mixture just until mixture is wet (do not over mix); stir in nuts (if using). Spoon into prepared loaf pans.
4. Bake 55 to 60 minutes or until wooden pick inserted in center comes out clean. Cool in pans on wire racks for 10 minutes; remove to wire racks to cool completely.
Source: RecipeGirl.com (via Very Best Baking)
Leave a Comment