Slow Roasted Plum Tomatoes
These are worth the wait- SO good: Slow Roasted Plum Tomatoes
Yield: 4 servings
Prep Time: 15 min
Cook Time: 2 hours 25 min
Slow Roasted Plum Tomatoes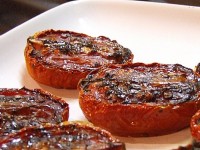 Ingredients:
1 1/2 pounds large plum tomatoes (about 6)
2 to 3 tablespoons olive oil
pinch of dried thyme
1 head garlic, peeled (cloves smashed)
kosher salt
2 tablespoons balsamic vinegar
Directions:
1. Preheat oven to 325°F.
2. Halve the tomatoes and place them, cut-sides-up, in a pyrex baking pan. Drizzle with the olive oil. Sprinkle with a generous pinch of thyme, and scatter the garlic cloves in the pan. Sprinkle with salt.
3. Bake for 25 minutes. Lower the heat to 200°F. and cook another 2 hours. After 1 hour, drizzle with the vinegar. Baste occasionally. Remove from the oven, baste again, and let cool.
Nutritional Information per serving:
Serving size: recipe divided by 4
Calories per serving: 92
Fat per serving: 7g
Saturated Fat per serving: 1g
Sugar per serving: 4.5g
Sodium per serving: 9g
Fiber per serving: 2g
Protein per serving: 1.5g
Cholesterol per serving: 0mg
Carbohydrates per serving: 7g
WW POINTS per serving:
Points Plus Program:  3   Old Points Program:2
One Response to "Slow Roasted Plum Tomatoes"
Leave a Comment