Here's another good one for the 4th of July… or if you just have some fresh berries lying around:  Red, White and Blueberry Cheesecake Bars.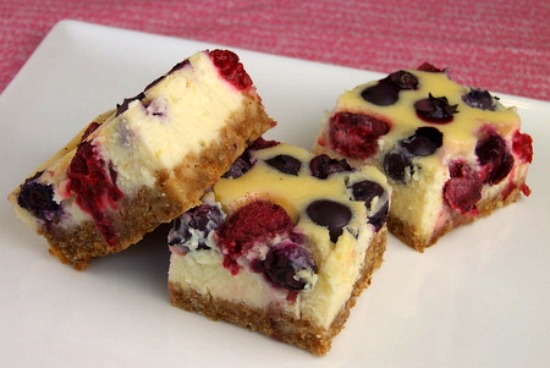 Believe it or not, this is a lighter fat recipe! Yay for still getting to enjoy treats when you have to diet on the 4th of July

200 calories and 5 Weight Watcher points for a bar. Not too bad.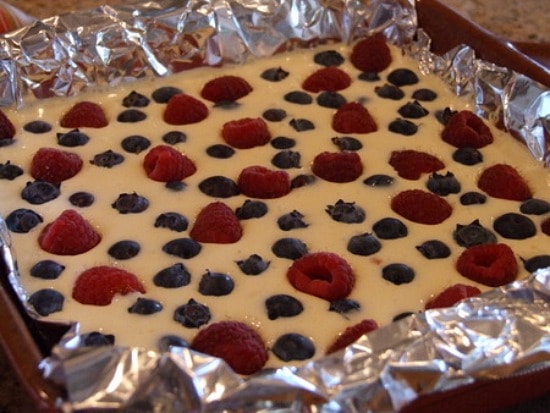 You can be flexible with the berries… blueberry, raspberry, blackberry (I wouldn't do strawberry). Throw in whatever is fresh and on sale.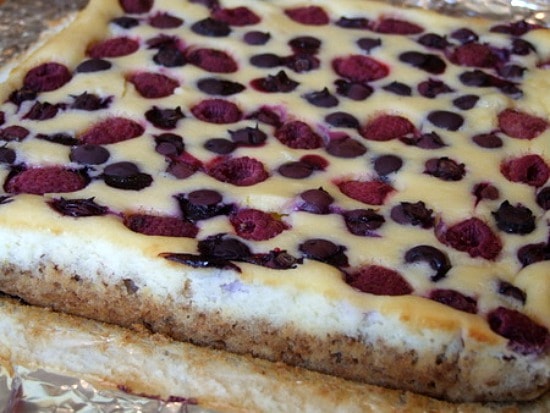 A foil-lined pan means you just let it cool and then lift it out gently and slice. Easy!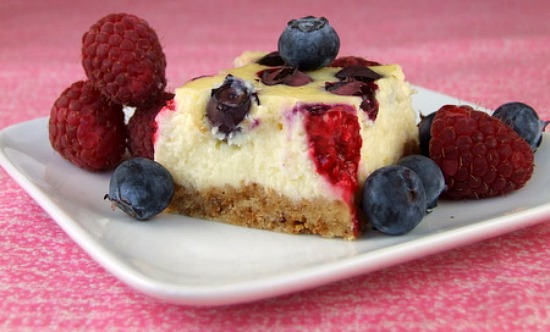 They're easiest to cut when well chilled. Use a sharp knife and wipe it down between slices for cleanest cuts. Enjoy!
This recipe can be found here: Red, White and Blueberry Cheesecake Bars
————————————————————–
Other delicious-sounding cheesecake bars on the blogs:
Smitten Kitchen: Dulce de Leche Cheesecake Squares
Picky Palate: Peanut Butter Cup Cheesecake Bars
Cast Sugar: White Chocolate & Lime Cheesecake Bars
My Kitchen Snippets: Strawberry-Swirl Cheesecake Bars
Dozen Flours: Chocolate Chip Cheesecake Bars