I have a caramel corn recipe for you today that is both fabulous and easy.   But first, there's a short story behind this addictive stuff.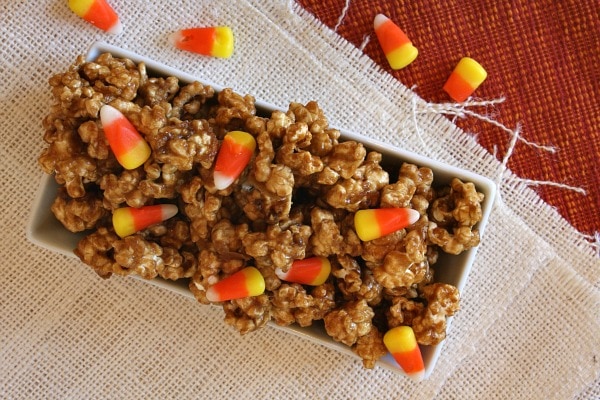 When I was visiting Kendall Jackson Winery a few weeks back, I was involved in a series of vigorous food/wine pairings and tastings.  Eventually all of it sort of finally made sense to me.  Certain foods really bring out the flavor in the wine, and vice versa.  When we came to dessert though, I was skeptical.  They served us this caramel corn- this very recipe I'm sharing with you today- and paired it with their Late Harvest Chardonnay.  I ate and I sipped.  And then bells rang all over the place in my head telling me that I really do like sweet wine in cases like this.  Cases where caramel corn tastes so very good with it.  This stuff is hard to put down.  I'm not kidding.  Take a bite and put the rest away.  Dare Ya.  Here's how to make this super easy recipe for Caramel Corn: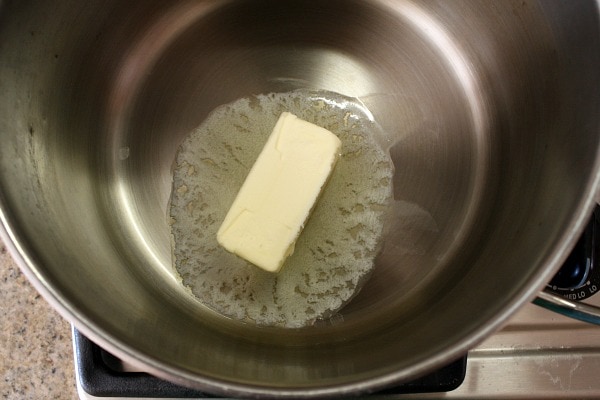 Melt butter in a big pot.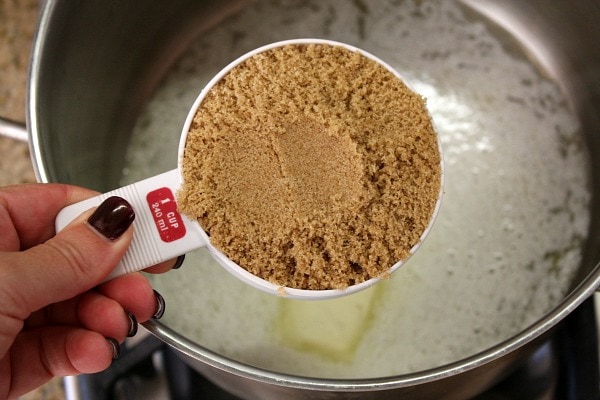 Add brown sugah.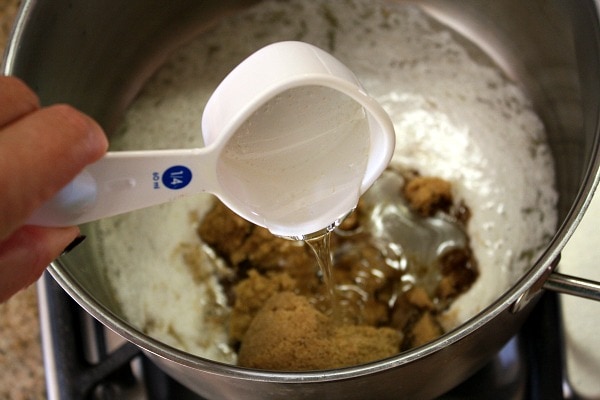 And then a small amount of corn syrup.
Bring that mixture to a bubble.  Then turn it down to a simmer and let-it-alone for 4 minutes without stirring.  Resist the urge to stick your head over the pan and get mesmerized by those bubbles.  They pop, and then… well, that's bad news for you and your face now, isn't it?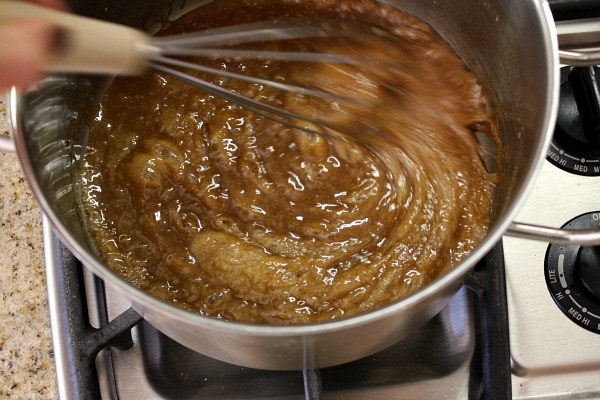 Finally you can stir it, and then you'll continue to cook it for about 5 more minutes– stirring quite often until it has turned deep golden and pretty.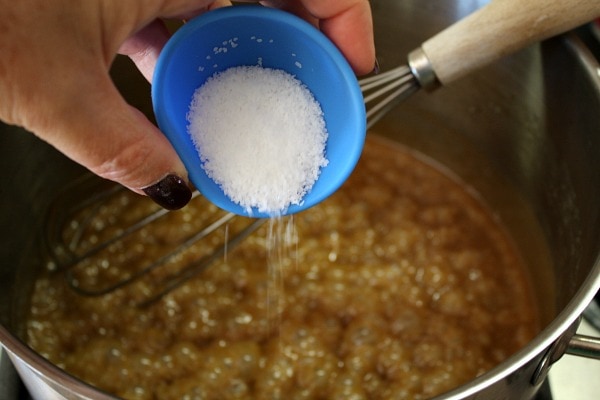 Turn off the heat and add kosher salt.  Lots of it.  This is like a salted caramel popcorn.  You'll be afraid that it's too much salt, BUT IT'S NOT.  The salt is kinda what makes the flavor of this caramel corn special.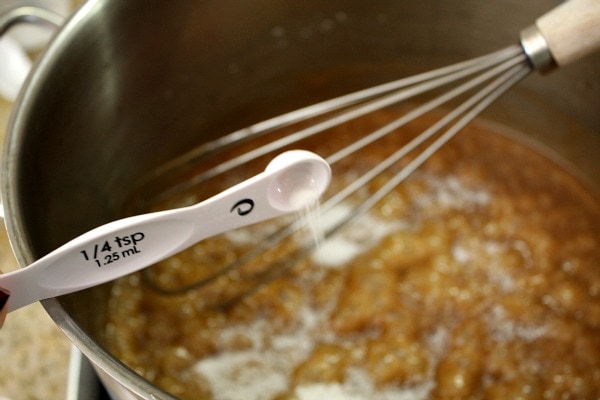 Then add a smidgen of baking soda.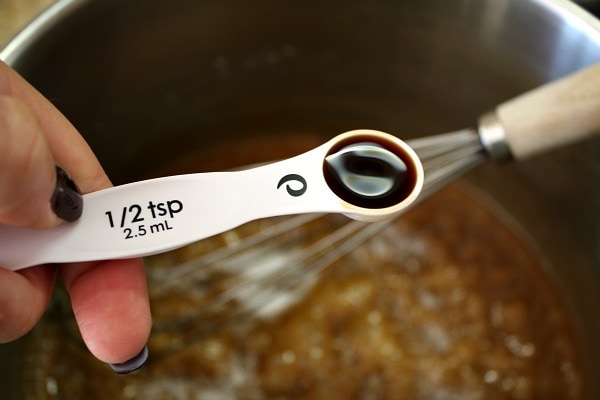 And a bit of vanilla.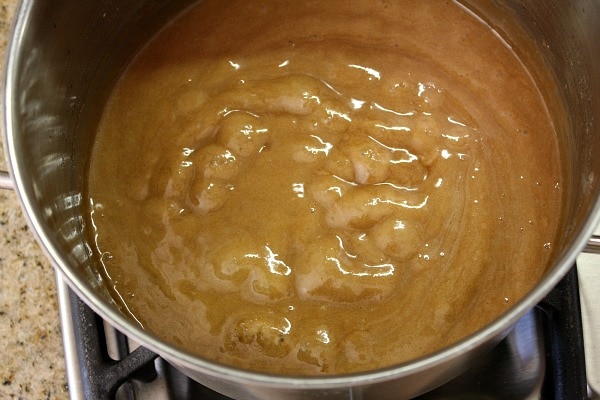 Stir it up and it should look like this.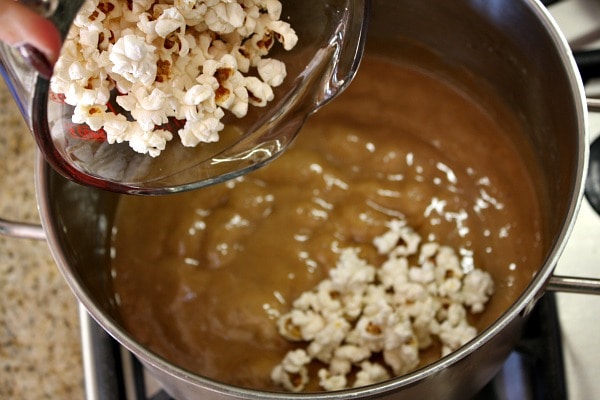 Pour in 12 cups of popped popcorn.  I used popcorn that I had popped on the stove.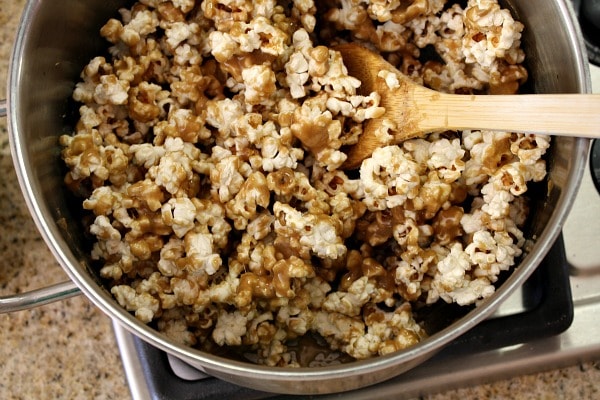 Use a spoon (a wooden one works great) to spoon that caramel syrup up and over the popcorn.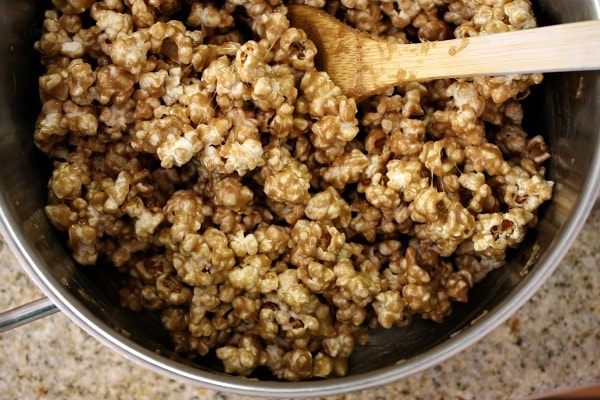 Keep stirring and getting that syrup off the bottom of the pan until the popcorn is covered in caramel and there is none of that good stuff stuck  in a puddle on the bottom of the pan.  You don't want to leave any of it behind!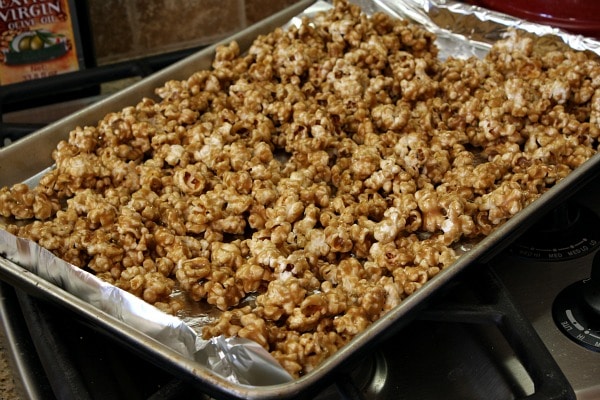 Spread the caramel corn on a greased baking sheet.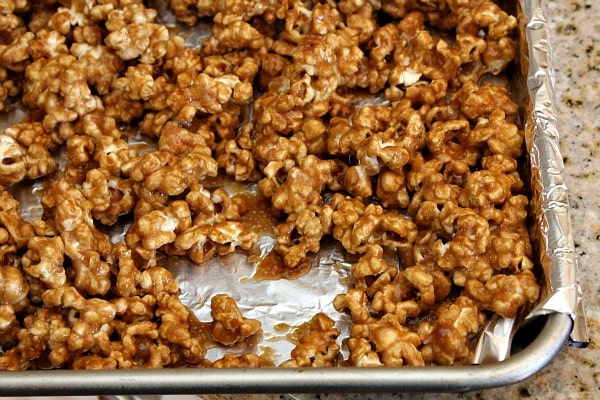 Bake it for 15 minutes or so (stirring every so often).  The color will deepen and the caramel corn will become crispy in texture.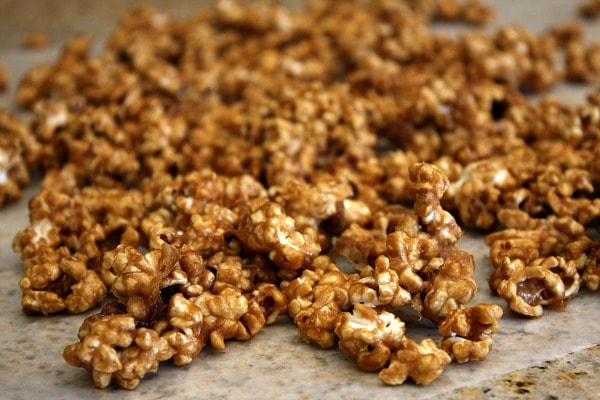 Move this good stuff to waxed paper to cool completely.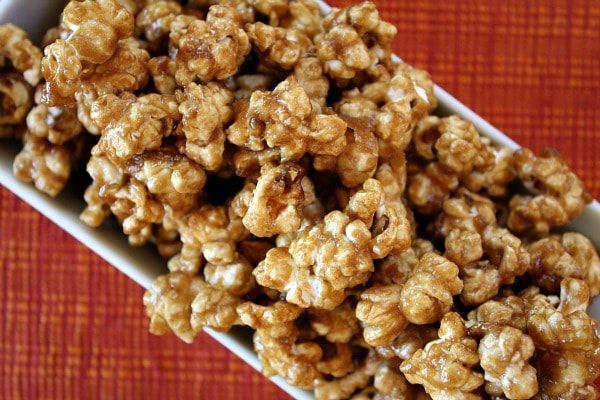 EAT.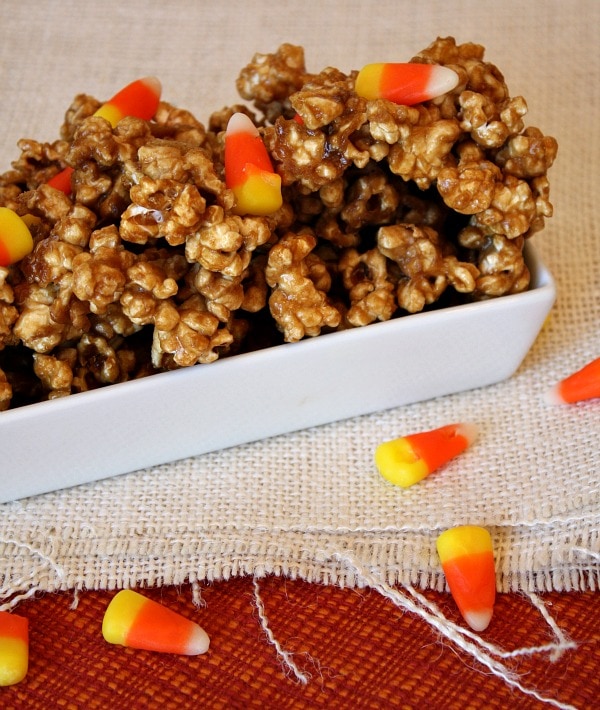 It should last a week or so if it is kept in a sealed container.  Package it into gifts or snack baggies.  Make it for Halloween.  Make it for football-watching Sunday nibbling.  Or make it just to make it.   Big warning though:  You'd better have some friends around or you might just eat the whole batch.  I'm not saying there's anything wrong with that or anything, but if you have one of those form-fitting Halloween costumes that you're trying to fit into… like Spiderman or French Maid or Sexy Devil Suit, you'd best pace yourself with the caramel corn intake.
Oh dear, have I convinced you not to make this now?  I hope not.  This is really good stuff.
Caramel Corn

Yield: 12 cups

Prep Time: 25 min

Cook Time: 30 min

Ingredients:

1/2 cup (1 stick) salted butter
1 cup light brown sugar
1/4 cup light corn syrup
2 teaspoons kosher salt
1/4 teaspoon baking soda
1/2 teaspoon vanilla extract
12 cups popped popcorn

Directions:

1. Preheat oven to 300 degrees F. Line a rimmed baking sheet with foil and spray with nonstick spray.

2. Melt butter in a 1 gallon pot over medium-high heat. Add brown sugar and corn syrup. Stir to combine. Bring to a boil, then reduce the heat to low and let simmer undisturbed for 4 minutes. Stir,then continue to cook for an additional 4 to 6 minutes, stirring every 30 seconds, until the mixture is a deep golden color. Turn off the heat and whisk in salt, baking soda and vanilla. Set the whisk aside and stir in the popcorn. Scoop up the syrup from the bottom and over the top. Keep stirring and scooping the syrup over the popcorn until it is evenly covered and there is no syrup left on the bottom of the pan.

3. Spread the mixture onto the prepared cookie sheet and bake for 15 to 20 minutes, stirring every 5 minutes, until the caramel corn has turned a deep amber color. Remove the caramel corn from the oven and spoon it onto a waxed paper-lined surface to cool. When completely cooled, store caramel corn in a covered container- it should stay fresh for up to a week.

Tips:

*You can use air-popped popcorn for this recipe or stovetop too. Here's an easy stove-top method to follow. Microwave popcorn will work as well, but it's not recommended as being the best choice.

Source: RecipeGirl.com (Adapted from Kendall Jackson)