While I hunker down and take the next week to complete my cookbook manuscript, I have a series of three very talented bloggers guest posting on RecipeGirl. These girls all have super popular and delicious recipe blogs of their own, and they'll be stopping in to share a special recipe with you! I'll be back soon, and you will love my friends and their recipes!
First up is Shelly from the dessert blog: Cookies and Cups. I met Shelly in real life at my Girl Hunter weekend in Texas, and she sure is a ton of fun and she made me laugh a lot. She's sweet as can be, which totally makes sense when you take a peek at her blog. She has an adoration for desserts made with candy, and shares things like Reeses Peanut Butter Banana Bread and Pretzel Rolo Blondie Bites. Her Soda Can Cupcakes are such a fun recipe and so easy to make, and there is a whole category on her blog devoted to Rice Krispie Treats! The girl is a creative genius.  Shelly is sharing a fun recipe with us today for Frito Snack Mix, which is kind of like turning Fritos into candy!  Take it away Shelly!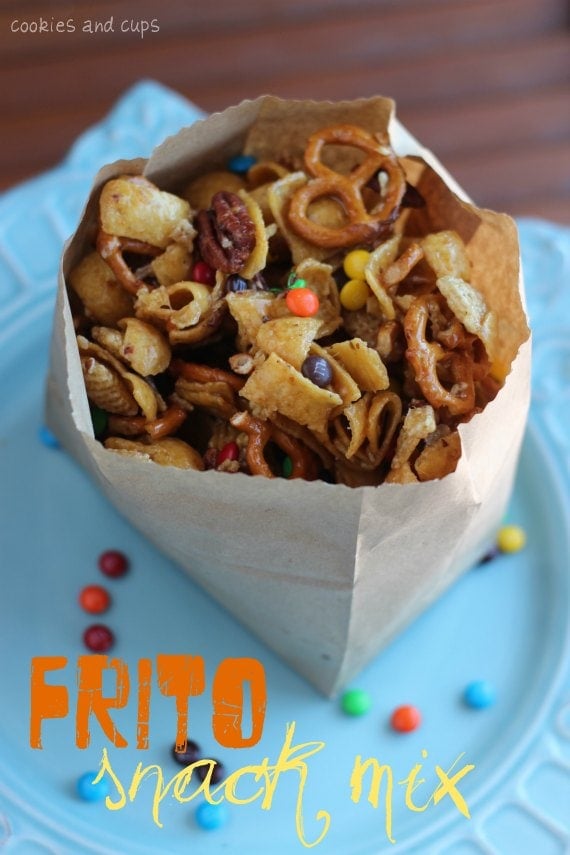 Hey guys! Shelly from Cookies and Cups here! I'm so excited to take over, if even for a day, at Recipe Girl.
Lori's site has been a favorite of mine for ages and we actually got to hang out last December in real life on our Girl Hunter weekend. She's as nice as you would imagine and I can't wait to get to spend time with her again.
Here's the thing about taking over someone's virtual space. It's a little nerve racking. If you are familiar with my blog you will know that I am all about low-down dirty desserts. The kind that you eat hiding in a closet…the kinds that are laden with butter, sugar and candy.
So as much as I would love to make you something fancy-ish or gluten free, or whole-grainy, I just can't do it.
Sorry.
Instead, I made you Fritos covered in sugar. Don't be disgusted. Be intrigued.
I promise it's good stuff.
First mix some Fritos, Rice Chex Cereal, Pretzels and nuts in a big bowl.
Then melt a little butter, brown sugar and light corn syrup in a small saucepan.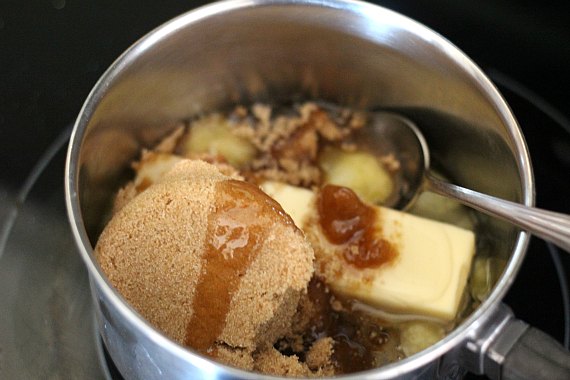 Bring it to a boil…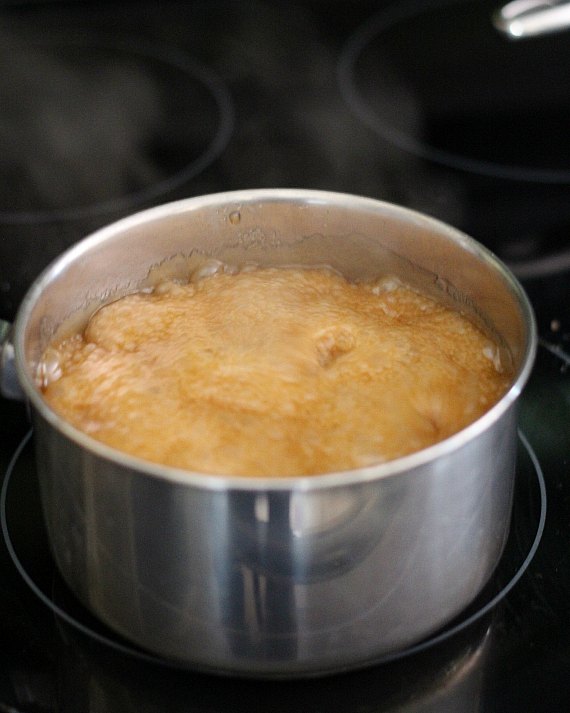 Pour the caramelly sauce over top your Frito mixture and stir to coat evenly.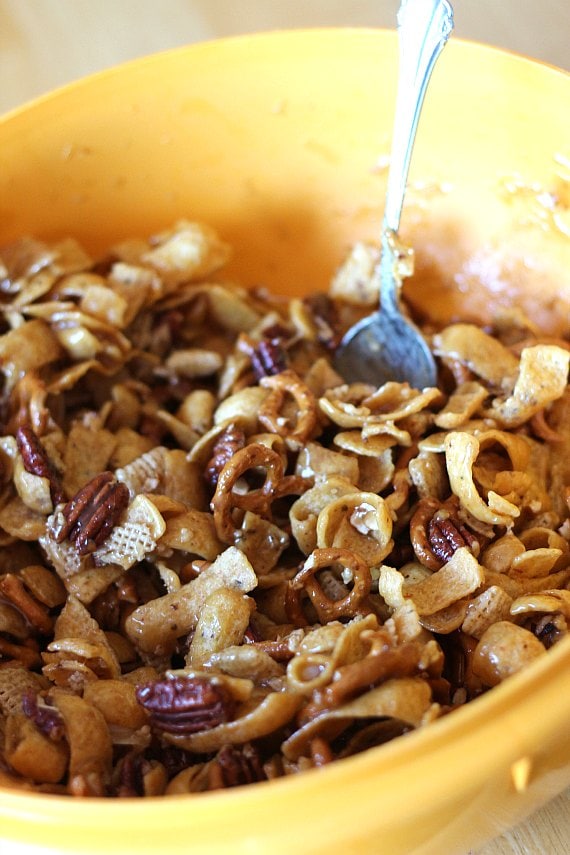 Pour the entire mix into a roasting pan and bake for 8 minutes. Stir it up and bake for 8 more.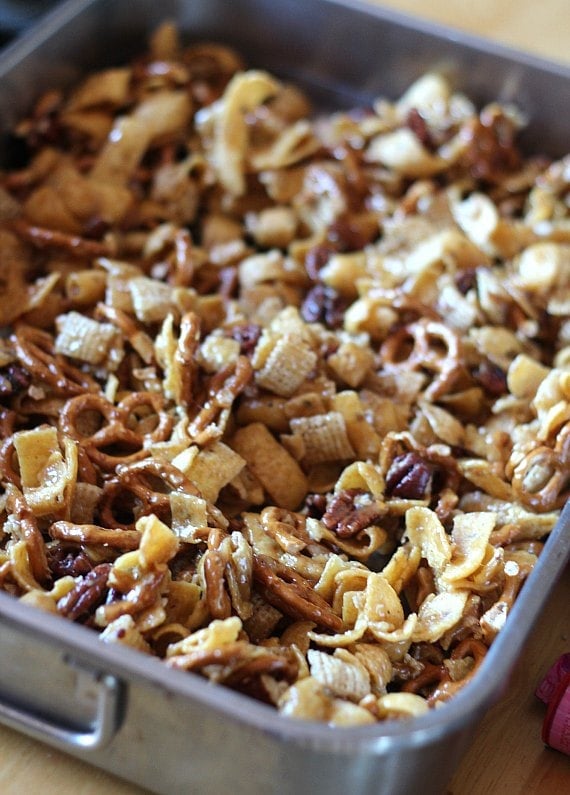 Then spread it all on a wax paper lined counter and let it cool.
When it's cool sprinkle some M&Ms on top. I mean, why not?
That's it.
Feel free to eat in the closet or on the couch.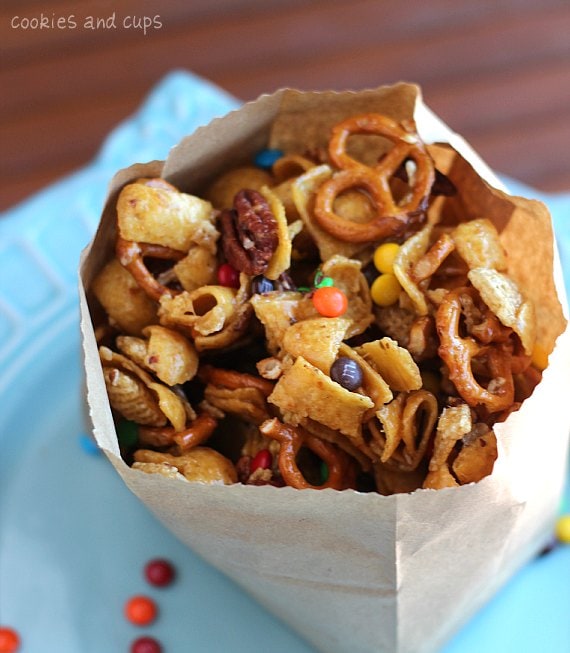 Thanks Lori for letting me invade your space today. If you ever need another low-brow dessert, I'm your gal!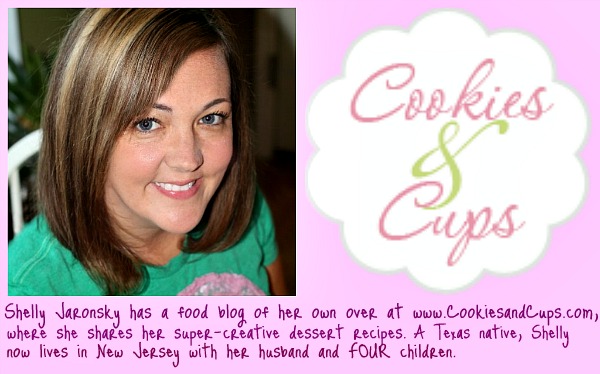 Visit Shelly on her blog:  Cookies & Cups, and you can also find her on Facebook, Twitter and Pinterest.  Thanks Shelly, for sharing your Frito Snack Mix with us!
Yield: About 8 cups
Prep Time: 25 minutes
Cook Time: 22 minutes
Frito Snack Mix
It's like Fritos turned into candy. Awesome!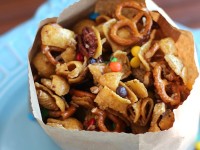 Ingredients:
One 10.5-ounce bag of Fritos
2 cups Rice Chex Cereal
2 cups Pretzel Twists
1 1/2 cups nuts (I used walnuts, but peanuts, cashews or mixed nuts would work great)
1 cup light brown sugar, packed
1/2 cup (1 stick) butter
1/2 cup light corn syrup
1 cup of mini M&Ms
Directions:
Preheat oven to 350°F.
In a large bowl combine the Fritos, Chex, Pretzels and nuts. Set aside.
In a small saucepan melt the sugar, butter and corn syrup over medium heat. Let the mixture come to a boil and then boil for 4 minutes without stirring.
Remove the pan from heat and pour over Frito mixture, stirring to coat evenly. Transfer mix to a large roasting pan and bake for 8 minutes. Remove to stir and bake for an additional 8 minutes.
Transfer the mixture to a wax paper lined counter and let it cool completely before breaking into large clumps. When cooled sprinkle M&Ms over mix.
Store in an airtight container for up to a week.
46 Responses to "Frito Snack Mix"
Leave a Comment